Adair Co. HS Fellowship of Christian Athletes adds FCA Store
Store will offer Free personal care and Household items. The Adair FCA will continue 5th Quarter activities after each Adair County Home Football Season
---
Click on headline for complete story with photo(s)
From Andrew Reliford
The FCA has been working on is its FCA store, a new FCA program which will help provide personal care and household items to students and their families in need. All items are donated items and are free to any high school student or family of a high school student in need, in addition to the 5th Quarter Program, a safe and fun hang out for students after every home football game.
The drinks, food, and even some entertainment are donated from local congregations.
(At the end of each 5th Quarter, a guest speaker will lead students who have remained in a devotional.)
The Adair County High School Fellowship of Christian Athletes (FCA) is now accepting donations to help serve their classmates and community more effectively.
The FCA is encouraging local congregations and communities to get involved with these programs. Those wishing to help with a monetary or personal/house care items: .
---
Personal Care and Household Item Donation Suggestions
---
- Deodorants - Right Guard, Degree, Dove, Arm & Hammer, Axe, Gillette, Old Spice, Speed Stick, Arrid. Secret, Suave, Tom's, Mitchum, Sure, etc.
- Hair Care - Pantene, Suave, Dove, L'Oreal, Herbal Essences, Garnier, Axe, Head & Shoulders, Aussie, TRESamme' etc.
- Body Wash/Soap - Suave, Dove, Olay, Axe, Caress, Softsoap, Irish Spring, Dial, Old Spice, Ivory, Zest, Tone, Nivea, St. Ive's, etc.
- Mouthwash - Colgate, Crest, Scope, Listerine, ACT, etc.
- Toothpaste - Crest, Colgate, Arm & Hammer, Aquafresh, Sensodyne, Oral-B, Rembrandt, AIM, etc.
- Paper Towels - Bounty, Sparkle, Brawny, Viva, Scott's, Great Value, etc.
- Toilet Paper Quilted Northern, Scott's, Charmin, Angel Soft, Cottonelle, White Cloud, etc.
- Laundry Detergents/Fabric Softeners - Gain, Tide, All, Snuggle, Tide Pods, Gain Flings, Arm & Hammer, Sun, Purex, Persil, Cheer, Era, Downy, etc.
- Dish Detergents/Liquids - Palmolive, Dawn, Gain, Ajax, Joy, Mr. Clean, Cascade, etc.
- Other Items - Air Fresheners, Make-Up, Storage Bags, Cleaning Supplies, Trash Bags, Colognes Toothbrushes, Hairbrushes, Combs, etc.
Those wishing to help may contact Andrew Reliford at 270-384-2751 or by email:
andrew.reliford2@adair.kyschools.us
Make checks payable to Adair County High School and write in the memo, FCA. Checks can be mailed to ATTN: Andrew Reliford, Adair County High School, 526 Indian Drive, Columbia, KY 42728. Personal care and household items may be dropped off at the high school at anytime.
- Andrew Reliford
This story was posted on 2017-08-19 06:30:14
Printable:
this page is now automatically formatted for printing.
Have comments or corrections for this story?
Use our
contact form
and let us know.
To sponsor news and features on ColumbiaMagazine, please use our
contact form
.
Adair FCA adds FCA store to 5th Quarter program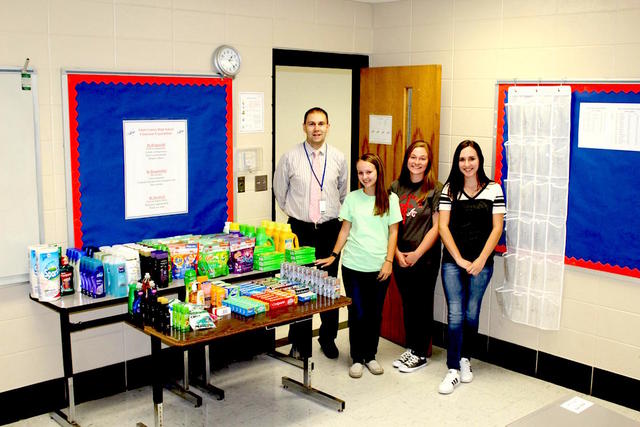 2017-08-19 - Columbia, KY - Photo from Adair County Fellowship of Christian Athletes.
---
Mr. Andrew Reliford, (seniors) Callie Morrison, Jacklynn Janes, and Taylor Brown with some of the personal and household products the ACHS Fellowship of Christian Athletes will providing free to Adair County students.
Read More... | Comments? | Click here to share, print, or bookmark this photo.