Pam Phipps: A tribute to Kim Downs (1973-2017)
A friend and fellow teacher shares her memories
---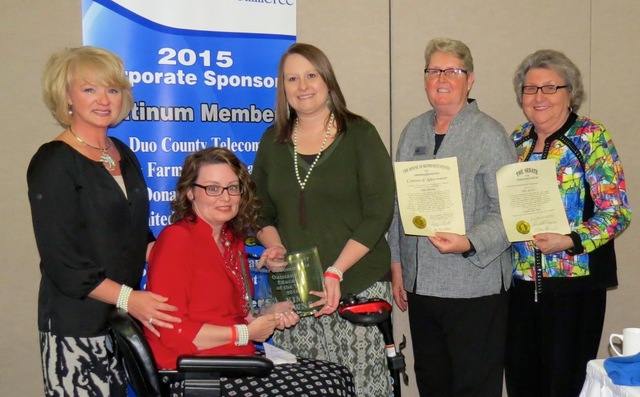 PHOTO: Pam Phipps, the writer, is far left, introduced her great friend, Kim McAllister Phipps, when Downs was named the Chamber's Educator of the Year in April 2015. From left, others in the photo are Sarah Burton, Ellen Zornes, and Sue Stivers.
---
The funeral service for
Kimberly McAllister Downs (1973-2017) is at 1pmCT, today, Sat 6 May 2017, at Purdy Separate Baptist Church, 8004 Liberty Road, Columbia, KY, with
Shuttle Service to Purdy from New Hope Separate Church
starting at 11:45amCT, today.
Click on headline for complete tribute by Pam Phipps
By Pam Phipps
Teacher, Adair County Primary Center
Our community lost a dedicated and respected teacher named Kim Downs this week to a terrible disease, ALS. Unfortunately, over the past few years, our community witnessed the relentless disease take away Kim's ability to walk, talk, and eventually move any part of her body except her eyes, but she fought ALS with a fierce determination and faith until the end of her life. Our school community supported her as the disease progressed and eventually took Kim's life on Wednesday, May 3, 2017.
When she was finally diagnosed with ALS, her first concern was her family and students. Even though she knew the disease would eventually take her ability to teach, she was determined to fight and teach as long as she could, and she did just that. Even when the disease took her ability to walk, she used a little red scooter to get around and continue teaching, and if you got in her way, she knew how to use that horn! She taught up to the time when the disease took her ability to speak.
During Kim's teaching career she also served as a leader for our district. Because she was such an exceptional teacher, she worked with surrounding colleges and universities to be a support person for new or struggling teachers. She was always working to improve her teaching and to improve the learning of her students. Her coworkers respected and valued Kim because they knew she was a devoted, dependable, fair, and hardworking teacher that never stopped serving Adair County's students. Parents loved her because she genuinely cared about their children, and they knew their child would leave first grade knowing what they needed to know in order to be successful in second grade.
During her sickness, she wrote to a friend, "When I started to not walk well in the winter and worse toward spring, I never dreamed of not being independent (as many know I used to be). My view of life has changed for THE BEST!! My Love for God has become stronger because HE carries me ALL of the time!! My LOVE for my husband and children has strengthened in a way I could have never fathomed!"
Kim Downs was an elementary teacher in Adair County for nearly 20 years. During those 20 years, she touched many lives. She was the epitome of a distinguished teacher and her devotion to the teaching profession will live on in the hearts and minds of all who knew her.
Throughout the disease, the verse, Philippians 4:13 was very special to her --"I can do ALL things through Christ which strengthened me."
This story was posted on 2017-05-06 06:56:45
Printable:
this page is now automatically formatted for printing.
Have comments or corrections for this story?
Use our
contact form
and let us know.