Walter Herman Tutt, Milltown, Adair County, KY (1927-2016)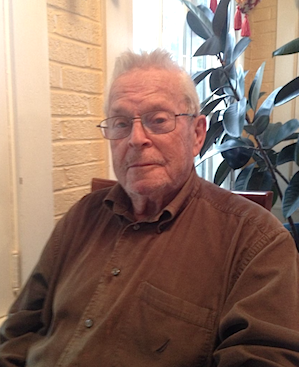 He was a member of a highly regarded Milltown, Adair County, KY, area family, with deep family ties in Taylor, Adair and Green Counties
---
Click on headline for for complete tribute
Walter Herman Tutt died after an accident in Campbellsville on Thursday morning, July 14, 2016.
Funeral Services will be conducted 11amCT, Tuesday, July 19, 2016 at the Foster-Toler-Curry Funeral Home, 209 W Court Street, Greensburg, KY, with burial to follow in Milltown Cemetery, Milltown Cemetery, 3200 block, Milltown Church Road, Columbia, KY. Visitation will be Monday, July 18, 2016 from 4pmCT to 8pmCT PM at the Foster-Toler-Curry Funeral Home in Greensburg and after 7amCT Tuesday until the funeral hour.
WALTER HERMAN TUTT:
He was the one who many turned to first and often
If you needed a ride, a hand, some advice, an errand run, or just wanted to hear a tale, "Herman" or "Tutt" was who many turned to first and often. He was known to his contemporary family as "Herman", to most of his army buddies and friends simply as "Tutt", to his son and daughter as "Daddy" and his grand kids as "Papa Tutt".
However you knew him, you probably have a story to tell. That would make him happy because he loved to tell one and his story was full of everything that makes a full life.
He had to grow up fast: Army, Korean War years
He had to grow up fast. Born during the depression on October 11, 1927 in Milltown, KY, he was the youngest of five boys with two sisters and left home for US Army Service in April of 1946 at 18 with less than an eighth grade education.
After a year and half tour in the Philippines and Japan he was honorably discharged.
A short stint in the factories of Chicago, then back to the Army
For the next two years, on and off, Herman worked in the factories of Chicago.
He rejoined the US Army in November of 1949 and soon thereafter was sent to Korea and was often decorated; including rising from Corporal to Army Sergeant First Class quickly, which required him to complete his 8th Grade GED and one step closer to obtaining his High School GED, which he did in 1976 at the age of 49 - a lifelong goal of his.
During his Army career, "Tutt" rose to Platoon Sergeant in the Armored Division as a Tank Commander and was well respected by his Commanding Officers and fellow soldiers, well documented in commendation letters and anecdotes.
He was very proud of his military service
Tutt was very proud of his military service and could recount many stories of his activities and fellow soldiers, but he never discussed battle details. Later in life, he was active with 23rd Regiment Korean War Branch Reunions, traveling to many locations and reconnecting with his former friends to share the experiences that only they could share.
In a letter to his sister Frances in 1958, referencing a relationship he expected more from that fizzled, he lamented that "...marriage just may not be for me, might have to wait till I'm 39." He beat that by six years when in 1961, at the age of 33, he married Mary Eleanor Austin (Picket) of Columbia.
First marriage produced his two children
That marriage produced his two children: Richard Walter Tutt (1962) and Catherine Louise Tutt (1965).
After their divorce in 1967, and his retirement from the US Army in 1968, he began his single lifestyle, living almost entirely off a pension and taking care of his children during the summers of the early 70's and, in the case of Cathy, her final years as a High School student in Columbia.
Their stories of life with "Daddy" during their early years can rival the best humorous and poignant southern storytelling and despite many years of only intermittent contact, the times they did have were very rich. It is easy to see Herman in their faces. Ask them to tell you a story about their "Daddy" and you will feel him in their hearts.
A wonderful late life romance
Just when "Daddy" reached the fall of his years and his children, with their own families well underway, were worried he might live alone for the rest of his life, a remarkable thing happened. Herman met Opal. Again. Opal was the sister to Herman's brother Tommy's wife, Virginia. It is without a doubt that when younger and on different paths, each never contemplated the joy and love they would bring to each other in their "golden years".
Herman and Opal (widowed for some time), married in 1994, resided in Campbellsville, and took many trips for conventions, casino boats, and family events and attended the Mt. Gilead Baptist Church in Greensburg until mobility became difficult. They lived as an inseparable pair, on their own terms, until only last year when Opal was admitted to rehab several times and ultimately sent to a nursing home in Hodgenville. Taken on his last visit to see Opal this past June, Herman and Opal's last words - though neither thought them to be - were poignant, palpable and cut through their years like a shining blade.
Herman was living on his own with the circle of his activities growing smaller, caring for his beloved dog "Lucy" and waiting to join Opal when the time came. It was arranged for someone to check on his basic needs and his son and daughter came by often to care for him and be entertained by his stories - mostly the same ones, in a weaker voice - but they cared not at all.
The Lord decided he had walked life's journey long enough
On the morning of his passing, Herman dressed, grabbed his wallet and glasses, closed the door for the last time and started walking into town. He had stopped driving months before. "My car won't start. Got to get it fixed" he told his son, who already knew that - he had removed the battery. Along the way, the Lord decided "Herman", "Tutt", "Daddy", "Papa Tutt" had walked life's journey long enough and told him to lay his burdens down and to come see him carrying only a gentle soul and a million stories - they were all waiting to hear them.
He was the son of the late James Richard Tutt & Annie Elizabeth Tutt
Herman was the son of the late James Richard Tutt and Annie Elizabeth Blakeman Tutt. Besides his wife Opal, he is survived by his son Richard Tutt (Carrie) of Cave City, KY; daughter Catherine Green (Chris) of Ragley, Louisiana; five grandchildren, Logan Tutt and his wife Ashlee, Cameron Tutt, Grayson Tutt, Caleb Green and Molly Green; two sisters Frances Glasgow and Juanita Hesford of Columbia, KY; several nieces and nephews; and several step relatives.
He will finally hold his infant son that died after birth, Timothy Lee Tutt and hug his parents and brothers who have preceded him; James "Garnett" Tutt, Edwin "Page" Tutt, Thomas "Tommy" Tutt, William "Billy" Tutt and countless friends along his life's journey that knew "Herman" or "Tutt" as a dear friend.
The family requests that expressions of sympathy be in the form of donations to Boys Town, 14100 Crawford Street, Boys Town, Nebraska, 68010 or any local child supporting entity.
Online condolences may be sent at
Foster-Toler-Curry Funeral Home
, 209 W Court Street, Greensburg, KY, in charge of arrangements.
This story was posted on 2016-07-16 16:19:26
Printable:
this page is now automatically formatted for printing.
Have comments or corrections for this story?
Use our
contact form
and let us know.