Martha Bell Corbin Parrish, Magnolia, KY (1927-2016)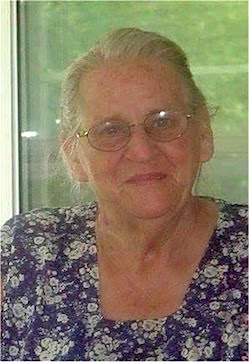 She was a native of Adair County, KY, the daughter of the late Frank and Nora Sneed Corbin. She was the widow of the late Bro. A.J. Parrish, and the matriarch of a great family, and leaves 113 direct living descendants. Many are in areas centered around her home in Magnolia, and a large number are in Columbia, KY, including children and siblings.
---
Click on headline for complete obituary
Martha Bell Corbin Parrish, 88, the wife of the late Bro. Audray Jesse Parrish, of Magnolia, KY, went home to be with her Savior, husband and family gone before her on Friday, May 20, 2016 at the Hart County Nursing Home.
Funeral services will be held at 10amCT/11amET, Monday, May 23, 2016, at the Dixon-Rogers Funeral Home, 31 E and Lavenia Lane, Magnolia, KY, with Bro. Tom Downey and Bro. Dwayne Lobb officiating. Burial will follow in the Lincoln Memorial Church Cemetery in Hodgenville. Visitation will be from 1pm-7pmCT/2pm-8pmET, Sunday, May 22, 2016 and after 8amCT/9amET, Monday at the funeral home.
Martha Bell Corbin Parrish, Magnolia, KY (1927-2016)
She was born on July 31, 1927. She was the daughter of the late Frank and Nora Sneed Corbin. She died Friday, May 20, 2016, Hart County, KY, at the age of 88 years, nine months, and 20 days.
She married the love of her life, A.J. Parrish, October 18, 1947. As long as health allowed she was a faithful member of Friendship Missionary Baptist Church #1 of Jonesville, KY. She spent her life in enjoyment serving the Lord with all she had while supporting her husband as a Baptist Minister, being a great home maker and raising her children and grandchildren. Living her life was a tough road but she always made the best of what God gave her, she strived to mention every one of her great family every day in prayer and left it all in Godís hands. No doubt her great family will continue to reap the benefits of the prayers spoken from the heart of this wonderful woman. She lived her life with little blemish thanks to God above, it would be hard to ever know a more perfect person. The one thing that she ever feared was the thought of someone in her reach was not going to make it to Heaven with her. Ask yourself how did this great woman influence your life?
She was preceded in death by her husband; A.J. Parrish; an infant son, Daniel Parrish; two grandchildren, Kimberly Parrish and Valerie Lyons Wiggins; two great grandchildren, James Vaughn and Andre Parrish; six siblings (one brother in infancy), Ollie Corbin, James Corbin, Mary Gowen, Irene Crawhorn and Dorothy Petty and one son in law, Ronnie Furkin.
She is survived by:
Ten children, five sons and five daughters; Rachael (Sam) Lyons of Enid, OK; Patty (Carroll) Wilson of Glasgow, KY; Leon (Marianne) Parrish of Martinez, GA: Eddie (Teresa) Parrish of Sonora, KY; Edith (Phillip) Ogle of Columbia, KY; Owen Parrish of Elizabethtown, KY; Russell (Kathy) Parrish of Magnolia, KY; Phillip (Cindy) Parrish of Louisville, KY; Nora (Ronnie) Cruse of Hodgenville, KY; and Elizabeth (Steve) England of Mt. Washington, KY

Thirty-eight grandchildren


Sixty-five great grandchildren


A brother: Arnold Corbin of Columbia, KY


A sister: Frances Coomer of Columbia, KY
Some glad morning when this life is over Iíll fly away, mother dear fly away, ma fly away, sister flyaway, friend flyaway, honey child flyaway to your home on Gods celestial shore!
And the grace of our Lord was exceeding abundant with faith and love which is in Christ Jesus. 1 Timothy 1:14
INCESSANT-SUPERLATIVE-PRUDENT Great are those that walk with us but greater are those that cleared the path for us!!!!!!
Send condolences to the family of Martha Bell Corbin Parrish
Dixon-Rogers Funeral Home
, 31 E andLavenia Lane, Magnolia, KY, in charge of arrangement.
This obituary information is a courtesy to the family by
Stotts-Phelps-McQueary Funeral Home
, 210 Greensburg Street, Columbia, KY.
This story was posted on 2016-05-21 05:45:34
Printable:
this page is now automatically formatted for printing.
Have comments or corrections for this story?
Use our
contact form
and let us know.