Robert Holloway, former LWC Board of Trustees Chair, dies at 91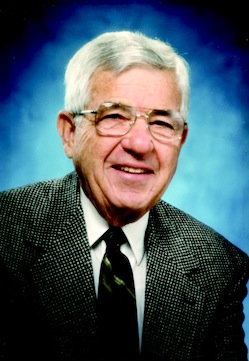 He is remembered as 'Mr. Lindsey Wilson College,' leading the way as the school came of age -- During Holloway's tenure as board chair, Lindsey Wilson's budget expanded from less than $20 million to more than $52 million, enrollment grew from 1,463 to 2,600, and the school moved from a junior college into a baccalaureate liberal arts college.
---
Click on headline for story with photo(s)
COLUMBIA, KY - Robert Holloway, who led the Lindsey Wilson College Board of Trustees during more than a decade of phenomenal growth, died the 20th of May, 2016. He was 91.
Holloway, who was a Middletown, KY, resident, was chair of the Lindsey Wilson Board of Trustees from 1998-2011, a period when "Lindsey Wilson came of age."
"During its 113-year history, Lindsey Wilson College has been blessed with wonderful leaders, and Bob Holloway stands at the top of the list as one of this college's most important leaders," said Lindsey Wilson President William T. Luckey Jr., who has served as the college's eighth president since July 1, 1998. "Not long after I became president, Bob assumed chair of the board, and for more than a decade he was an indispensable adviser to me as well as respected voice on the board."
"In many ways, Bob was Mr. Lindsey Wilson College - he was our leader who guided this college through its most dynamic expansion, a period when Lindsey Wilson came of age as a college. He and his wife, Doris, have their fingerprints all over this college."
During Holloway's tenure as board chair, Lindsey Wilson's budget expanded from less than $20 million to more than $52 million; enrollment grew from 1,463 to 2,600; the size of the faculty increased from about 50 to more than 100; and several major buildings were added to the college's A.P. White Campus. Also during Holloway's tenure, the size of Lindsey Wilson's graduating class expanded so much that in 2004-05 college officials split graduation into a winter and spring commencement ceremony.
Holloway also played a key role in supporting two of Lindsey Wilson's major buildings. In the mid-1980s, he led fundraising efforts for a new building to house the college's Katie Murrell Library. The new building - which was subsequently named the Holloway Building in memory of his parents, Gertrude and Peak -- opened in 1987 and allowed Lindsey Wilson to make a transition from a junior college into a baccalaureate liberal arts college.
About 15 years later, Holloway and his wife committed more than $1 million to help fund an expansion to the Holloway Building, which allowed Lindsey Wilson's academic programs to continue their growth.
In recognition of his support of libraries in the commonwealth, Holloway received the 2002 William H. Natcher Award from the Kentucky Library Association.
"It was such a surprise for me to receive this award because so many other people are deserving of this great honor. I'm just very, very grateful," Holloway said upon receiving the award. "The 19th century minister the Rev. George Dawson once said, 'A great library contains the diary of the human race,' and that's why I've always supported libraries -- they are central to any great college of community."
Holloway also played a lead role in funding the Doris and Bob Holloway Health & Wellness Center, which was opened in February 2010. The 73,232-square-foot center, the largest building on the A.P. White Campus, includes an indoor, eight-lane swimming pool; recreation pool; 40-person hot tub; indoor walking track; racquetball court; cardiovascular area; weightlifting room; and three basketball courts.
Holloway joined the Lindsey Wilson Board of Trustees in 1982. An adviser to three Lindsey Wilson presidents, Holloway was chair of the board's development committee during a crucial time. He was a critical player in leading a five-year capital campaign in the early 1990s that raised $18 million, more than $1.2 million above its goal. He also played a key role in the college's "Changing Lives Campaign," which raised more than $56 million from 2003-10.
Holloway was also a major champion of building the Lindsey Wilson Endowment.
"Building the endowment at Lindsey Wilson has been one of my personal goals since I joined the board of trustees," he said in 1997. "A strong endowment will guarantee a solid college that is able to compete in the higher-education marketplace."
Holloway was also chair when the Lindsey Wilson Board of Trustees voted in April 2008 to revive the college's football program, which had been dormant since 1935.
"One of the great things about Bob's leadership was that he was committed to building and developing a complete college because he wanted Lindsey Wilson to students to be well-rounded citizens of the world," Luckey said. "Bob not only demanded that Lindsey Wilson have high-quality academic programs, but he also made sure that we had an outstanding student-support system as well as a national-championship caliber athletic program."
In a 2003 interview, Holloway said that one reason he enjoyed supporting Lindsey Wilson was because of the college's mission to serve every student, every day, and also because "they get the most juice out of the tomato. There is very little wasted."
A Navy veteran, Holloway was a graduate of Purdue University, where he was sports editor of his college newspaper, The Exponent. Holloway then joined Aluminum Company of America, now ALCOA, working in that company's sales division for six years before entering the motel and swimming pool business.
"It's always a great honor to be involved with any institution of higher education -- especially a Christian institution," Holloway said in 1998. "At the same time, there is a responsibility for trustees to keep everything on track and make sure that everything continues to go in a positive direction. And at Lindsey Wilson College, everything is going in the right direction. In so many ways, Lindsey Wilson is a leader in higher education. ... I have been so impressed with what so many people have done for Lindsey Wilson. We have an excellent board of trustees, and it is our responsibility to ensure that we maintain a high standard of excellence throughout the college."
In addition to his involvement at Lindsey Wilson, Holloway was one of the outstanding citizens of Middletown, KY. He served The United Methodist Church in several capacities, and he was a member of the Louisville Chamber of Commerce Board of Directors.
"I think all of us love to give our time or resources to to charitable institutions, but I like to give to efficient organizations such as Lindsey Wilson College," he said. "We also like to be associated with winning programs -- and when you are part of Lindsey Wilson, you are part of a winning organization."
Holloway was preceded in death by his wife, Doris. He is survived by four children: Susan Randall, Rebecca Morris, Jennifer Thompson and Robert Scott Holloway; 10 grandchildren; and one great-grandchild.
This story was posted on 2016-05-20 19:10:44
Printable:
this page is now automatically formatted for printing.
Have comments or corrections for this story?
Use our
contact form
and let us know.