Mr. James Edward Sinders, Cumberland Co., KY (1938-2016)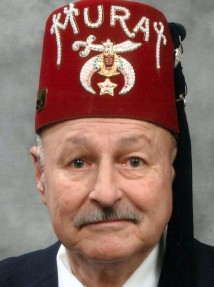 'He was a millwright for General Motors Truck and Bus Plant in Indianapolis for 33 years and retired in 2000. He was Past Master of both the Lynhurst Masonic Lodge #723 and Indianapolis Masonic Lodge #669. He was also a member of Scottish Rite Indianapolis Valley, Murat Shrine, Knights Templar in Indianapolis, and Downtown York Rite. He lived most of his life in Camby and 18 years in his birthplace of Clay City. He enjoyed his antique cars, tractors and gardening. He loved life and lived it to its fullest.' His final resting place will be in Perkins Cemetery, Cumberland County, KY
---
Click on headline for complete obituary
Mr. James Edward Sinders, of Camby, IN, passed away peacefully on Monday, May 16, 2016 while surrounded by family.
Funeral Services will be conducted on Friday, May 20, 2016 at 4pmCT in The Memory Chapel of Norris-New Funeral Home, 601 N Main Street, Burkesville, Kentucky with Bro. Charles Huddleston officiating. Burial will be in the Perkins Cemetery in Burkesville, Kentucky. The family will receive friends after 1pmCT, on Friday, May 20, 2016, at Norris-New Funeral Home until the funeral hour.
Family and friends gathered from Thursday, May 19, 2016 with a Masonic service starting at 6:30pmCT/7:30pmET, at Jones Family Mortuary, 4165 East Allison Rd., Mooresville, IN.

Mr. James Edward Sinders, Cumberland Co., KY (1938-2016)
He was born to James Ralph and Mary Agnes (Horton) Sinders on Tuesday, November 8, 1938. He died Monday, May16, 2016, in Camby, Marion County, IN, having attained the age of 77 years, 6 months, and 8 days.
He married Shirley May (Huddleston) Sinders on February 8, 1969. He was a millwright for General Motors Truck and Bus Plant in Indianapolis for 33 years and retired in 2000. He was Past Master of both the Lynhurst Masonic Lodge #723 and Indianapolis Masonic Lodge #669. He was also a member of Scottish Rite Indianapolis Valley, Murat Shrine, Knights Templar in Indianapolis, and Downtown York Rite. He lived most of his life in Camby and 18 years in his birthplace of Clay City. He enjoyed his antique cars, tractors and gardening. He loved life and lived it to its fullest.
He was preceded in death by his parents and his lovely wife.
He is survived by:
Four children: Cindy (Rich) Wise of Nashville; Jim E. (Elizabeth) Sinders of Bloomington, IN; Patricia Wolf of Camby, IN; and Jerry Wolf of Indianapolis, IN


Seven grandchildren


One great-granddaughter


A special nephew: Paul Glenn Huddleston


And three brothers: Estel, Don, and Gene Sinders
Send condolences to the family of Mr. James Edward Sinders
Norris-New Funeral Home
, 601 N Main Street Burkesville, KY, is honored to be in charge of local arrangements.
This story was posted on 2016-05-20 09:53:58
Printable:
this page is now automatically formatted for printing.
Have comments or corrections for this story?
Use our
contact form
and let us know.