Carol Perkins: Chicken story, Part II: Grandchickens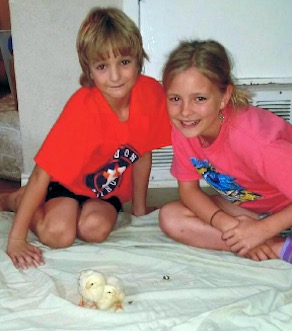 At left, Noah and Eme with Cloud & Speedy.
Despite her disdain for chickens. She recently learned she had grandchickens - hundreds of miles from Edmonton - in Texas. - Next earlier Chicken story: Carol Perkins: Manifesto - the case against chickens
---
Next earlier Carol Perkins Story:
Carol Perkins: I always wanted to be a Mother
By Carol Perkins
To continue my chicken story from last week, I must tell you that I have not changed my opinion that chickens are nasty, often-confrontational creatures.
So when my son called to tell me of Noah and Eme's desire to bring two baby chicks home from a field trip, I did not side with them.
"Mama, this is the first time you have gone against your grandchildren in my favor," Jon said. He was probably right, but I held my ground with good reason. I did not want any "grandchickens."
Little yellow chicks are tempting just as puppies are, but they are not pets.
However, the kids had a plan that was too tempting to quash. First, the youngest had saved most of his money from birthdays and Eme had saved none.
Therefore, Noah was going to buy supplies and the cage for the chicks, and Eme was to care for them (the nasty work).
Another example of money-wielding power!
Noah provided a box with wood chips for the chicks to live in until their cage arrived.
Cleaning after them was a sickening job, and one she would soon want to ignore until Jon reminded her of their deal. The idea of her touching that mess made me cringe. "Jon, they'll get histoplasmosis," I warned.
"You made that up," he said.
I was trying to scare him, but my examples seldom do.
"Eme, tell me about your chicks," I asked when I talked to her later.
"They are so precious. We named one of them Speedy and the other Cloud. They can fly!" (Maybe they will fly away.)
"How do you know which is which?" All baby chicks look alike to me, but she could tell them apart.
When I asked Jon about the project, he assured me it was going as planned.
"They will get tired of them, and then I'll take them down to the ranch (we call them farms). Then the coyotes will get them." I didn't believe him.
"Why don't you put them in the cage with your rabbit?" (Yes, they have a rabbit whose cage is large enough to take up half a room) Maybe that will take care of them.
"No, rabbits and chickens like each other." I didn't know that.
The saga of the little yellow chicks will continue for a few more weeks until they get tired of them and move on to something else.
Jon will be left with a chicken "cage" and figuring out what to do with Speedy and Cloud.
He won't feed them to the coyotes as he threatens. He will do what he always does; take care of the animals or give them to some loving couple who are "chickless."
As for their mother, she has long ago discovered that it is best to let Jon handle the "animal" situations and get out of the way.
Carol Perkins is a regular weekly ColumbiaMagazine.com columnist and a co-host with Susan Chambers on the very popular The "Susan & Carol, Unscripted" show, live. FM 99.1 radio each Tuesday Morning at 10amCT.
This story was posted on 2016-05-11 18:30:46
Printable:
this page is now automatically formatted for printing.
Have comments or corrections for this story?
Use our
contact form
and let us know.