James Howard Young, Edmonton, KY (1922-2016)
'Having finished his allotted time, James Howard Young now belongs to the ages.'
---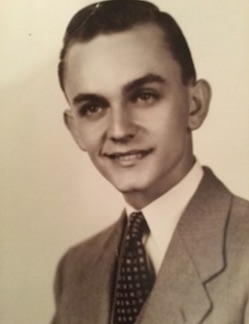 James Howard Young of Edmonton, Kentucky passed away peacefully on April 11, 2016 at T.J. Samson Community Hospital in Glasgow. The son of John Oren and Effie Shirley Young, he was born October 6, 1922 in a one room cabin at the head of Beaver Creek on the family farm in Metcalfe County. Soon after James Howard's birth, his parents purchased the general merchandise store and adjacent home in nearby Wisdom where James Howard spent his youth and young adulthood.
James Howard Young is survived by his wife, Gwendolyn Kirby Young, with whom he would have celebrated 62 years of marriage on April 12. In addition to his wife, he is survived by their three children and spouses: Richard Oren Young and his wife, Cindy Young of Edmonton; Mary Jane Thistlethwaite and her husband, William Thistlethwaite, MD of Mayfield and Glasgow; and Fred Kirby Young and his wife, Marla Young, of Edmonton. Other survivors include five grandchildren: John Fred Young, William Taylor Thistlethwaite, Jr., James Clayton Thistlethwaite, Rachel Elizabeth Young, Audrey Lynn Young, and one great grandchild, McCartney Scout Young.
James Howard was an educator in both Metcalfe and Barren County, beginning his career as an instructor for World War II veterans. He later taught at Sugar Plant, Cedar Hill, and North Metcalfe Schools for a total of 32 years. His distinctive talents combined with his abiding appreciation of history, art, music, literature, poetry, and culture created an effective teacher who educated outside the box. His passion was teaching students of all ages about his beloved Commonwealth of Kentucky and the history of our nation. Students in his classroom were exposed to three books he considered of immense importance and portions of which he read aloud to them daily: The Bible, Gone with the Wind, and the works of William Shakespeare.
In earlier years, James Howard's students learned outside of the classroom as they explored and gained appreciation for the great outdoors, including jaunts through caves and places of importance in local history. Ever observant of his students and their progress, he had a unique ability for bringing quiet or shy students to the forefront and was persistent in making their learning experiences appropriate for their learning style. His elaborately staged productions involving children in 4-H Talent Shows, dramatic presentations, and musicals became legendary thanks to James Howard's creative talents in designing sets, creating costumes, and his directing abilities. James Howard was a one-of-a kind educator who excelled in giving his students an exceptional education. The Edmonton Chamber of Commerce honored him with the Metcalfe County Education Idol Award, reserved for outstanding local educators.
Ever a student of history, James Howard never stopped learning and sharing the history of Kentucky and its people. He was a local historian, an avid genealogist of the Shirley, Young and related families, and was a sought-out expert on decorative arts. He was a lifetime member of the Filson Club of Louisville where he spent many hours researching and sharing history. Dedicated to his agrarian roots, he was a long time member of the Metcalfe County Fair Board. His love of gardening and his appreciation of historic architecture and antiques were hobbies he enjoyed throughout his life.
Among his legacies is his passion for music and the arts which he instilled in his offspring. His daughter Mary Jane studied the harp and modern dance. His sons, Richard and Fred, founded the Grammy Award-winning band, The Kentucky Headhunters. This legacy has been passed to another generation of musicians, grandson John Fred Young, of the award-winning band, Black Stone Cherry.
Having finished his allotted time, James Howard Young now belongs to the ages.
The family will receive visitors at Butler Funeral Home in Edmonton on Saturday, April 16 from 4pmCT until 8pmCT, and on Sunday, April 17, 2016 from 9amCT until 2pmCT Funeral services will be conducted at the funeral home at 2pmCT on Sunday, April 17, 2016. Burial will be private.
This story was posted on 2016-04-12 17:23:46
Printable:
this page is now automatically formatted for printing.
Have comments or corrections for this story?
Use our
contact form
and let us know.