Dwight Lee Meyer, Green County, KY (1930-2015)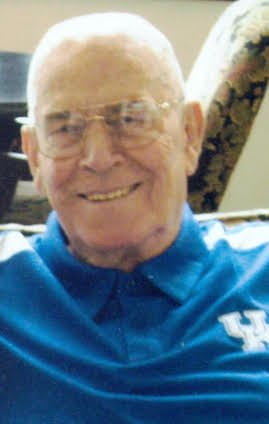 He was the patriarch of a distinguished South Central Kentucky family. Dwight Lee Meyer was born on June 30, 1930; he was a much loved, highly respected, hard-working and devoted Husband, Father, Grandfather, and Great Grandfather. A USMC veteran, he served as a navigator during the Korean War. He was a Civil Engineer. He founded and owned Meyer and Lewis Construction Co. His notable projects included "spaghetti junction" and the Bowling Green Corvette plant. His wife of 62 years, Jean Carol Nettleship Meyer, survives.
---
Click opn headline for complete obituary
Dwight Lee Meyer, 85, of the Cedar Grove Community of Green County, KY passed away Friday, November 6, 2015 at 7:49amET, at the Baptist East Hospital in Louisville, KY after several months illness.
Funeral service will be Monday, November 9, 2015 at 11amCT, at Stotts-Phelps-McQueary Funeral Home, 210 Greensburg Street, Columbia, KY with Bro. Terry White, the officiating clergy. Interment in the Columbia Cemetery, 315 Campbellsville Street, Columbia, KY, with full military honors provided by the United States Marine Corp. Visitation will begin after 2pmCT, Sunday, November 8, 2015, at Stotts-Phelps-McQueary Funeral Home
It was as a Marine stationed in Jacksonville FL, that he met and then married his wife of 62 years, Jean Carol (Nettleship) Meyer. Together they loved and raised four children – Mike, Pam, Mark, and Rhonda. He had eight grandchildren and eight great grandchildren to which he was both fortunate enough and always glad to share his love, laughter, life stories, and values. Mr. Meyer always made sure to express the love he felt for his family. Quick with a smile, a wave, and a firm handshake, he truly enjoyed his life, his family, and meeting new people. He seemed always to be able to make those around him laugh and to put them at ease with little effort.
A genuine family man, Mr. Meyer was among those of the highest caliber and character. Through his daily example of how he lived his life; he taught and instilled in his children and family the true meanings of strong values and deep rooted work ethics. From him they witnessed and learned respect for other people and their property as well as being fair and honest with them. His life as an inspiration, his family learned the importance of persevering and never giving up hope on the plans and dreams they hold for themselves and their families.
After graduating from high school in Bonne Terre, MO he earned a bachelors' degree in Civil Engineering from the Missouri School of Mines. After his military service he became owner of Eady Construction. He later founded and owned Meyer and Lewis Construction Company. Several of his more notable projects include "spaghetti junction" in Louisville KY, the Corvette plant in Bowling Green, KY, and numerous facilities across the country. In addition to construction, he was an active farmer for more than 38 years.
Mr. Meyer was preceded by his parents, Adolf and Alta Meyer and sister Shirley Newcomer.
He is survived by his wife Jean Carol Meyer, and the following:
His children: son Mike Meyer; daughter Pamela (Bill) Howard, son Mark (Cindy) Meyer, and daughter Rhonda (Joe) Hawks


His grandchildren: Dakota Meyer, Stephen (Kelly) Danzinger, Troy (Jennifer) Danzinger, Matthew (Carolyn) Meyer, Casey (Tommy) Ernst, Jennie (Jon) Begley, Erin (AG Priddy) Meagher and Andrew Meagher


His Great grandchildren: Michael Danzinger, Maddy Danzinger, Haley Horn, Brett Ernst, Aubrey Ernst, Katlyn Begley, Lane Priddy and Emma Meagher
Send condolences to the family of Dwight L. Meyer
Stotts-Phelps-McQueary Funeral Home
, 210 Greensburg Street, Columbia, KY, in charge of arrangements.
This story was posted on 2015-11-06 15:27:57
Printable:
this page is now automatically formatted for printing.
Have comments or corrections for this story?
Use our
contact form
and let us know.