Where in the World?? Latest is from Old Creelsboro, KY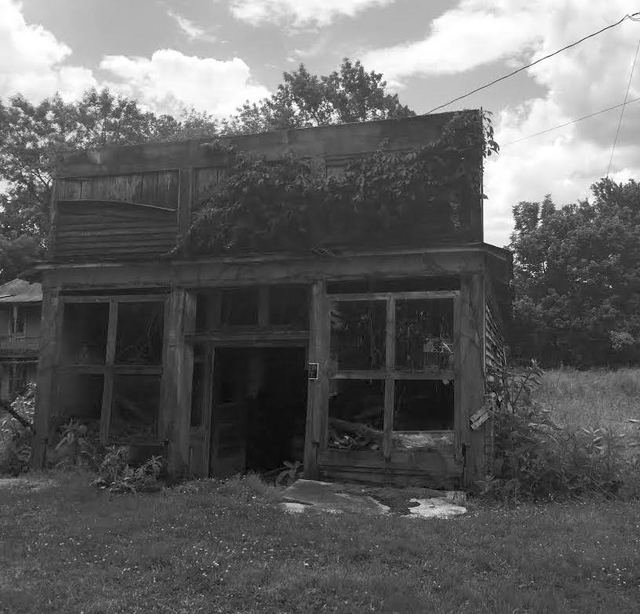 ---
Next previous Where in the World:
Where in the World 26 May 2015 - Angel in Columbia Cemetery
by Linda & Ed Waggener
Photographer Junior Stotts photographed a scene in Old Creelsboro, Russell County, KY, just a day ago with a setting which gave the photo a look of a half century or more ago, and sent it as a travel item.
Though we've seen it dozens of times, we still didn't recognize it. But The angle and the perspective wasn't enough to mask its identity from the ghost town's many fans.
The photo was posted at just around 1pmCT, and it didn't take but a few minutes for the answers to come pouring in, listed below, all received on Sat 30 May, 2015:
Mary Ann Brown wrote first with the correct answer, at 1:27pmCT, "Creelsboro, in Russell County, KY."
Robert Cumming wrote at 1:30pmCT, "This former shop building is located on Ky 389, in the center of Creelsboro, Russell County, Ky."
Tommy Corbin wrote at 2:08pmCT, "Looks like O.G. Rowe's store at Chance." and 'deed it does look somewhat like the photo, but that wasn't it,; the photo was taken in Creelsboro.
Paul Patton wrote at 2:28pmCT, "The building pictured was in Creelsboro; however, I do not know for sure what the building was used for nor by whom."
Elvis E. York wrote at 5:38pmCT, "I believe this old store building is located in the old town of Creelsboro, Ky."
John E. Moss wrote at 10:40pmCT, "... old store front @ Creelsboro, Russell County, Kentucky." He didn't say, but we'd guess that it's been the subject of one of his many outstanding photographs of Russell County landmarks.
Fred W. Carnes wrote at 5:09pmCT, Sun 31 May 2015: "The building is in Creelsboro, KY."
Robert W Cummin wrote at 8:48pmCT, Sun 31, 2015: "The former shop in the photo was a combination farm implement-hardware business previously operated by Barry Buster until the late forties, early fifties. The property was later acquired by the Gilbert family and lately their heirs."
Thanks to everyone who participated, and to Mr. Stotts for submitting the photo. The puzzles. If you know the whole story about the landmark, we'd sure appreciate hearing from you.
- LINDA & ED
Watch next "Where in the World???" on CM. The frequency is random, sometimes daily, sometimes not.
This story was posted on 2015-05-31 10:55:06
Printable:
this page is now automatically formatted for printing.
Have comments or corrections for this story?
Use our
contact form
and let us know.