Mrs. Valta Cox Bland, 84, Taylor Co., KY (1930-2015)
She married Howard Eugene Bland in 1945 and graced their home with eleven children. He preceded her in death in 1978. She was a talented musician and oral historian who lived a simple but contented life. Mrs. Bland was an anchor for her family, a very loving and caring mother and grandmother, and will be greatly missed. She leaves 53 direct living descendants
---
Mrs. Valta Cox Bland, 84, departed this life on January 26, 2015 at her home in Campbellsville. .
There will be a funeral service to honor the life of Mrs. Valta Cox Bland at the L.R. Petty Funeral Home, 1765 New Columbia Rd, Campbellsville, KY 42718 on Thursday, January 29, 2015 at 12pmCT/1pmET, with Bro. Rodney Booe officiating. The family will receive friends at the funeral home on Wednesday, January 28, from 4pm-7pmCT/5pm-8pmET, and on Thursday, January 29, from 6amCT/7pmET, until time for the service. Mrs. Bland will be laid to rest at the Jones Chapel Cemetery, Hwy 1752, Taylor County, KY. Grandchildren will serve as pallbearers.

Mrs. Valta Cox Bland, 84, Taylor Co., KY (1930-2015)
She was the daughter of the late Cyrus Delbert and Lou Viller (Garrett) Cox. She was born August 19, 2015. She died January 26, 2015, in Campbellsville, Taylor County, KY, at the age of 84 years, 5 months, and 7 days of age.
She married Howard Eugene Bland in 1945 and graced their home with eleven children. He preceded her in death in 1978. She was a talented musician and oral historian who lived a simple but contented life. Mrs. Bland was an anchor for her family, a very loving and caring mother and grandmother, and will be greatly missed.
Mrs Valta Cox Bland leaves to cherish her memory:
Ten children: Donnetta Sharp and husband Jimmie of Campbellsville, Freddie Bland of Greensburg, Roger Bland and wife Peggy, Bobby Bland, Lana Franklin and husband Billy Jack, Terri Brown and husband Freddy, Jimmy Bland, Jeff Bland and wife Vicki, all of Campbellsville, KY; Sherri Martin and husband Curtis of Elizabethtown, KY; and Carla Williams and husband Milt of Campbellsville, KY


One daughter-in-law: Deanna Gay Bland,


Two sisters: Floye Marple of Campbellsville, and Josie Morrison and husband Bill, also of Campbellsville, Ky


Twenty grandchildren: Ricky Sharp, Todd Bland, Anna Bland, Ben Bland, Caleb Bland, Deborah Bland, Chastity Cotrell, Willie Bland, Michelle Hedgespeth, Chris Helm, Carla Bland, Justin Bland, Samantha Bland, Jordan Bland, Jefra Hines, Corey Clarke, Claudia Janes, Alexia Williams, Raquel Williams, and Stone Williams,


Nineteen great-grandchildren: Nicole Pippin, Jessie Bland, Aaron Bland, Abby Bland, Blake Bland, Alaina Bland, Noah Bland, Ava Bland, Eden Bland, Canaan Cottrell, Jordyn Cottrell, Kelsey Edelen, Jaxon Bland, Brailey Hedgespeth, Bruin Hedgespeth, Blake Helm, Sarah Helm, Raelyn Helm, and Carstyn Clarke


Four great-great-grandchildren: Kaylee McCauley, Ryder McCauley, Kinley Edelen, and Wesson Edelen,


And a host of nieces, nephews, cousins, and friends.
She was also preceded in death by one son, Kenny Ray Bland; six brothers and two sisters, Joe Cox, Kermit Cox, Berry Cox, Merle Cox, Shirley Cox, and Lillie Bland, and Elmer Cox and Josephine Cox in infancy; and two grandchildren, Todd Sharp and Melissa Bland.
Send condolence to the family of Valta Cox Bland
L.R. Petty Funeral Home and Cremation Service
, 1765 New Columbia Road, Campbellsville, KY, in c
This story was posted on 2015-01-28 04:41:50
Printable:
this page is now automatically formatted for printing.
Have comments or corrections for this story?
Use our
contact form
and let us know.
Grissom-Martin Funeral Home
Located one block off the Square at 200 Campbellsville Street in Columbia, KY.
To reach David and Cathy Martin, phone (270)-384-2149, or e-mail: grissomfuneralhome@windstream.net.
Large enough to serve comfortably; Small enough to serve personally.
G & G Monuments
Todd and Mandi Green and Jared Conover
1670 Liberty Road, Columbia, KY. email: toddg12@windstream.net, 270-634-0359
First Quality Marble and Granite
Mrs. Valta Cox Bland, 84, Taylor Co., KY (1930-2015)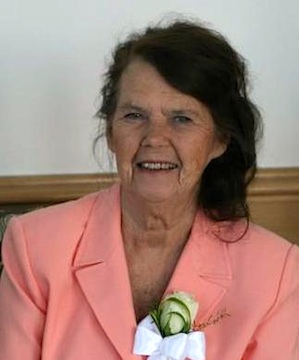 2015-01-28 - 1765 New Columbia Road, Campbellsville, KY - Photo from L.R. Petty Funeral Home and Cremation Service.
Mrs. Valta Cox Bland, 84, Taylor Co., KY (1930-2015)


Read More... | Comments? | Click here to share, print, or bookmark this photo.