Adair Clerk lists Polling Places, Officers, 4 Nov, 2014 Election
VOTE TODAY!!! in the 4 November 2016 General Election
Polls are open
6am-6pmCT/6am-6pmET
, depending on local time zone, throughout Kentucky.
---
The 12 locations, listed alphabetically, with the precincts voting there and officers presiding are as follows:
A-1 Gate, 7624 Liberty RD, Columbia, KY


Eunice Pellyton precinct
Officers: Betty Wethington, Sally Marple, Christopher Patton, Margie Absher
Little Cake precinct
Officers: Anna Burton, Margaret Antle, Elizabeth Hogue, Dorothy Bailey



Blair Park/(formerly Christian Life Center), 901 Hudson Street, Columbia, KY


South Columbia #2 precinct
Officers: Debora Nobles, Jo Ann Elder, Vickie Pike, Patty Nall, Debra Nobles, Brenda A Harmon.
West Columbia precinct
Officers: Patricia Bennett, Billy Nobles, Cynthia Rowe, Tera McQueary, Phyllis Burton, Pam Grant.



Breeding Fire Department, 290 Fire Department RD, Breeding, KY


Sparksville-Breeding precinct
Officers: Charles Dial, Tiffany Smith, Diane Campbell, and Mary Holler



D & F Grocery, 4731 Edmonton Road at Gradyville


Gradyville-Nell precinct
Officers: Robert Burt, Joanna Smalle, Daryl Sanders. Johnny Richards.



Gaddie Office, 4997 Highway 55 South RD, Columbia, KY (KY 55 at KY 92(


Glensford/Melson Ridge
Officers: Anita Fletcher, Valorie Barnett, Claudette Fletcher, Vickie Hill.



Garrison Construction Company, 6980 Greensburg RD (KY 61 North)


Milltown precinct
Officers: Alice Graves, Edwin Jackson, Marty Burris, Jean Brock.



Knifley Fire Department,6130 Elkhorn Road, Knifley


Knifley-Roley precinct
Officers: Page Lynn, Lisa Taylor, Shirley Burton, Norene Feese.



Leon Huff Building, 7692 Russell Springs RD, Columbia, KY


Ozark precinct
Officers: Gail Flatt, Glenna Shofner, Lois White, Joyce Evans.



Mary Carter Building on Sano Road


White Oak precinct
Officers: Alesia Michele Arnold, Julie Stephens, Sue Carter, Deltris Cravens.



Trinity Fellowship Hall, 2252 Campbellsville RD, Columbia KY (KY 55 N/Campbellsville Road)


Cane Valley Holmes precinct
Reba Rogers, Glenda Butler, Lora Lynn Atchley, June Shanklin.
North Columbia precinct
Officers:Connie Stone, Carolyn Burton, Talissa Moore, Donald Keith, Pam Shearer, James K. Montgomery.



VFW Building, 411 Fairground ST, Columbia, KY


Hurt precinct
Officers: Faye Davidson,Bessie Willis, Judy Watson, Sharon Edwards, Mary Pelley, Pamela Shouse Montgomery.



Wheet Fellowship Hall, 1208 Jamestown ST, Columbia, KY (KY 55, Jamestown Road)


East Columbia precinct
Officers: A.L. Sinclair, Charles M. Barnes, Wanda Bardin, Shirley Moore, Shirley Reliford, Katherine Jones.
South Columbia-Harmony precinct
Officers: Vicki Johnson, Ramona Akin, Wendy Burt, Judy Spoon, Angie Estes, Ashley Feese.
Voters who have questions can call the Adair County Court Clerk's office at 270-384-2801. The office is located at Suite 3, Adair Annex, 424 Public Square, Columbia, KY.
This story was posted on 2014-11-03 19:25:15
Printable:
this page is now automatically formatted for printing.
Have comments or corrections for this story?
Use our
contact form
and let us know.
To sponsor news and features on ColumbiaMagazine, please use our
contact form
.
Voters in Gradyville may have cutest poll in USA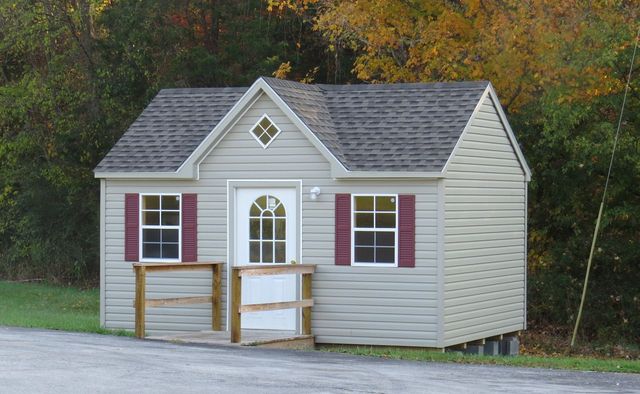 2014-11-04 - 4731 Edmonton Road, Gradyville, KY - Photo (c) ColumbiaMagazine.com.
---
CJE Ann Melton and Adair Fiscal Court replaced a neat but not so attractive Gradyville-Nell precinct polling place, with this one after a run-away auto destroy the old polling place, at no cost to the taxpayers; it was paid for with insurance. It's on the grounds of D & F Grocery, 4731 Edmonton Road, Gradyville, KY. Officers today, 4 Nov 2014, are Robert Burt, Joanna Smalle, Daryl Sanders. Johnny Richards. Clicking Read More accesses complete list of Election 2014 polling places, officers.
Read More... | Comments? | Click here to share, print, or bookmark this photo.