Farmer's Mkt on the Square: Know Before You Go, Aug. 16, 2014
OPEN TODAY! Saturday, August 16, 2014. The Farmer's Market on the Square is open every Saturday from 8am-1pmCT, at the Adair Annex Parking Lot, 424 Public Square, Columbia, KY
---
News compiled by Ed Waggener
for ColumbiaMagazine.com(c) from submissions
Today's a good time to try out the new benches at the Courthouse Annex, have a Picnic on the Square - in our hospitality tent or at the snazzy new Picnic Tables by the Fountain, and take a two-tenths of a mile Walk Around the Square (5 turns on the sidewalk and you've walked a mile). You'll see things and reflections of things you've never seen before, everytime you revisit.
Here's the line up for Farmers Market on the Square, for Saturday, August 16, 2014, posted as ColumbiaMagazine.com receives listings from the vendors for this news story.
Susan Pennington of Smith Creek Cabin 270-932-4309Bluegrass Bug Bomb - All natural. Keeps the bugs of ya. We have Summer Squash Relish today. And our full line of Soap.
Alicia & Cosmo Bosela, Columbia, KY - My son Cosmo will bring Melons & Squash, and I will have: Celandine Poppy, Purple Coneflower, Liatris, Spiderwort, Blue Star, Hibiscus, Coreopsis. Butterfly Weed.
Lisa and Jason Blackaby of Blackaby Hill Farm - 270-535-5396 - Blackaby Hill Farm will have Breakfast Sausage Links, Jowl Bacon, Pork Roast, Whole Chicken, 1/2 Doz Duck Eggs, and Chicken Eggs. Custom Burlap Shopping Bags And Potted Aloe Vera Plants In Custom Painted Pots. - Lisa Blackaby
Danny and Debbie Burris of D&D Longview Angus 270-250-3701 - Tomatoes (Red, Pink, and Yellow), Mini Tomatoes (Red and Orange), Green Beans (Brown Stick, Missouri Wonder Pole, and Half Runners), Pickling Cucumbers, Okra, Yellow Squash, Zuchinni, Egg Plant, Peppers ( Green, Banana, Chillie, Yellow, and Red), Pimento Peppers, And Cantaloupe. Hope to see you here! Debbie and Danny
Jana Esch of Just Natural Products 270-378-1375 - CLEARANCE of a variety of Soaps & Room Scents due to package changes or bad cuts, etc. Sugar Scrub Soap, essential oils, lye soap, glycerin soap, Room Scents, Hair Soap, Pet Soap, Varmit Soap, Laundry Soap, Natural All-purpose Cleaner, beeswax melts.
Darrell Bunnell of Coview Farm 270-384-5412 - Darrell Bunnell. Yellow squash. Cucumbers. Potatoes. Peppers. Hot peppers. Dried black beans. Corn. Tomatoes. Onions.
Caitlin Helm of Lonely Acre Farm 270-378-0576 - Honey wheat bread. Friendship bread. Lemon bread. Orange juice bread. Sourdough bread. Blueberry muffins. Banana bread. Cranberry carrot cake. Zucchini bread. Dried tomato & basil Focaccia. New this week! Eggplant & artichoke bread. With samples. Purple basil. Oregano. Spicy basil. Garlic chives. Parsley. Sage. Stevia. - Caitlin Helm
Barbara Armitage of Tucker's Station Farms 270-250-2979 - New this week - Ugly Raisin Bread. Carrot Cake, Summer Harvest Cake, Chocolate Zucchini Cake. Sweet Onion Bread and other Fresh baked artesian Breads. Homemade Blackberry Jams and Salsa's. Purple Hull Peas, Tomatoes, Jade Green Beans, Cucumbers, English (Burpless) Cucumbers, sweet Banana Peppers, Chili Peppers, Jalapeño Peppers. We are always sampling! - Barbara Armitage
Terry Huff of Heavenly Homestead Cheese 270-250-2979 - Hand crafted whole milk natural cheeses. Cheddar, Smokehouse Cheddar, Parmesan, Colby, Monterey Jack, Garlic and Herb, Tomato Basil, Gouda, Smoked Gouda, Havarti, Pepper Jack.
Donna Jones of Big Black Dog Farm 270-634-2125 - Tomatoes. Okra. Eggplant. Pepper and Melons - and All Sizes Of Kentucky Honey, New Quilts.
And we expect these vendors, as well, and well, but haven't yet heard what they will have especially for today:
Diane West of WestWay Designs.
Melinda Vetter of Misty Hills Soap Company 270-864-2892 -
Sharlene Rader and Alena Krutska of Holiday Farms 270-932-7148 -
Jay Cox of A&J BBQ 270-634-1627
The Farmer's Market on the Square brings you only the best Kentucky farmers, gardeners, crafters, artisans and musicians have to offer. For information on becoming a Farmer's Market on the Square vendor contact Barbara Armitage, Market Coordinator, at 270-250-2979 or Tuckers.Sation@gmail.com For information on being a Friends of the Farmer's Market volunteer contact Beth Rutherford at 270-384-1202 or luthershorty@gmail.com. If you would like to be highlighted as a featured entertainer on a future Saturday, please contact Jana Esch, Entertainment Coordinator, Farmers Market on the Square. Phone 270-378-1375 We're on the way to everywhere – stop by and visit with us soon.
This story was posted on 2014-08-16 06:07:18
Printable:
this page is now automatically formatted for printing.
Have comments or corrections for this story?
Use our
contact form
and let us know.
To sponsor news and features on ColumbiaMagazine, please use our
contact form
.
At Every Market - several times a day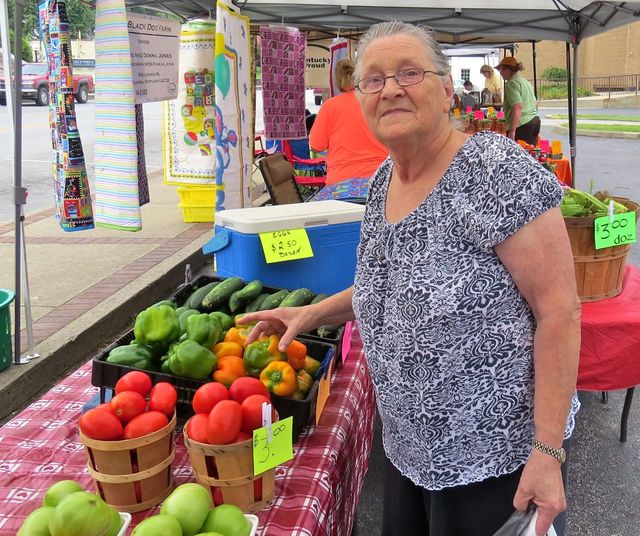 2014-08-16 - Adair Annex, 424 Public Square, Columbia, KY - Photo by Ed Waggener.
Kathryn Burton is as familiar at the Farmers Markets on the Square as any vendor. She proud to be called a regular. "I love this place," she said, "it precious. Just precious." Before 9amCT she had made her second trip. "I get to met so many people I know," she said. And she was buying a little more each trip. Above, she's at Darrell Bunnell's Coview Farms booth, very tomatoes are the royalty of the day. Over Mrs. Burton's left shoulder, (right in the photo), is Barbara Armitage, FM2's founder, taking photos for Bon Apetit Appalachia. Farmers Market is one of 48 Kentucky Food venues (most are restaurants) listed as a destination market in Kentucky. FM2 is open 8am-12pmCT, for 30 Saturdays through October, in the parking lot of the Adair Annex, 424 Public Square, Columbia, KY.
Read More... | Comments? | Click here to share, print, or bookmark this photo.


Dale Whittingham has adds little white country church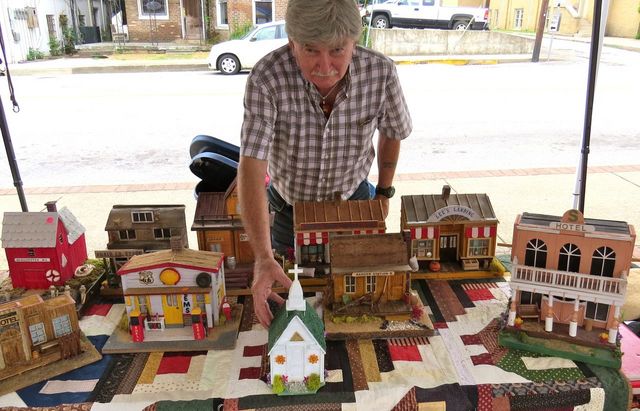 2014-08-16 - Adair Annex Parking Lot, 424 Public Square, Columbia, KY - Photo by Ed Waggener. Dale Whittingham of Dales Miniatures 270-378-4859 - has a new stock model handcrafted miniature church in addition to barns, houses, historical buildings. There's provenance behind many of the miniatures. She's had a lighthouse inspired by Mystic, CT, where the movie, "Mystic Pizza" was filmed; another structure was inspired by a scene from the movie, "The Perfect Wave." Special orders taken to for commissioned works of homes, historic structures, and ideas from memories. He's at the Farmers Market on the Square today, 424 Public Square, Columbia, KY. The market is open 8am-1pmCT, Saturdays.
Read More... | Comments? | Click here to share, print, or bookmark this photo.


Wildflowers at Farmers Market on the Square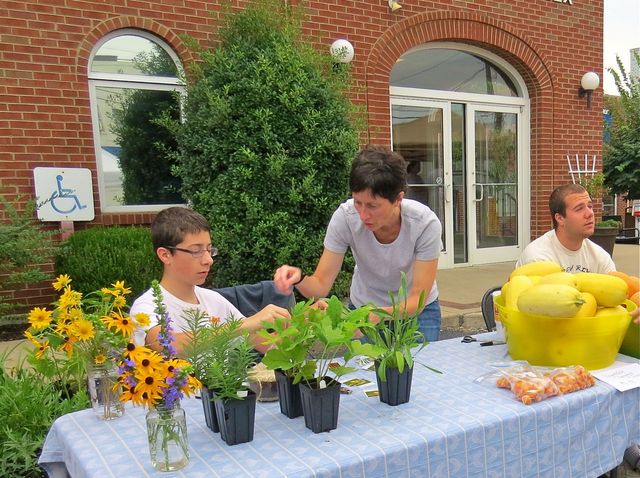 2014-08-16 - Adair Annex Parking Lot, 424 Public Square, Columbia, KY - Photo by Ed Waggener. Alicia Bosela helps son Emery Bosela, prepare a package for sale, while, right, Cosmo presides over his spaghetti squash and melons for sale at their booth at Farmers Market on the Square, today, Saturday August 16, 2014. market is open 8am-1pmCT, today, in the Adair Annex parking lot, 424 Public Square, Columbia, KY.
Read More... | Comments? | Click here to share, print, or bookmark this photo.