Farmers Mkt on the Square: Know Before You Go, Aug. 2, 2014
OPEN TODAY! Saturday, August 2, 2014. The Farmer's Market on the Square is open every Saturday from 8am-1pmCT, at the Adair Annex Parking Lot, 424 Public Square, Columbia, KY
---
News compiled by Ed Waggener
for ColumbiaMagazine.com(c) from submissions
The list below is as up-to-the-minute as we can keep it. Today promises to be a great day. We've heard more and more people saying to each other, "See you Saturday at the market," or, in one case, "see you Saturday at the Greatest Show on Earth." This morning holds the promise of being one of the best ever - there'll even be coffee and breakfast items available at FM2 today by around 6:30am-6:45amCT. Remember - this is a Farmers Market - the vendors are here as long as they have something to sell, as long as the weather permits. So come early. Some listed items arrive with a very limited stock, other items, even with all the vendor can carry to the market, sell out very, very early.
Here are some of the vendors you'll find at this week's market, as of 7:15amCT, Saturday morning. Keep watching, we expect more details
Sweets and Eats - 270-384-1448 - will be here with great Breakfast and lunch items: Glazed and Chocolate Doughnuts. Twist Doughnuts, Bacon Biscuits,. Sausage Biscuits. Coffee. Orange Juice. Milk. Pepsi and some surprises, maybe. We'll be set up around 6:30am to 6:45pmCT, close to the Hospitality Tent. See you there. - Sondra Keltner
Chris Anderson, Sweet Bee, from the every edge of Taylor County - 270-634-1544 Here with Mayfield Ice Cream in all your favorite flavors: Vanilla, Chocolate. Strawberry, Butter Pecan, Turtle Tracks, and Birthday Cake! - Chris Anderson
Caitlin Helm of Lonely Acre Farm 270-378-0576 - Sourdough Bread. Orange Juice Bread. Zucchini Bread. Lemon Bread. Banana Bread. Friendship Bread. Cranberry Carrot Cake. Peach Muffins. Blueberry Muffins. Dried Tomato & Basil Focaccia (Samples). Herbs: Oregano. Sage. Parsley. Purple Basil. Garlic Chives. Spicy Basil. Caitlin Helm
Debbie & Danny Burris, D & D Longview Angus Farm, Gradyville, KY. 270-250-3701 Brown Stick Beans, A Few Missouri Wonder Stick Beans, Tomatoes ( Red, Pink, And Yellow) Mini Tomatoes (Red, Yellow, And Orange), Yellow Squash, Zuchinni, Pickling Cucumbers, New Potatoes, Okrs, Egg Plant, Peppers (Green, Banana, Sweet Chilli) a few Red Raspberries. PHOTO Hope to see everyone. - Debbie Burris
Donna Jones of Big Black Dog Farm, Columbia, KY, 270-634-2125 - (Donna Jones photo, earlier FM2) The Big Black Dog Farm will have red and yellow tomatoes okra eggplant both classic and Japanese (long ones) hot banana peppers hot chilli peppers cantaloupe cucumbers as well ss various sizes of Kentucky honey. Lots of quilts baby or adult bibs for children and adult receiving blankets. -Donna Jones (Talk to me about the Adair County Garden Club.
Barbara Armitage of Tucker's Station Farms 270-250-2979 - Carrot Cake, Summer Harvest Cake, Chocolate Zucchini Cake. Sweet Onion Bread and other Fresh baked artisan Breads. Homemade Blackberry Jams and Salsas. Tomatoes, Green Beans, Sweet yellow Onions, Cucumbers, English (Burpless) Cucumbers, Green Peppers, sweet Banana Peppers, Jalapeno Peppers, We are always sampling! - Barbara Armitage
Darrell Bunnell of Coview Farm, Coburg, KY. 270-384-5412 - Crimson Sweet Watermelon. Charleston Grey Watermelon. Eggplant. Red Potatoes. Kohlrabi. Jalapeno Peppers. Sweet Banana Peppers. Chili Peppers. Green Bell Peppers. Orange Bell Peppers. Slicing Cucumbers. Yellow Squash. Red Tomatoes. Yellow Tomatoes. Green Tomatoes for Fried Green Tomatoes. Roma Tomatoes. - Darrell Bunnell
Terry Huff of Heavenly Homestead Cheese, London, KY, 270-250-2979 - Handcrafted whole milk natural cheeses. Cheddar, Smokehouse Cheddar, Parmesan, Colby, Monterey Jack, Garlic and Herb, Tomato Basil, Gouda, Smoked Gouda, Havarti, Pepper Jack.
Rhonda Parker of Jenny Creek, Summersville, Green County, KY 270-403-4479 - I've got some GOT TO HAVE it Sweet Corn. Sweet Bell Peppers. Hot Peppers, 2 kinds: Hungarian White Wax and Serranos. Some big beautiful Heirloom Tomatoes, and Roma and Cherry Tomatoes. Stick Beans. Onions. Some really beautiful produce today. Stop and see me. - Rhonda Parker
Lisa & Tim Blackaby of Blackaby Hill Farms, East Adair County near the Coffey Hole on Russell Creek. 270-535-5396 - Pasture raised Whole Chicken. Heritage breed Red Wattle Pork: Cured Smokey Bacon, Country Style Ribs, and Boston Butt Roasts. - Tim Blackaby
Jana Esch, Columbia, KY, of Just Natural Products 270-378-1375 - – New product: Sugar Scrub Soap available in Peppermint and Sweet Dreams, Varmit Soap, Laundry Soap, Natural All-purpose Cleaner, beeswax melts, and a "bargain bowl" of deeply discounted soaps and room scents. essential oils, lye soaps, glycerin soap, Room Scents, Hair Soap, Pet Soap, -Jana
Jeff Scott, The Apple Man of Antioch 270-378-0330. I'm already about out of a truckload of Paul Reds and Ginger Gold Apples. But if you hurry, you may still have time to get some - and if you don't get apples, there's still plenty of produce. Enough to make a fat boy grin from ear to ear. - - Jeff Scott
(Postings in progress, the Market opens at 8amCT. Click for expected venders whose inventories not yet listed)
Sharlene Rader of Holiday Farms 270-932-7148 Goat Milk Soap. Handpainted Paintings on Canvas.
Diane West of WestWay Designs - Today's inventory expected soon
Melinda Vetter of Misty Hills Soap Company 270-864-2892–Today's inventory expected soon
Carles Lloyd of Lloyd Woodworking - 270-789-3168 - Today's inventory expected soon
For information on becoming a Farmer's Market on the Square vendor contact Barbara Armitage, Market Coordinator, at 270-250-2979 or Tuckers.Sation@gmail.com Contact for being a Friend of the Farmer's Market volunteer: Beth Rutherford at 270-384-1202 or luthershorty@gmail.com. Those wishing to showcase their entertainment on a future Saturday, Contact Jana Esch, Entertainment Coordinator, Farmers Market on the Square. Phone 270-378-1375
This story was posted on 2014-08-02 05:13:22
Printable:
this page is now automatically formatted for printing.
Have comments or corrections for this story?
Use our
contact form
and let us know.
To sponsor news and features on ColumbiaMagazine, please use our
contact form
.
Varmit Soap at Farmers Market on the Square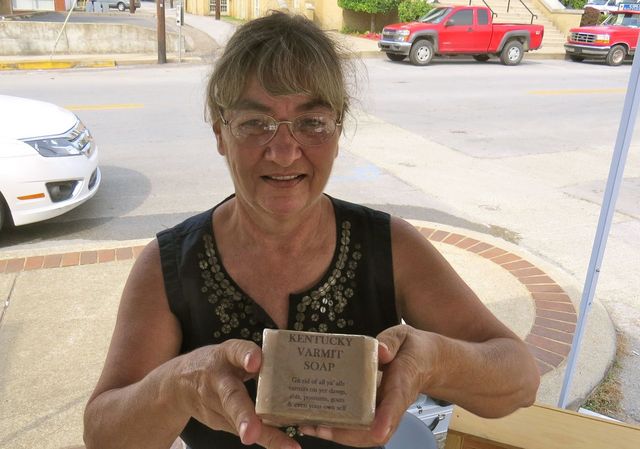 2014-08-01 - Adair Annex, 424 Public Square, Columbia, KY - Photo by Ed Waggener. Jana Esch of Adair County's Natural Products shows one of her top selling items, "Varmit Soap," which, according to the label, is good for all kinds of varmints, four-legged and he human kind. She'll be at the Farmers Market on the Square, Saturday, August 2, 2014, from 8am-1pmCT, with Varmit Soap and more. Reserve yours by calling 270-378-1375.
Read More... | Comments? | Click here to share, print, or bookmark this photo.