Adair Fiscal Court hears warning on safety on Dunnville Road
Adair Fiscal Court Report, Tuesday, May 14, 2013.
---
Ryan Beard asks court to act, "before somebody gets killed"
Keeping things in balance: Dump truck, Total Paver Spray Truck needed
David Jones presents "Bridge Bus" to Superintendent Darnell
Darnell estimates sign vandalism cost at $3,400 for month
Budget amendment includes dedicated 911 vehicle; upgrade for CJE office computers
The budget stabilized in part by fortuitous leasing arrangement
Reconciled balance end of April, $1,305,925.91. Transfers pre-approved; Transfers to date
Court orders: $500 for pauper burial. Pass through payment to Adair Ambulance Service
Court hears first reading of the 2014-2015 budget
Court pleased with Surplus Sales results at Bid Opening/Eugene Cowan wins two surplus items; Logan Darnell one.
Elaine Sinclair takes Jody Curry's place on Board of Assessment
Recycling gets new employee
Newly added:
Adair Regional Jail reports net to collect of $60,701.92
County Court Clerk Blair's recommendations approved for maintenance on voting machines, staffing
Second reading on Marion Jones Road approved.
Routine matters handled routinely
---

by Ed Waggener

Ryan Beard, a District One resident on Dunnville Road, appeared before the Adair County Fiscal Court to ask the court to improve the safety along the narrow, winding road which is part of the 600 mile plus county road system, "before somebody gets killed," he said.

The road is a shortcut between KY 206/Liberty Road at Eunice in Adair County and busy Dunnville, KY, in Casey. In Adair County, it's Dunnville Road; across the Casey County line, it's River Road.

The smooth black top road is like so many in the system. It invites sports car speeds - gravel roads used to be a speed limiter - and it carries a wide mix of travellers: School buses, milk trucks, commuters, motorcyclist and bicyclers, and slow moving passenger vehicles taking in the gorgeous scenery and searching out historic Civil War sites. Every driver is subject to distractions by deer and other wildlife.

Beard said that a number of measures need to be taken, but acknowledged that could understand that one, widening, might not be fiscally possible.

Others, though, were less expensive ideas. One was to center stripe the road. Another was clear blind spots on curves.

He said that he is apprehensive about entering the road, because of a shale rock ledge interferes with vision.

He said that he's done as much work, himself, on the road, as he could afford. What's needed, he said, is trackhoe work.

CJE Ann Melton told Mr. Beard that she will revisit the road and see what can be done. "We've put in a lot of work on that road," she said, adding that a safe bridge (over Short Creek) was added early in her administration.

She said that with over 600 miles of county-maintained roads, it's hard to do everything needed to do all the work needed.

County Road Supervisor Jobe Darnell said that right-of-way questions may be an issue, and that he will check into to that.

Roads and Bridge improvements have been the hallmark of the Melton Administration. The unit of Fiscal Court has gone from below average, under equipped unit to one which is the envy of many counties across the state, but continues to face the problems of keeping safety, roadside beauty, and the improvements in balance.

Keeping things in balance: Dump truck, Total Paver Spray Truck needed

Road supervisor Joe Darnell gave the Road Report, which was unanimously approved by the six magistrates present, Harold Burton (District 1), Daryl Flatt (2), Sammy Baker (3), Billy Dean Coffey (5), Joe Rogers (6) and Billy Rowe (7). Perry Reeder (4) is still recovering from an auto accident and did not attend. Judge Melton asked for continued prayers for his recovery.

Mr. Darnell told the court that the road department needs a new "spray truck" (no, not "Agent Orange" roadside vegetation spray), an low cost but essential element for the county's new Total Patcher system.

Judge Melton said that there is money in the Road Fund to buy the vehicles if suitable ones can be found from State Surplus Vehicles. The smaller truck is estimated to cost $5-6,000 from the state; a good serviceable dump truck would be approximately $10,000. A last attempt to get the old Dump Truck running - it's a diesel problem - will be made.

Magistrates agreed that there is little choice but to buy the equpment, given the much larger investment in the Total Paver system.

Treasurer reports Reconciled Balance, April 30, 2013: $1,305,925.91

Treasurer Barry Corbin reported another strong balance in all funds at the end of April 2013 of $1,305,925.91. The report was unanimously approved.

He also asked for an received permission to make anticipated budget transfers including 1) $10,000.00 from the General Fund to the Green River Animal Shelter fund. 2) $60,000.00 from the General Fund to the Jail Fund. 3) $10,000 from the General Fund to the 911 Fund. 4) $25,000 from LGEA fund to Parks and Recreation Fund.

Total transfers this fiscal year to date are 1) $385,000 from General to Jail. 2) $220,000 from Road to General. 3) $85,000 from General to 911. 3) $85,000 from General to GRAS. 5) $25,000 to Parks & Rec. 6) $8,000 from LGEA to General. 7) $2,500 from LGEA (to not listed on document).

David Jones presents "Bridge Bus" to Superintendent Darnell

The Road Department's good work providing safer routes for Adair County School Buses the work the county will be doing with the Total Patcher on High School Roads was rewarded last night with the donation of a surplus bus by the Adair County School Board.

The keys to the bus were presented, with a words of gratitude to Fiscal Court, by David Jones, Student Transportation supervisor for the Adair County School Board.

Mr. Jones said that the county might have realized some $1,500 if the bus were sold at auction. He said he knew that the county needs a vehicle which is serviceable - although no longer up to school standards for transportation of children - for special projects. He suggested that this one might be used as a "Bridge Bus" for carrying tools needed on projects and could be left for the duration of a project, which otherwise would require a additional labor, time and expense to bring on a daily basis.

This bus is a full size one. Mr. Jones said that one of the short buses in the fleet had been given to the Adair County Road Department earlier, but he knew a larger one, for larger projects was needed.

Judge Melton expressed thanks, and praised Mr. Jones and the school board for the innovative cooperation between the county and the school board.

(The surplus bus innovations in the Adair County School system is paying off other ways: See also: Mobile Classroom starts with 1992 International School bus

Darnell estimates sign vandalism cost at $3,400 for month

Mr. Darnell said that sign vandalism is actually up this month, after a reward system was put in place. (Raising the question of whether this and other mention of the problem - news media coverage of the problem, is actually an enticement to get attention by damaging signs - Your Comments, please).

He said that last month, 40 signs, at an estimated cost of $85 per sign, had to be replaced. That amounts to $3,400 per month, and, on an annualized basis, $40,800 in needless expense to the County Road System. (That's a cost of .4 new bridge every year; eliminate that cost, and Adair County could have an additional new bridge every 2.5 years.)

County 911 Mapping & Addressing Coordinator Vehicle to be purchased/Budget Amendment

The county fleet will be getting another change. Judge Melton included a dedicated vehicle for the Adair County in the County's Budget Amendment for Fiscal Year 2012-13.

The vehicle is a much needed one for the Adair 911 Addressing and Mapping Coordinator. At the moment, when the frequent Street and Number additions and changes are needed, Justin Bailey, the coordinator, has to hunt down a vehicle, and very often, it's not available. $6,000 is allocated for purchasing a suitable car/truck/or SUV, likely from State Surplus.

The budget changes also include provisions for a computer upgrade to doing more digital filing and to send reports to magistrates and media from digital files. Judge Melton said that costs will be offset by savings in labor and storage filing cabinets. A bonus, she said, is that additional space won't be needed for the paper storage.

Adair County will be the second system in Kentucky installed by the Tennessee company providing the service.

CJE Melton said that the new system will be a boon to HR - Human Resources - as well.

The budget amendment was approved 6-0.

The budget stabilized in part by serendipitous leasing arrangement

The court approved, unanimously, a lease arrangement with Dr. Lynda Wilkerson's Wilkerson Consulting, LLC, for the one-time Adair Health Department building at 127 N. Reed Street, Columbia, KY, and at the Judge's recommendation, granted the firm two months occupancy with payments waived to help bring the building up to standards.

Dr. Wilkerson recently purchased the Certificate of Need for the center from Adanta, the Somerset organization which held the lease for the past five years.

Judge Melton told the court that it was her understanding that the building would require approximately $2,500 to $3,000 in catch up maintenance to meet the standards Dr. Wilkerson set for the facility.

The court will waive two months rental payments of $500 each to help compensate Wilkerson Consulting for the maintenance.

Court hears first reading of the 2014-2015 budget

The court heard and approved the first reading of the 2014-2015 budget. It includes a change in the way magistrates' expenses are paid. For as long as anyone on the court could remember, the expenses have be paid from the Road Fund. Judge Melton said that she had learned, in a phone conference with Green County Judge Missy Edwards, that the payment should be made from the General Fund.

She said that a follow up conference with the Department for Local Government in Frankfort, KY additional guidance was obtained and the change, a mere bookkeeping one to follow all guidelines, was being made. There will be no changes in magistrate's expense payments, except the fund, she said. The money has got to be paid, she said. it's just a matter of allocation.

And the CJE wondered out loud why Frankfort had approved all the budgets submitted each year, without questioning this entry.

Elaine Sinclair takes Jody Curry's place on Board of Assessment

Judge Melton approinted, and the court unanimously approved, Elaine Sinclair, a real estate broker with Golden Rule-Wilson Real Estate & Auction Service, to a three year term on the Board of Assessments. She explained that the outgoing member, Jody Curry, had served the maximum tenure, and that this appontment is a CJE one.

Court approves two Court Orders
The Court approved two court orders: 1) for the payment of $500 to Grissom-Martin Funeral Home for a pauper burial, and 2) To write a pass through check from the General Fund to the Adair Ambulance Fund for $10,714 received on its behalf.

Court pleased with Surplus Sales results at Bid Opening

CJE Ann Melton and the court seemed pleased with the results of the bid opening for surplus property.

- Eugene Cowan made the winning bid on the 1990s Ford Model 6640 Tractor, with a bid of $5,576, beating the bids of Terry Williams, $2,591; and Gerald Lucas, $1,850.
- Eugene Cowan also was high bidder for the Ford Front End Loader, with a winning bid of $1,876, beating the bids of John Velesantur (sp?), $1,500; Greg Willis, $1,275; Logan Darnell, $1,156; and Terry Williams, $701.
- Logan Darnell made the high bid of $800 for the 1999 Dodge Ram truck, beating out a bid by Kevin Burton of $651.98.

Recycling gets part-time employee

A.L Sinclair asked for an additional part time employee for the Adair County Recycling Center. The court approved hiring Jim Luker for 16 hours at $8 per hour. He'll work Thursdays and Fridays to keep up with the recycling material processed. Mr. Sinclair said that the price of the materials is increasing and that two $2,000 loads are ready to be picked up with approximately that much in waiting.

Roadside clean up has been hampered somewhat by the tall grass on the sides of State Roadways and the Clean Up crews have shifted to County Roads. Already 127 miles of roadway has been cleaned, with 954 bags of litter removed from Adair County Roadways, Sinclair said.

He reminded the court of the Tire Amnesty, in progress Thursday, Friday, and Saturday, May 16-17-18, 2013, at the State Garage on Service Road.

Second reading to rescind extension of Marion Jones Road

First District Magistrate moved, with a second by Second District Magistrate Daryl Flatt, that a second reading to rescind the extension of county maintenance for Marion Jones Road be rescinded. The court approved, 6-0.

Adair Regional Jail reports net to collect of $60,701.92

Adair Regional Jailer Rick Wilson's report was unanimously approved by the six magistrates present. The April figures gave a net to collect of $60,701.92. Jailer Wilson reported labor supplied to agencies, including Adair Recycling, Adair County Road Department, Center on Aging, City of Columbia Maintenance, Columbia Sanitation, Adair County Pride Litter Pickup Green River Animal Shelter, and Columbia Recycling Department of 2,640 hours, equivalent to $21,120 at $8/hour.

Court approves requests by Court Clerk Sheila Blair

The court unanimously approved a request by County Court Clerk Sheila Blair to get new software cards and batteries for the county voting machines. The work maintenance is needed to assure proper functioning of the machines in the next election. The cost is approximately $5,000 and is need every five years. She also apprised the court of the need to transfer line item money to from full-time to part-time to fully staff the office while one deputy is out. The change will have little effect on the overall staffing costs for the office.

Routinely handled matters okayed routinely

The court routinely approved minutes for the April regular meeting.

Also approved was the "Blue Form" which sets up reimbursements for the county services under contract with the Administrative Office of the Courts for the county's services at the Adair County Judicial Center.

The court approved Standing Orders, which allows the CJE's office to pay routine utility bills and salaries each month in the coming fiscal year.

Also receiving perfunctory and routine approval were payment of bills and current bills, the Sheriff's report and the sheriff's final tax settlement, and the Jail Report.

End, Adair County Fiscal Court Report for regular meeting, Tuesday, May 14, 2013
---
Regular monthly Adair County Fiscal Court meetings are held at 7:00pmCT, each second Tuesday, in the basement of the Adair Annex, 424 Public Square, Columbia, KY. The meetings are open to the public.
---
A LIST OF YOUR ADAIR COUNTY OFFICIALS
---
To match officials and faces, click to Inauguration 2011

Adair County Judge Executive Ann Melton
421 Public Square, Suite 1, Columbia, KY 42728
Phone 270-384-4703; Fax 270-384-9754

---
OTHER ELECTED ADAIR COUNTY OFFICIALS
---
Adair County Attorney Jennifer Hutchison-Corbin (2000)
Adair County Coroner Todd Akin (20011
Adair County Court Clerk Sheila Blair (2007)
Adair County Circuit Court Clerk Dennis Loy
Adair County Jailer Rick Wilson (2011)
Adair County PVA Wm. Feese, Jr.
Adair County Sheriff Harrison Moss
Adair County Surveyor Mike McKinney
---
The ADAIR COUNTY FISCAL COURT
---
County Judge Executive Ann Melton (2007) is a voting member of Fiscal Court and may vote on all proposals before the court; Office:Adair Courthouse Annex
Magistrates on the Adair County Fiscal Court:
District 1: Harold Burton (2011)
District 2: Daryl Flatt (2011)
District 3: Sammy Baker (2007)
District 4: Perry Reeder (2007)
District 5: Billy Dean Coffey (Feb. 2005) (270) 384-4201
District 6: Joe Rogers (1990)
District 7: Billy Rowe (2011)
Adair County Constables
District 1: William "Bill" Troutwine
District 2: Shannon Rowe (2011)
District 3: Robert R. Loy
District 4: Chris Janes (2011)
District 5: Tim Bottoms
District 6: Jason T. Rector
District 7: Joe Collins, Jr.
---
APPOINTED OFFICIALS
---
Adair County Finance Officer, Fiscal Court Clerk Gale Cowan
Adair County Judge Administrative Assistant Lisa Lee
Adair County Mapping and Addressing Coordinator Justin Bailey
Adair Co. Disaster Management Coordinator Greg Thomas
Adair County Treasurer Barry Corbin
Adair County Roads Supervisor Jobe Darnell
Adair County Dog Warden Jimmy Harmon
Adair County Solid Waste Coordinator A.L. Sinclair
---
ClickHere to check other announcements in the ColumbiaMagazine.comEvents calendar.
This story was posted on 2013-05-15 05:31:14
Printable:
this page is now automatically formatted for printing.
Have comments or corrections for this story?
Use our
contact form
and let us know.
To sponsor news and features on ColumbiaMagazine, please use our
contact form
.
Steve Sanders one of AC bus drivers on Dunnville Road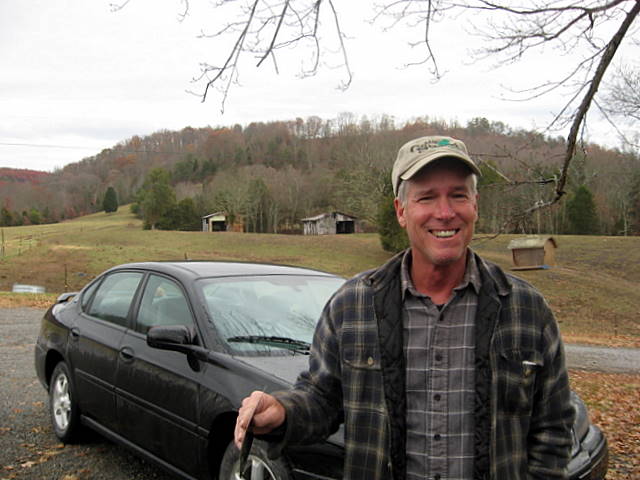 2013-05-15 - Damron Creek Road - Photo CM file photo. Steve Sanders shown above in happy times 2008 story, Steve Sanders: Remembering the spoke factory about a manufacturing facility up thataway. Sanders is one of two Adair County School Bus Drivers who have to traverse what neighbor and neighborhood advocate Ryan Beard calls "a dangerous stretch of road," Dunnville Road from KY 206 to he Casey County line. Beard made an appeal to Adair Fiscal Court last night to take action on safety problems since the smoothened road has created safety problems for all who use it. County Judge Ann Melton and Adair County Road Supervisor Jobe Darnell promised to take a new look at the situation in Fiscal Court's regular monthly meeting, May 14, 2013.
Read More... | Comments? | Click here to share, print, or bookmark this photo.


David Jones presents Bridge bus to Road Department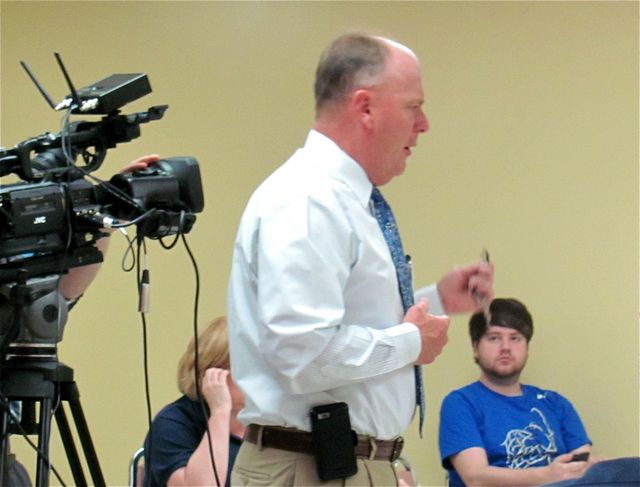 2013-05-15 - Adair Annex basement, 424 Public Square, Columbia, KY - Photo by Ed Waggener. David Jones, Adair County Student Director was on camera for the Channel 2 coverage of the Adair Fiscal Court at last night's, Tuesday, May 14, 2013, regular meeting. At right background is Blake Spires, covering the meeting for the Adair Progress Thursday morning weekly newspaper. Partially obscured is Sharon Burton, Editor & Publisher of the Adair County Community Voice Wednesday afternoon weekly newspaper. Jim Leib, reporter for The WAVE, 92.7 radio, was present in the right side of the hall. Jones presented the keys to a surplus Adair County School District School bus, to Jobe Darnell, Adair County Road Supervisor. The bus will undergo adaptive re-use and re-purposing for a tool shed-to-site vehicle - in this case, a "Bridge Bus," for work on longer term Road Department Projects.
Read More... | Comments? | Click here to share, print, or bookmark this photo.


Adair Friends and Neighbors Adult Day Care Center


2013-05-15 - 127 N Reed Street, Columbia, KY - Photo CM Staff.
The Adair Fiscal Court continued the lease on this building at 127 N Reed Street when Adanta decided to discontinue its Eldercare program here. Dr. Lynda Wilkerson bought Adanta's Certificate of Need and is continuing adult daycare at the location under a new name, "Adair Friends and Neighbors Daycare." The daycare is open from 7am-3:30pm Mondays through Fridays. The rental rate is the same as it was for Adanta, but the court and Dr. Wilkerson agreed that to two months free rent to help offset the cost of delayed maintenance. The building was purchased by the county originally to house the Adair County Health Department. At one time, it was a two story warehouse and John Deere dealership operated by C.R. Hutchison & Sons. An overhead walk connected the business' Public Square store to the warehouse. The street in the shadows is E. Adams Alley.
Read More... | Comments? | Click here to share, print, or bookmark this photo.