Teddy R. Ray on his heroism: What else was there to do?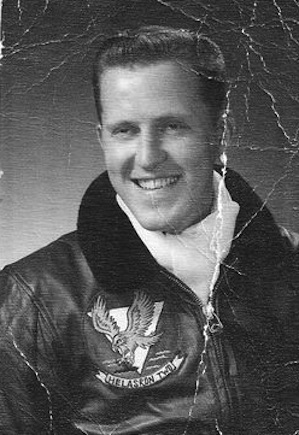 Click on headline for story with photo(s)
By Geniece Marcum
Metcalfe Countians have always been proud of their young people who have served in the armed forces. One we are especially proud to call one of our own, is Teddy Ray, from a neighboring farm to my homeplace in the Bellview community of Edmonton, KY. He served in the Vietnam War, and received a wall full of medals for his heroism. One of the medals came after the helicopter he was aboard was shot down during a rescue mission near Hanoi, North Vietnam. The medal was for his gallantry during a firefight, but Teddy shrugs it off, even to this day.
When I met him on the street in Edmonton after he returned home from Vietnam and commended him for his bravery, I got a characteristic Teddy Ray response: "Oh, hell," he said. "What else are you going to do? You're hanging a thousand feet in the air and they're shooting at you. You shoot back."
Carla Smith, Teddy Ray's daughter, Carla Smith, Glasgow, KY, sent us the following brief summary of her father's service:
Teddy R. Ray, Edmonton KY, was a Third-Class Electrician's Mate in the US Navy during 2 Tours of Duty in Vietnam. He was part of the crew of an SH3-A Helicopter that flew on rescue missions for downed flight personnel. The following are his service awards from 1967:

Silver Star
Distinguished Flying Cross
4 Air Medals
National Defense Medal
US Vietnam Service Medal
Vietnam Service Medal

Thank you for recognizing his sacrifice for our country. -Carla Smith
Our thanks to Carla Smith, and our gratitude to Teddy Ray, for his bravery, and for making us so proud.
At one point, several years ago, we decided to publish all the names of Metcalfe County service people in the newspaper. I've been searching for the ones we had, but have been disappointed that I wasn't able to find that information. I don't think we ever do enough to honor our service people, whether it's Teddy Ray, our reluctant-to-admit-that-he's-a-hero, hero, or those in my own family and elsewhere. We can never do enough for them for what they've done for us.
- Geniece Marcum
This story was posted on 2012-11-15 07:26:20
Printable:
this page is now automatically formatted for printing.
Have comments or corrections for this story?
Use our
contact form
and let us know.
Advertisement: Thanks to ColumbiaMagazine.com Special Sponsors.


The Adair County Veterans List is made possible by the following:
---
The three locally owned Steve McKinney NAPA Auto Parts stores. There's one near you at:

NAPA AUTO PARTS - Columbia.
411 Campbellsville St., Columbia, 270-384-2141
NAPA AUTO PARTS - Campbellsville
1050 New Columbia Road, 270-465-5671
NAPA AUTO PARTS - Russell Springs, KY
2263 Lakeway Drive, 270-866-4787
---
Bank of Columbia
144 Public Square, Columbia, Kentucky 42728, 270-384-6433
---
To add become a sponsor of the Veteran's List, please contact ColumbiaMagazine.com using any Contact/Submit button. Be sure to send contact information so we can contact you.