Today, SATURDAY with CM, September 15, 2012
Haiku by Robert Stone for September 15, 2012:
What never changes
will destroy or be destroyed
when challenged by growth.
--Robert Stone, Saturday, 15 September 2012.
-1000 haiku countdown to Chambers Stevens' 50th birthday, Day 368, in progress
---
One Year Ago Day, September 15, 2011:
A Date We'll Always Remember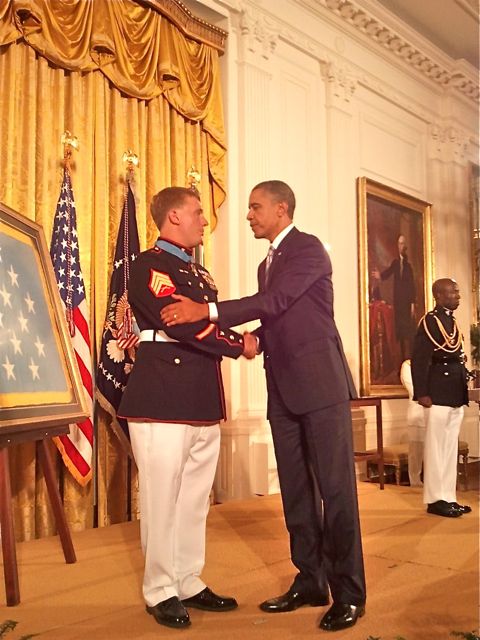 President Barack Obama
congratulates United States Marine Corps SGT Dakota Meyer. The photo was taken Thursday, September 15, 2011, at the ceremonies in the East Room of the White house, at which the nation's highest military award was bestowed on the 23 year old Adair Countian, with some 100 of his Kentucky friends and neighbors in attendance.
Photo by Toby Young, Columbia, KY, taken from his front row vantage point at the White House, September 15, 2011
---
CM as Daily Newspaper on the Red Letter Day Adair Countian Dakota Meyer was presented the Congressional Medal of Honor by President Barack Obama
Stories and Great Photos on that day and dates before and after.
This story was posted on 2012-09-15 05:36:29
Printable:
this page is now automatically formatted for printing.
Have comments or corrections for this story?
Use our
contact form
and let us know.