A Mystery is solved: The Bliss Kids are identified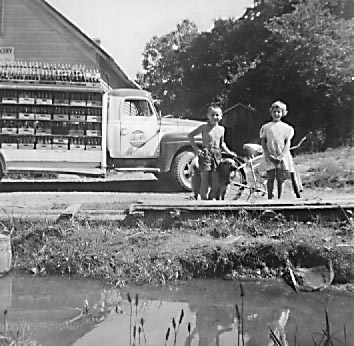 Mary Ruth Scott Norris and Harry Staples are two kids in old photo
---
Mary Ruth Scott Norris
writes:
Ed, I am the girl, Mary Ruth (Scott )Norris standing with Harry Staples, with his dog in front of the only store in Bliss. His Dad and Mom own and operated the store and that was where you received your mail and many food items. A lot of good memories come to mind going to the store to get refreshments and enjoy the people of the community.I'm glad that my brother, Kenneth Scott, was able to purchase the downtown store but the store was in such bad repair that he was not able to save it. Thanks, Mary Ruth from the Windy City - Chicago - Mary Ruth Scott Norris
Thanks! Mary Ruth Scott Norris.
That sure clears up a big mystery, but I hope it's not the last information or photo we get on Old Bliss. -EW.
Comments Bliss Store larger Photo with caption
This story was posted on 2012-07-12 17:00:28
Printable:
this page is now automatically formatted for printing.
Have comments or corrections for this story?
Use our
contact form
and let us know.