A Fairplay Day in June at Red-Winged Blackbird capital of Adair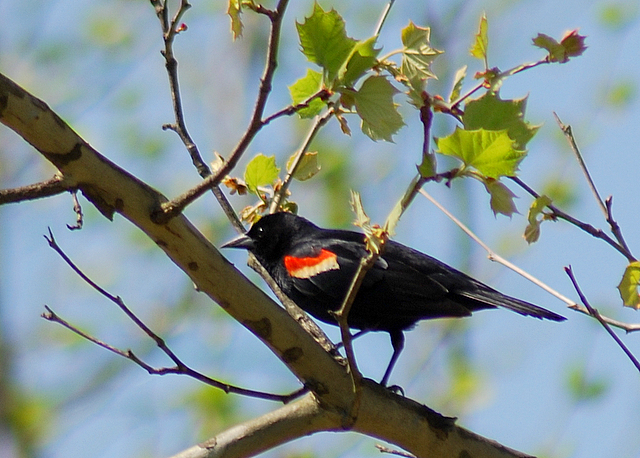 Writer may be suggesting Red-Winged Blackbird (Photo at right by Pen) as National Bird of Adair County, as well? Not just for the Fairplay Area?
---
Comments re photo 45806 Scenic Adair Co KY A Fairplay Day in June
By Billy Joe Fudge
You are a sly one, you are. Your expertise precedes you and it is of no benefit for you to fain modesty at this point.
No one but you could have taken a photo right in the heart of Adair County's Largest Sinkhole and not have mentioned that this particular location is the Red-winged Blackbird capital of Adair County.
This stretch of Highway 704 is inundated with Cat Tails, Water Cress and grassy banked streams which are prime habitat for Red-winged Blackbirds, which just happen to be the most beautiful birds in Adair County, hands down.
On most any day all one has to do is slowly cruise down into the Sinkhole and watch for these beautiful creatures. When you see them you will most assuredly be seeing the male of the Red-winged Blackbird species. The female is a blackish brown and is rather nondescript when compared with the brilliant plumage of the male.
-B.J. Fudge
This story was posted on 2012-07-01 05:14:05
Printable:
this page is now automatically formatted for printing.
Have comments or corrections for this story?
Use our
contact form
and let us know.