Today, TUESDAY with CM, January 24, 2012
Welcome to Columbia/Adair Co., KY - and ColumbiaMagazine.com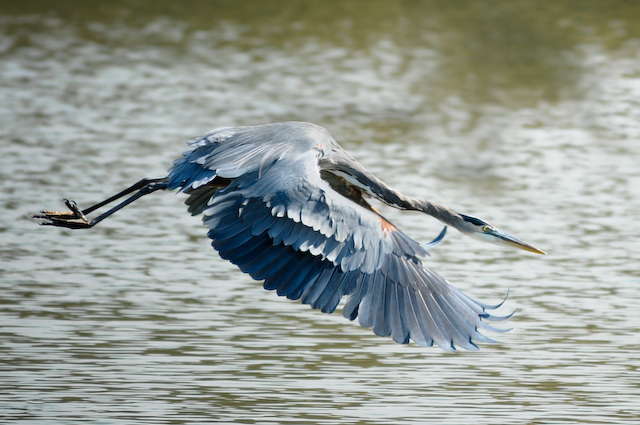 Welcome to ColumbiaMagazine.com
Columbia, KY.
whether you are a bird lover in Columbia, Cane Valley, Coburg, KY or Cobourg, Germany, with a reminder that in Columbia/Adair County, birds and the environment are taken seriously, but bird watching is meant to be fun, regardless of level of ornithological expertise. Interest intensifies - and fun - intensifies during the Great Backyard Bird Count, this year February 17-20, 2012.
The Great Blue Heron, during lift off
,
at left,
was photographed by Pen, as the beautiful bird scouted another fishing spot. Great Blue Herons are now a fairly common sight around streams, ponds and Green River Lake here. Our phone number for advertising, is
270-250-2730
. Or reach us with any
Contact/Submit
button.
Haiku by Robert Stone for January 24, 2012:
Beauty is useless
in the realm of protection
idle delusion.
--Robert Stone, Tuesday, 24 January 2012.
-1000 haiku countdown to Chambers Stevens' 50th birthday, Day 133, in progress
FAME: On CM, 48 times as great as Andy Warhol said
Fame is a Half Day Ride down front page of CM
And longterm celebrity in the ColumbiaMagazine.com archives
For Historians, Genealogists, Researchers of all kinds. -CM
Beta Google Search to search CM
Try it and let us know how you like it. Search all the archives of ColumbiaMagazine.com using Google's advanced search tools:
Search ColumbiaMagazine.com with Google Search
Count Downs
:
24 Days to the Great Backyard Bird Count. February 17-20, 2012.
27 days to Next Federal Holiday, Washington's Birthday, February 20, 2012
Front page sales and events Countdowns available for up to 7 days prior to event. Call 270-250-2730 to book space.
It's as easy as buying a cup of coffee.
-CM
CM Columbia/Adair County Book of Days
January 23
No appropriate name yet approved by The Committee. vome back later.
BR>
Click Readmore for the Quick Index for UPDATED Quick links to Schedules and SUNDAY with CM columns, features, and Must Read features.
Catch up on Sunday reading: SUNDAY with CM - Jan. 22, 2011 Columns, Special Stories, Special Albums Index
for your favorite writers + important news stories, features, and Must Read recent stories on CM.
Adair County Schools Athletics Schedules
This story was posted on 2012-01-24 02:12:31
Printable:
this page is now automatically formatted for printing.
Have comments or corrections for this story?
Use our
contact form
and let us know.