Today, FRIDAY with CM, January 20, 2012
Welcome to Columbia/Adair Co., KY - Is Biker Friendly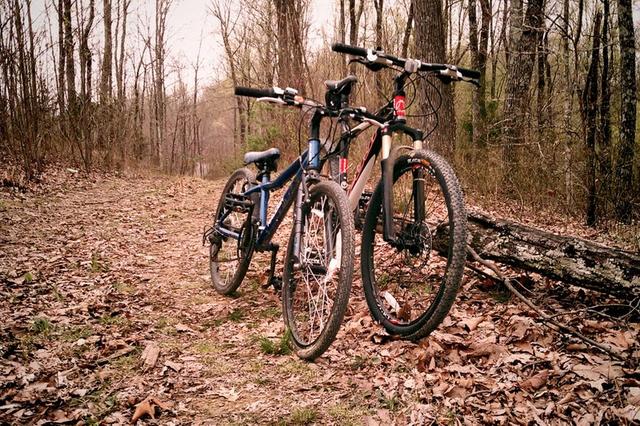 Welcome to ColumbiaMagazine.com
Bike Friendly in the middle of one of the most Bike Friendly counties on the planet. And we want you to know that, whether you're on CM from Leicester, UK, or Lowgap, KY, from Katowice, Poland, or Knifley, KY. Natural cycling areas, like
Tuckers Woods off Dunbar Hill, Knifley, KY,
where the photo at left was taken, abound. Cycling is appreciated here and understood, and celebrated, passionately. It's the home of one of America's top collegiate cycling programs. It's not surprising to see groups of bikers in local restaurants after a health recreational ride, nor any more surprising to see a rider park his bike in front of Robert's Bank on a business run, or to see couples out shopping with a bike trailer in tow.
Shouldn't be too long before motorists see a Bike Friendly road markers at each highway entrance, letting the world know this Columbia/Adair County is Bike Friendly.
We're already proclaiming it on mailboxes and business entrances with
Bike Friendly
Decals: The Lindsey Wilson College cycling program is headquarters for THE Bike Friendly decal which residences and businesses around the world, and especially in Columbia/Adair County, are displaying..
For more information about the bicycle-friendly decals, contact Grigsby at grigsbyd@lindsey.edu or (606) 524-8808, or go to: WeAreBikeFriendly.com
Haiku by Robert Stone for January 20, 2012:
One who only sees
a very clear road might be
seeing the wrong one.
--Robert Stone, Friday, 20 January 2012.
-1000 haiku countdown to Chambers Stevens' 50th birthday, Day 129, in progress
---
Hospitality Note
Make it easy to do business. Anyone who has visited an Apple Store, shopped at Amazon online, been to Disney World, ate at McDonald's or shopped at a Walmart or visited Disney World knows how easy it is to do business with them- how smoothly money is transferred and a want is gratified. Small businesses and individuals can do that to. An awful lot of extraordinary successful enterprises are already practicing the same hospitality and know it through and through. The skills are so natural to many. Others just absorb it watching the masterful skills of Lindsey Wilson College, as a hospitality center. Help in the area is available. Click to
Hospitality Training available at Chamber
to learn more about a program being offered Free to improve (profitable) Hospitality Skills.
Chase Spreen YouTube Video nears 1.325 MILLION viewer mark -
The view counter on the YouTube video for Lindsey Wilson College basketball sensation Chase Spreen's three-quarter court, 80 foot, game winning, basketball shot climbed over the 1,250,000 mark during the night. This morning at 3.43amCT, the counter stood at
1,320,057
To see it, click on:
Full Court Buzzer Beater (Chase Spreen) Lindsey Wilson College vs. Georgetown
Inspirational to watch every morning as a day starter. It's make your day go better, a reminder of all the great people who are right here.-EW
CM Columbia/Adair County Book of Days
There's something special about so many days in Columbia/Adair County. Starting tomorrow, January 21, 2012, with Normalcy Day, the CM Columbia/Adair County Book of Days will begin to be written and posted here. It's a project which may take many years. A blue ribbon list of conspirators, many of whom haven't been notified or haven't nominated themselves, are at work on the project. When a Day is established, it will be posted here AND in the all important Events. Count Downs
:
28 Days to the Great Backyard Bird Count. February 17-20, 2012.
31 days to Next Federal Holiday, Washington's Birthday, February 20, 2012
Front page sales and events Countdowns available for up to 7 days prior to event. Call 270-250-2730 to book space.
It's as easy as buying a cup of coffee.
-CM
---
Beta Google Search to search CM
Try it and let us know how you like it. Search all the archives of ColumbiaMagazine.com using Google's advanced search tools:
Search ColumbiaMagazine.com with Google Search
Click Readmore for the Quick Index for Columns, Albums and Must Read Stories PLUS Quick links to Schedules
SUNDAY with CM - Jan. 15, 2011 Columns, Special Stories, Special Albums Index
for your favorite writers + important news stories, features, and Must Read recent stories on CM.
The story of Smokey (Smokie)
Adair County Schools Athletics Schedules
This story was posted on 2012-01-20 03:13:58
Printable:
this page is now automatically formatted for printing.
Have comments or corrections for this story?
Use our
contact form
and let us know.