Today, WEDNESDAY with CM, January 18, 2012
Clicking on "18" above is different today
Usually it takes a reader to Wikipedia to grand list of birthdays and events which happened on this day in history. Today, it has an important message urging citizen action to stop a bill in the U.S. Congress which would stymie the fair and free exchange of ideas.
Welcome to Columbia/Adair Co., KY - where there's a passion of birds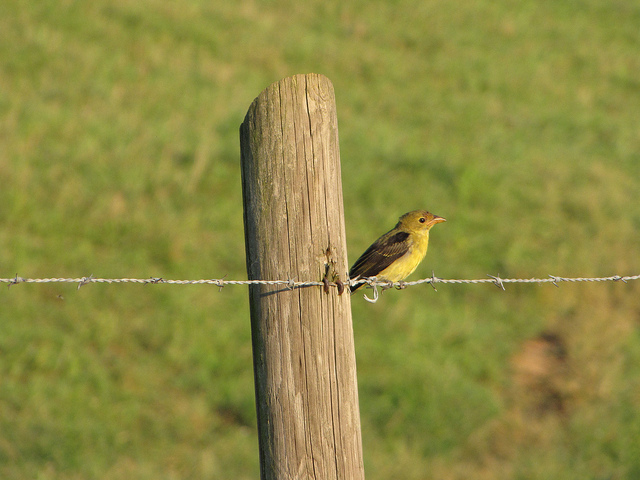 file photo from by CM archives by Derek Coomer

Welcome to ColumbiaMagazine.com
Whether you're watching CM from around the world from Ono, Overton County, TN, or Overseas, you're visiting Columbia/Adair County, KY where there's a passion for bird watching and the bird watching is good. Derek Coomer discovered the little guy at left, an Orchard Oriole, on Bliss Road just north of Columbia, KY. In Columbia/Adair County, casual bird watchers are encouraged to take part in the activity at all levels of expertise. Whether they can only tell a bird from a burrito, or they have the deep knowledge of ornithology of experienced scholars such as Mr. Coomer. And, around the world, whether you're a a resident of Columbia/Adair County, a neighbor, frequent visitor, or one who is vicariously involved in the daily lives and issues on the internet, we hope you'll find follow the upcoming Great Backyard Bird Count,
February 17-20, 2012,
with us. It's fun. -CM. Seen in the ColumbiaMagazine group on
Flickr
.
Haiku by Robert Stone for January 18, 2012:
Fashion often rules
and awards are not rewards
but trends of that day.
--Robert Stone, Wednesday, 18 January 2012.
-1000 haiku countdown to Chambers Stevens' 50th birthday, Day 127, in progress
Chase Spreen YouTube Video passes 1,000,000 viewer mark -
The view counter on the YouTube video for Lindsey Wilson College basketball sensation Chase Spreen's three-quarter court, 80 foot, game winning, basketball shot climbed over the 1,000,000 mark during the night. This morning at 2:58amCT, the counter stood at
1,051, 780.
To see it, click on:
Full Court Buzzer Beater (Chase Spreen) Lindsey Wilson College vs. Georgetown
Daily Yonder story related to rural prisons-
The Daily Yonder had a story yesterday, Tuesday, January 18, 2012, which on a subject which affects rural counties with large prison numbers. It's about a number of judicial decisions ruling that inmates should be counted in census for the city where they lived when tried and convicted, rather than the communities where they are incarcerated, and the longterm cost to rural communities in terms of Federal and State funding allocations. It's at
Tuesday Roundup: Counting Prisoners
Inspirational to watch every morning as a day starter. Reminder that great things happen here. -EW
SUNDAY with CM - Jan. 15, 2011 Columns, Special Stories, Special Albums Index
for your favorite writers + important news stories, features, and Must Read recent stories on CM.
The story of Smokey (Smokie)
Adair County Schools Athletics Schedules
This story was posted on 2012-01-18 02:41:26
Printable:
this page is now automatically formatted for printing.
Have comments or corrections for this story?
Use our
contact form
and let us know.