Today, Monday with CM, January 16, 2012
Welcome to Columbia/Adair Co., KY, Lindsey Wilson College & CHASE SPREEN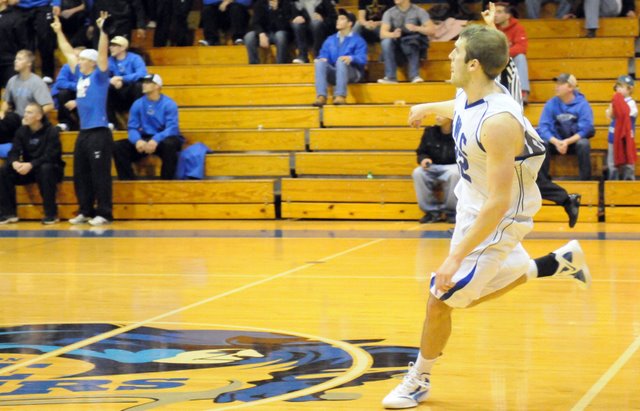 photo by Duane Bonifer. LWC.

Welcome to ColumbiaMagazine.com
Whether you are online watching from La Romano, Liberty, Louisville, Leitchfield, or are just a fan of Lindsey Wilson College, we're proud to serve you from the home of Lindsey Wilson College, Biggers Sports Center, the site of Chase Spreen's Spectacular January 14, 2012 Three Quarter Court, at the Buzzer, Game Winning, First Lindsey lead in game, Basketball Shot Heard (and Seen) Around the World.
Another reason to visit Columbia/Adair County, KY, and the beautiful 7-County Area CM serves.
Haiku by Robert Stone for January 16, 2012:
I ignore the rule
digging up and replanting
tulips still push up.
--Robert Stone, Monday, 16 January 2012.
-1000 haiku countdown to Chambers Stevens' 50th birthday, Day 125, in progress
SUNDAY with CM - Jan. 15, 2011 Columns, Special Stories, Special Albums Index
for your favorite writers + important news stories, features, and Must Read recent stories on CM.
The story of Smokey (Smokie)
---
Click to use Beta Google Search to search CM
Try it and let us know how you like it. Search all the archives of ColumbiaMagazine.com using Google's advanced search tools:
Search ColumbiaMagazine.com with Google Search
This story was posted on 2012-01-16 02:29:34
Printable:
this page is now automatically formatted for printing.
Have comments or corrections for this story?
Use our
contact form
and let us know.