2011 Downtown Days/Folklore of the Old West Festival schedule
Friday-Saturday, October 7-8, 2011
In Downtown Columbia/Adair County, Kentucky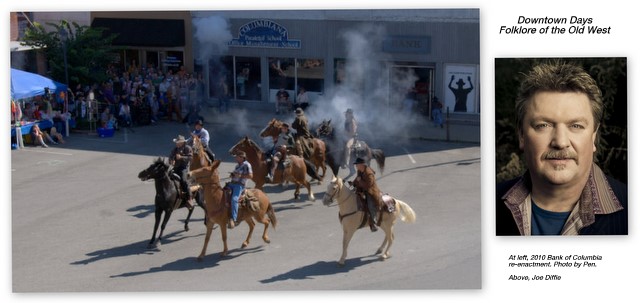 FRIDAY, OCTOBER 7, 2011
4pmCT: Square closed to traffic at Fortune on Burkesville ST, at Reed on Jamestown ST, at Reed/Merchant on Campbellsville Street, and at Monroe ST on Greensburg ST.
4:30pmCT: Vendor Booths Open
5pmCT: Kiddie Train Rides
6pmCT: Adult Big Wheel Race, Lindsey Wilson Hill

6pmCT: Crossroads Quartet (Gospel) - Main Stage, 400 Quadrant, Square
8pmCT: In the Middle of Nowhere (local band) - Main Stage.
SATURDAY, OCTOBER 8, 2011
7amCT: 5K Run Registration, Chamber Buildiing, 201 Burkesville ST
8amCT: 5K Run, start at Chamber Building.
8:30amCT: Vendor Booths open
9amCT: 1/2 Mile Fun Run. Start at Chamber Building. Ages 13 and under. Entry fee $10.
11amCT: Lindsey Family Gospel Singing. Main Stage, Main Stage, 400 Quadrant, Square
12pm Noon CT: RE-ENACTMENT of JAMES-YOUNGER GANG BANK of COLUMBIA ROBBERY
12:30pmCT: Bluegrass Express. Bluegrass. Main State
1pmCT: Ping Pong Registration. Entry Fee $10 per person. 1st Place Prize, $50. Second Place. $25. Basement of City Hall, 116 Campbellsville Street, Columbia, KY
1:15pm: Children's Parade. Decorate your bikes, trikes and stick horses. Trophy for best decorated.
2pmCT: Ping Pong Tournament. Basement of City Hall
2:30pmCT: Rita Burton. Country. Main Stage
3pmCT: Wee Cheer
3:30pmCT: Hannah Ellis. Country. Main Stage
6pmCT: Big River Band. Southern Rock. Main Stage
7pmCT: Joe Diffie Free Concert. Country. Main Stage
This story was posted on 2011-10-05 10:05:53
Printable:
this page is now automatically formatted for printing.
Have comments or corrections for this story?
Use our
contact form
and let us know.