Today, DAKOTA MEYER DAY on CM, Thursday, Sept. 15, 2011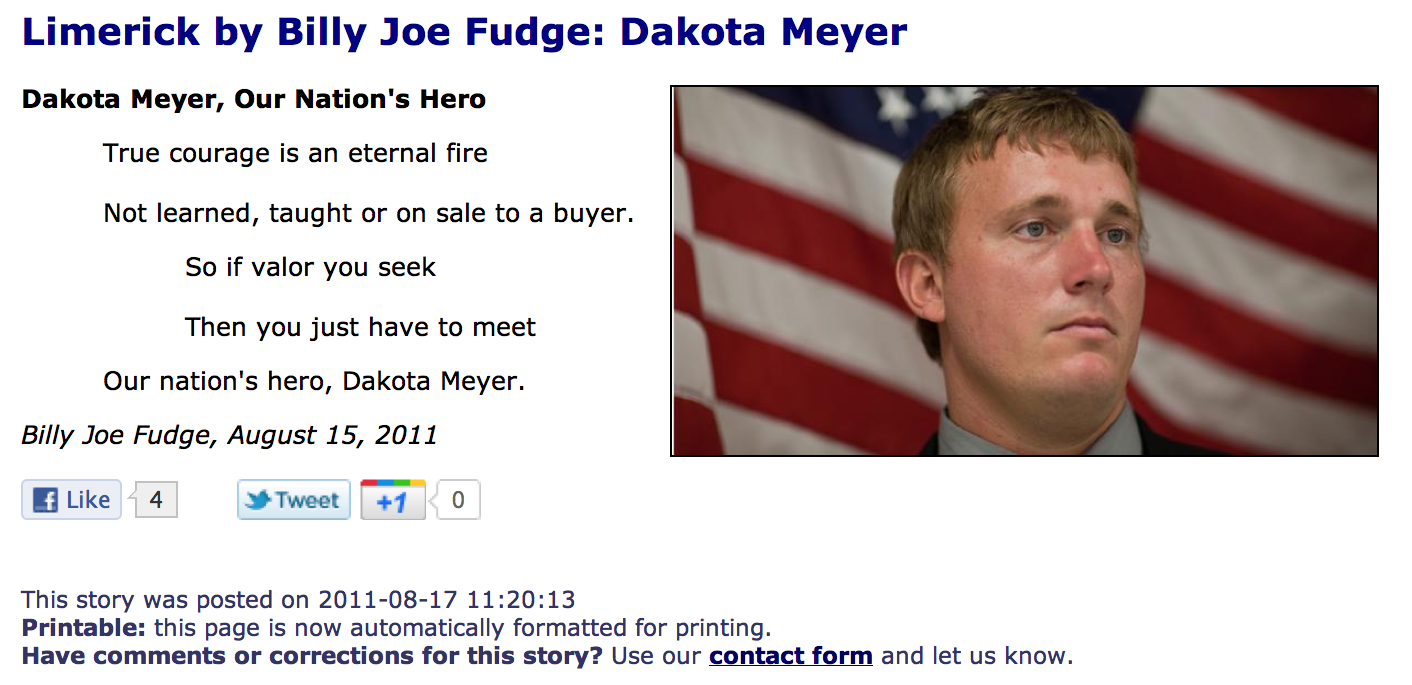 This tribute to Dakota Meyer appeared on CM one month ago, August 15, 2011.
SUNDAY with CM, September 11, 2011. Sunday is the Day CM goes head-on with the New York Times. With every feature, every commentary, every photo we can post. Sunday was a huge day for content, with one story by "Jim" we nominated for an All-Time Best of CM.
Editorial note:
Readers' courteous advice on this feature welcome.
Here are Quick Links to selected favorite SUNDAY with CM columns, stories with perhaps some links to albums, and to news from the past week and beyond.
SUNDAY with CM - SEPTEMBER 11, 2011
for September 11, 2011 and your favorite writers + important news stories:
This story was posted on 2011-09-15 05:49:09
Printable:
this page is now automatically formatted for printing.
Have comments or corrections for this story?
Use our
contact form
and let us know.
Advertisement: Thanks to ColumbiaMagazine.com Special Sponsors.


The Adair County Veterans List is made possible by the following:
---
The three locally owned Steve McKinney NAPA Auto Parts stores. There's one near you at:

NAPA AUTO PARTS - Columbia.
411 Campbellsville St., Columbia, 270-384-2141
NAPA AUTO PARTS - Campbellsville
1050 New Columbia Road, 270-465-5671
NAPA AUTO PARTS - Russell Springs, KY
2263 Lakeway Drive, 270-866-4787
---
Bank of Columbia
144 Public Square, Columbia, Kentucky 42728, 270-384-6433
---
To add become a sponsor of the Veteran's List, please contact ColumbiaMagazine.com using any Contact/Submit button. Be sure to send contact information so we can contact you.