A Kindred Spirit:
It's cold outside
The next earlier column by Teresa Kindred: A Kindred Spirit: What is your happiness index
---
By Teresa Bell Kindred
Nanahood.com
Baby it's cold outside here in Edmonton!
No school Thursday and Friday for our twins. I woke up this morning and there were three teenage boys draped across two couches and one chair, sound asleep and there were more upstairs. I think (at last count) there were ten guys here and a few more on their way to go sledding.
Of course they woke up starving and I went to the refrigerator and this is what I found.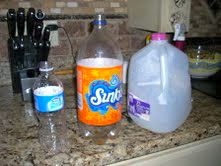 No milk, no juice, no soda, not even one bottled water left and I promise when I went to bed last night the refrigerator was full.
not
empty.
I fed them breakfast and they didn't complain about having to drink tap water. Then I sent them out to load the wood stove.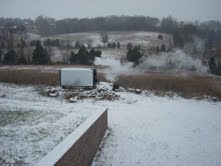 Of all the things I love about my home, the wood stove is right at the top of the list. It keeps our house warm and toasty for a fraction of the cost it would take to heat it with gas or electricity.
The snow is still falling...the boys are still eating...life is good. Stay warm, check on your neighbors and remember to keep outside animals warm!
-Teresa
---
About the author:
Teresa Bell Kindred lives in Edmonton, Kentucky with her family. She is the author of several books including Mom:PHD: Leadership Skills for Moms. She is a public speaker and has spoken to several different women's groups in Columbia and Adair County. For 13 years she was a magazine columnist for Kentucky Living magazine. Presently she is a grant writer for Metcalfe County Schools and is working on another book. Visit her online at
Teresa Bell Kindred...A Kindred Spirit
to read more about her, purchase her books, or invite her to speak to your club or organization. Email her directly at tbellkindred@scrtc.com
Nanahood, "An online community for grandmothers and moms"

This story was posted on 2010-01-10 10:21:26


Printable:

this page is now automatically formatted for printing.

Have comments or corrections for this story?

Use our

contact form

and let us know.