Great Backyard Bird Count is February 12-15, 2010
Time to get ready for 2010. In the 2009 GBBC, Columbia and Adair County had the highest number of bird checklists in Kentucky, and was high in the nation. The GBBC is a special event for the students, the Columbia-Adair County Chamber of Commerce, and, especially for the Adair County Garden Club, whose President, Barbara Armitage is planning to put the community on Top Ten in the Country lists this year. -CM
---
For a quick review of many of the species in this area, see links for an estimated 300-Plus "Birds of Kentucky" pictures on CM.. Birds of Kentucky photo submissions are always welcome.
NEW YORK, NY and ITHACA, NY - Bird watchers coast to coast are invited to take part in the 13th annual Great Backyard Bird Count, Friday, February 12, through Monday, February 15, 2010.
Participants in the free event will join tens of thousands of volunteers of all levels of birding experience to count birds in their own backyards, local parks or wildlife refuges.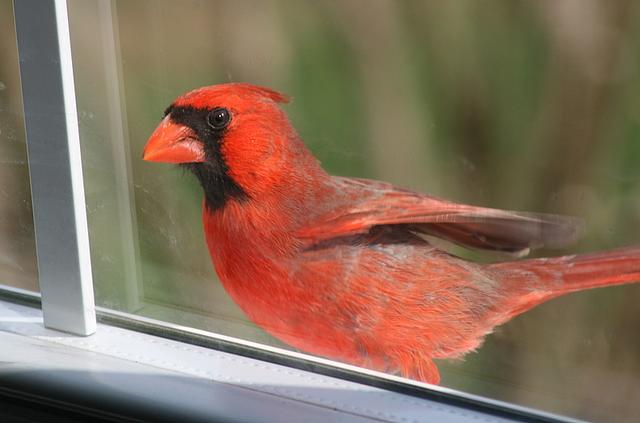 February 16, 2009 - Bull Run Rd, Columbia, KY - Photo by Barbara Armitage.
Barbara Armitage took this photo at her home at Tucker's Station on Bull Run Road last year during the Great Backyard Bird Count: "While we are counting birds for the Great Backyard Bird County, this cardinal seems to be counting us!" Barbara Armitage and members of the Adair County Garden Club were a huge reason why Columbia was the No. 1 GBBC reporting locality in Kentucky
---
Each checklist submitted by these "citizen scientists" helps researchers at the Cornell Lab of Ornithology and the National Audubon Society learn more about how the birds are doing--and how to protect them. Last year, participants turned in more than 93,600 checklists online, creating the continent's largest instantaneous snapshot of bird populations ever recorded.
"Taking part in the Great Backyard Bird Count is a great way to get outside with family and friends, have fun, and help birds--all at the same time. Anyone who can identify even a few species can provide important information that enables scientists to learn more about how the environment is changing and how that affects our conservation priorities," said Audubon Education Vice President, Judy Braus. "Everyone who participates in the GBBC--families, teachers, and young people--will get a chance to hone their observation skills, learn more about birds, and make a great contribution to the future!"
Anyone can take part in the Great Backyard Bird Count, from novice bird watchers to experts. Participants count birds for as little as 15 minutes (or as long as they wish) on one or more days of the event and report their sightings online at www.birdcount.org. One 2009 participant said, "Thank you for the opportunity to participate in citizen science. I have had my eyes opened to a whole new interest and I love it!"
"The GBBC is a perfect first step towards the sort of intensive monitoring needed to discover how birds are responding to environmental change," said Janis Dickinson, the director of Citizen Science at the Cornell Lab. "Winter is such a vulnerable period for birds, so winter bird distributions are likely to be very sensitive to change. There is only one way--citizen science--to gather data on private lands where people live and doing this across the continent over many years. GBBC has enormous potential both as an early warning system and in capturing and engaging people in more intensive sampling of birds across the landscape."
Bird populations are always shifting and changing. For example, 2009 GBBC data highlighted a huge southern invasion of Pine Siskins across much of the eastern United States. Participants counted 279,469 Pine Siskins on 18,528 checklists, as compared to the previous high of 38,977 birds on 4,069 checklists in 2005. Failure of seed crops farther north caused the siskins to move south to find their favorite food.
On the www.birdcount.org website, participants can explore real-time maps and charts that show what others are reporting during the count. The site has tips to help identify birds and special materials for educators. Participants may also enter the GBBC photo contest by uploading images taken during the count. Many images will be featured in the GBBC website's photo gallery. All participants are entered in a drawing for prizes that include bird feeders, binoculars, books, CDs, and many other great birding products.
For more information about the GBBC, visit the website at www.birdcount.org. Or contact the Cornell Lab of Ornithology at (800) 843-2473 or (outside the U.S., call (607) 254-2473) or gbbc@cornell.edu, or Audubon at citizenscience@audubon.org or (215) 355-9588, Ext 16.
The Great Backyard Bird Count is made possible, in part, by support from Wild Birds Unlimited.
This story was posted on 2009-12-14 05:07:44
Printable:
this page is now automatically formatted for printing.
Have comments or corrections for this story?
Use our
contact form
and let us know.