How We
Got Rich
in the Country Store Business
When a community loses its school, it hurts. When it loses its store, that's a tragedy. One proud, historic Adair County village is thriving, thanks in no small part to the efforts of one family, who wouldn't stand by when they could step in themselves and save the town's store: the heart of life in the little community of Glensfork, which you may know also as Glens Fork, Glenville, or the popular "Village of Hardscratch." The latter may have just grown to be as well known nationally as Rabbit Hash, Rooster Run, or Gravel Switch, KY, or Lum and Abner's Pine Ridge, AR., which started, in the manner of Hardscratch, under another name. It was originally Waters, AR. The effort has been rewarding. Ken, Vickie, and Jake Hill hope their "blueprint for success" is one others will emulate to help preserve and/or revive the other wonderful villages of Adair County, or use to resuscitate Columbia's Downtown
---
By Ken Hill
November 3, 2009
Why are all those guys sitting on the front porch of that building? The answer was simple to local Glensfork residents. Their beloved Country Store, meeting place, and social hub was officially closed. Out of habit or some unknown drawing force the men still came. But, the place where many of them grew up, obtained their daily news, developed friendships, and sought shelter from the ever-changing world was no longer welcoming them through the creaky front door. The outside drink machine still dispensed cans of soda, but that too would soon end.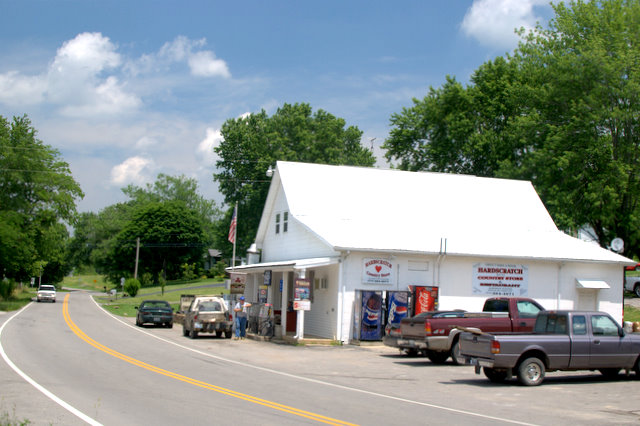 This is the picturesque store at 7289 Hwy 55 South Road, Columbia, KY. In the Glensfork Community of Adair County where Ken, Vickie, and Jake Hill "got rich."

---
Sam and Paul Aaron built the store in the 40s
As long as most could remember, the store had been there, and no one wanted to imagine life without it. Sam and Paul Aaron had built it in the early 40's and through a succession of owners it had flowed along like nearby Glensfork Creek; cutting through the countryside and leaving an impression on everything around it. Many older residents could remember when there were several stores, a bank, a barber shop, a Post Office, and a Masonic Lodge in the little village; never imagining all could be gone, and the one remaining symbol of the community was fading into the warm summer sunset.
A failed auction left previous owners with no option but to close
In the weeks and months leading up to the closing of the store, the handwriting was clearly written on the wall. A failed auction left the owners, intent on moving their lives in a different direction, with little choice but to close. The hours were cut and ordering of new merchandise ceased, but the regular customers still came each day; varying their purchases with the ever dwindling selections until nothing remained but the ever friendly front porch and a decreasing supply of soda. The customers even attempted to form alliances to purchase the property and continue on, but in the end nothing took hold.
Vickie, Jake, and I drove by the store nearly everyday, and shared the sadness of the impending loss, though we were not daily customers. Vickie had grown up less than a half mile from the store and had spent many happy hours there with her father, and a host of friends. Though I had not grown up in "Hardscratch", I knew the value or the Store and the way of life that is lost without a local place to get to know your neighbors. We both hoped our son, Jake could have the memories that only come from such a place.
Timing didn't seem right for full-time teacher, Kentucky State Trooper
Vickie and I briefly entertained the notion of purchasing the property, but were not fully convinced the timing was right. I was a Sergeant with the Kentucky State Police, and Vickie, a full-time school teacher. With a one-year-old son, time and money was limited, so we put the idea on the backburner, but never fully dismissed it.
The store closed in late June, 2005. The closure dominated dinner-time conversations around the community and our house was no different.
One Sunday afternoon, we drove by the building on our way home from Church and Vickie said, "what are all the guys doing sitting in front of the store?" "They have nowhere else to go", I replied. We looked at each other and Vickie said, "Let's buy it!" Without much fanfare, I said, "OK". As simple as that we made the decision from the heart, rather than from any keen business sense or desire for profit.
Later that same evening, I came home for supper with a set of keys and a verbal agreement on the purchase. Thirty days later we had re-stocked, trained new employees, set up accounts, scrubbed, re-arranged, painted, and readied ourselves for a 5:00 A.M. Breakfast on August 15th.
Breakfast that first day brought life back to normal in Hardscratch
All those guys who had been sitting on the porch came out to welcome us and to resume their normal routines. Life was back to Normal in "Hardscratch", and it just felt right. Working nights afforded me the opportunity to focus on the store during the day. Jake had a small playpen in the corner of the dining room, and often cooperated by sleeping while I helped through the busiest lunchtime hours. When he refused to sleep, someone would always entertain him while we worked. His path of being a "Community Boy" was well underway.
Road to the simple life not all paved with flat stone or line with line with wildflowers
The road to "the simple life" was not all paved with flat stones or lined with wildflowers. Old equipment broke, money was tight, and sometimes I had no clue what to do next. Though I had been in the restaurant business twenty years earlier, I soon learned much had changed. Profit margins had grown thinner, red tape had grown stronger, and I couldn't get a milkman to drive seven miles out of town. I talked with numerous salesmen who simply were not interested in my business. Problems were many, and solutions were often few. Sometimes the store paid its' own way. Other times I was forced to cover the losses from my pocket. Whatever was going on had to be put aside at 4 o'clock so I could go to my "real" job of trying to protect the same folks I served lunch to earlier in the day. The hours and weeks were long, but Vickie and I held onto our principal belief that our community and our family would be better off if we persevered.
As time passed things worked themselves out
As time passed, things "worked themselves out". We slowly replaced much of the aging equipment with new, or better used items. I learned where to buy things that trucks would not deliver. We even found employees that realized, like us, they would not get rich working in a Country Store but the rewards still outweighed the risks. Most of those employees are still with us and I am thankful for them everyday.
We made a few changes to the store, but tried hard to preserve the "Country Feel". I finally goaded Vickie into expanding her hobby of rustic decorating to the store and she began to order in her unique blend of country decor items - some for sale, some just for display. Even many of the farmers have remarked how nice the store looks with Vickie's items displayed on every wall. Now we can truly say, "it is the ambience".
Last Friday catfish night helped store buck a trend
We decided to try a catfish fry on the last Friday night of each month, and drew a whole new group of loyal customers. I brimmed with pride the first time we had every table full and people waiting at the door to get in. My pride was not rooted in the monetary gain, but rather the satisfaction of realizing, for maybe the first time, that Vickie and I had made the right decision. Just maybe, there was some chance we could buck the trend of closures that had befallen many similar stores throughout the land.
Store added "Hardscratch Kentucky" line of merchandise
We added "Hardscratch Kentucky" sweatshirts to our line and found that we had fans all over. Soon, caps and T-shirts emblazoned with the "simple life" logo followed. One of my greatest Country Store moments was when a local store clerk remarked of my sweatshirt, "You folks must be really proud of your community, I see lots of people in here with those shirts and caps on". "We really are", I smilingly replied.
Jake is becoming adept at proprietor skills
We have now managed to keep the store open for over four years. Jake, now five years-old, has literally grown up in this little place. He knows all his neighbors by first name, and they know him like a member of their own family. He has several "trading" buddies and refuses to leave the house without a bag of items for trading and bartering with the customers. He sometimes trades for junk, but he's learning fast. If you visit the store, don't be surprised if he joins your table without invitation. He has developed pretty good conversational skills. I once heard him carry on a thirty minute, one sided conversation with two Hispanic farm workers. I am sure they had no clue what he was saying to them, but their smiles of acceptance kept him talking right along.
Now there's a small gun store, and a second Fish Friday
Since my retirement from the State Police, we've added a small gun store, open only on Tuesdays and another fish fry on the second Friday of each month. The last Tuesday night of each month is reserved for local musicians and the place takes on a coffee house feel. Sometimes we have two or three "pickers". Other times we have fifteen or twenty. It's the kind of place where excellent musicians, and those who play as poorly as me, are welcomed with equal enthusiasm.
Not every idea worked
We've tried things that worked and many that didn't, but the experience remains rewarding. I tell the employees that most of them make more in the store than I do; seeing the books daily, they know I speak the truth. Still, I am better for having taken the plunge. And while a few customers occasionally grumble when we are forced to raise prices, the majority knows the value. Many would pay ten dollars for a gallon of milk if they knew it was necessary to keep "their store" open.
Community support has made all the difference
The unwavering support of the community has been the driving force behind our success. At least for the moment, "Hardscratch" lives and we are all better because of this little place. The front porch is still a good place to take in the afternoon sun, but the front door once again welcomes all comers. Good food is eaten, great stories and half-truths are exchanged, new visitors are welcomed, and fallen friends are mourned inside. Friendships are forged and deals are made just like they have been for over seventy years. I am proud to play some small role in this wondrous little place.
No, I haven't yet filled the mason jars I planned to bury in the back yard, but when I consider the friendships we have made, the challenges we have met, and the wonderful satisfaction of being part of something so vital to the community and to our chosen way of life; Vickie, Jake, and I have truly gotten rich in the Country Store business.
This story was posted on 2009-11-08 07:23:35
Printable:
this page is now automatically formatted for printing.
Have comments or corrections for this story?
Use our
contact form
and let us know.