Today, Thurs., April 30, 2009: Trinity UMC Youth Revival starts
Spotlighting in brief, today's events for
Day 120
of 2009. 245 Days remaining in year:
08:00amCT: Adair Co. Public Library Bookmobile is in the Sparksville, Breeding, Montpelier, Melson Ridge, KY area Today.
Printable April 2009 ACPL Bookmobile Schedule
02:00pmamCT: Reception for Charlotte Atkins, retiring as Metcalfe 4-H Agent, Metcalfe County Cooperative Extension Office, 422 East ST, Edmonton, KY.


STARTS TONIGHT: TRINITY UMC YOUTH REVIVAL starts Thursday, April 30, 2009
The Revival will be held at 6:30pmCT each evening, Thursday, April 30, Friday, May 1, and Saturday, May 2, 2009, at Trinity UMC, 2418 Campbellsville Rd, Columbia, KY. Worship by Steadfast. The speaker will be Eric Gilbert. Testimonies will be given by Ricardo Hughes, Josh Withers, and Sarah Irvin-Gardner.
SPONSORED
06:30pmCT: Revival at Beechgrove SBC, KY 900, near Glens Fork, KY
07:00pmCT/08:00pmET: Campbellsville University Orchestra in concert at Campbellsville Baptist Church. Full Story With List Of Performers, Hometowns

07:00pmCT: Free Reading at Horse Cave, KY. Strike Zone by Liz Fentress.The reading will be in the Education Building at 118 East Main Street, Horse Cave
7:30pmCT: Neil Simon play Rumors at Hodge CenterStory with photo of cast
For events in detail, future events in 2009, Click here
---
Read ColumbiaMagazine.com like a daily newspaper
---
Court:
Thursday, April 30, 2009One (1) Cases in Adair Circuit Court (Judge James Weddle). Twelve (12) cases in District Court (Judge Michael Loy).
Click Here
to check Adair Court schedule at the Kentucky Court of Justice Website. To visit Adair Circuit Clerk site,
Click Here
Celebrations
At 3:33amCT, there are seven big events in
Celebrations
To submit your Celebration, use any
Contact/Submit Button
Add a photo, with a personal message (message on Archives Photo only) for suggested $7.95.
Honor system:
Send payment to ColumbiaMagazine.com, PO Box 906, Columbia, KY 42728.
---
What's Cooking in Adair County, KY
Click restaurant names for hours, directions, and prices.
Betty's OK Country Cooking
Thursday, April 30, 2009!
CATFISH. ROAST PORK. GRILLED CHICKEN w/Rice. Mashed Potatoes. Green Beans. Fried Potatoes. Corn. Breaded Okra. Peas/Carrots. Macaroni/Cheese. Pinto Beans. Rolls/Cornbread. On the buffet cold bar. Coleslaw. Peaches. Pears. Cottage Cheese. Pepper Relish. Sweet Onion.
TODAY'S SPECIAL DESSERTS: Cherry Cobbler. Sugar Free Cheesecake. Plus our really big regular list of favorite cakes and desserts.
BREAKFAST: Served anytime. Betty's serves breakfast the way you like it, from a complete big menu, including grits, and many items you don't get anywhere else. Folks rave about our Western Omelet, link sausage, and pancakes.


Bob's Country Kitchen & General Store, KY 206, Vester, KY
BREAKFAST ANYTIME: Served anytime!
Thursday, April 30, 2009!
SLOPPY JOES. Potato Salad. Baked Beans. Coleslaw. Sliced Tomatoes. Sweet White Onions. All for $5.29DESSERTS: Butterscotch Pie. Chocolate Pie. Lemon Pie. Cocanut Pie.
DELIVERY: Yes, Bob's delivers. $25 minimum. Some limits. Call (270) 384-6774.GAS UP and DIESEL UP while we fix your carry out!NOW OPEN UNTIL 7:00pmCT each evening.


Buffalo Hills
Located at 906 Greensburg ST in the Curves Building, Columbia, KY. Non-Smoking Facility
Business is booming and after you taste a buffalo burger, you'll understand why.
FOR YOU EXTRA HUNGRY EATERS, we've added the 1/2 lb Bodacious Buffalo Burger. 8 ounces of low fat, great tasting buffalo, still with less than 1/2 the fat than conventional fast food 1/4 lb burgers!



Cooling, Refreshing. Only at Buffalo Hills

TRY OUR NEW SMOOTHIE FLAVORS: Northwest Berry, a delicious blend of boysenberry & blackberry, and our Lemonade Cooler.
ALSO: Smoothies, Christian Gifts, Tanning Beds. Buffalo Meat--America's Original Health Food. Buffalo steaks, roasts, burger and brats available for your grilling at home! Open10am-7pm Mon-Tue & Thurs.-Fri. 10am-6pm Wednesdays. Closed Saturdays, Sundays. Jim Carol Leib, Owners. We accept Visa, MC, and Discover Credit Cards. Dr. Smoothie smoothiesEnjoy a refreshing, healthy drink. In the Curves Building on Greensburg St.


The Dairy Dip
Columbia's most established eatery, at 114 Jamestown ST, Columbia, KY.
REMEMBER, WE DELIVER for orders of $15 or more. (270) 384-4644.
Thursday, April 30, 2009!



The Dairy Dip = Great Hot Dogs

We're in FULL, 7 days a week Summer Time Mode, and Summer isn't even here. Check out all our great Dairy Dip cold desserts. Great Hotdogs. Traditional Barbecue Sandwiches. Special treats like Fried Pickles. Have a picnic: In your car, under the colorful picnic umbrellas, or call ahead and let us pack your picnic for the Lake or to take to one of Adair County's wonderful parks.Remember we are up and running 7 days a week now. Our evening hours will continue to extend as weather permits.PATRICIA WILLIS, proprietor
CALL AHEAD for special or expedited orders, (270) 384-4644.
SUMMER HOURS: We are now open from 10:30am to 7:00pmCT, Seven Days a Week!



El Triunfo #2
605 Fairgrounds ST. Columbia, KY. (270) 384-9834, in the former location of Donut Express. Open 7:00amCT-11:00pmCT, 7 days a week. Veronica Fernando, manager.


El Triunfo #2 offers real Mexican Food.

Specials, Thursday, April 30, 2009


BREAKFAST: Enjoy a full Mexican breakfast, with Eggs scrambled with Chorizo, Avocado sauce, Mexican Cheese, Flour Tortilla, Just $2.50
LUNCH:
Special for Thursday, April 30, 2009

BEEF FAJITAS + Mexican Rice + Pinto Beans, with flour orcorn tortillas All for $4.99
or MILANESA (Mexican Chicken entree) + Rice + Pinto Beans, withflour or corn tortillas All for $4.99

SNACKS: We'll make Chile Rellenos to order, anytime
BAKERY: Our bakery case is full today, with plenty to choose from, including conchasGET YOUR FREE Spanish Language for Kentucky newspaper here, while supplies last. LA VOZ
FINALLY, please pray for our good friend, Maria Zuniga, who was in a bad car accident on US 127 in Russell County. She needs financial assistance now, for medicine and for a special wheelchair needed during her recovery. If you would like to help, Contact us at El Triunfo #2 or call (270) 384-9834

SIMPLE. AUTHENTIC. DELICIOUS. GREAT FOOD CHEAP! at El Triunfo #2. We're the Real Mexican place for adventurous eaters, but we can tame them to the level of fire you want. We're the place which has habanero sauce and fresh hot peppers we know how to use for real taste. Great Mexican breakfasts, lunches, dinners, and afternoon and late night snacks. Mexican groceries, spices, snack food, and fruit drinks. Stop in today for a little bit of authentic Mexico, right here in Adair County. El Triunfo #2, 605 Fairgrounds Street. Columbia, KY. 42728. Open 7am-10:30pmCT, 7 days a week. Phone (270) 394-9834. -VERONICA FERNANDO, Manager.



Mulligan's at The Pines at Lindsey Wilson
275 Country Club RD, Columbia, KY. (270) 384-3613. Mike Hamlett, Manager.
Newly renovated 70-seat dining room with beautiful views all around is now Open to the Public. Non-Smoking Facility
MULLIGAN'S GRILL IS OPEN ALL DAY: Every Day, including Fridays and Saturdays. Order from the Open Grill. Hamburgers, Hotdogs, Chili Dogs, Chicken Strips, BLT, Grilled Cheese, Nachoes, Chicken, Chicken Salad on Croissants, along with French Fries, Onion Rings, Tater Tots and Cheese Sticks. Freshly brewed coffee and cold drinks.
Thursday, April 30, 2009!
ul>
SALISBURY STEAK
CLAM STRIPS
Oven browns
Corn pudding
Green limas
Soup of the Day-Broccoli w/cheese
Hot rolls
SALAD
Desserts
VISIT OUR BUFFET Monday-Friday, 11:00am to 1:00pmCT: Soup Salad Bar, just $4.25. Full Meal Deal, all you care to eat, including full Buffet with Wonderful Garden Fresh Salad Bar, Soup of the Day + Dessert Bar,
Just $6.25
!!!!
THE PINEWOOD GOLF COURSE CLUBHOUSE WITH ITS 70-SEAT DINING ROOM, now open to the public seven days a week from sunrise to twilight with an open grill, and now featuring a full lunch buffet served from 11:00am to 1:00pmCT Monday through Friday.
Pinewood Golf Course 2009 Special Events Printable Calendar
Ol' Joe Barbee's B&B QUE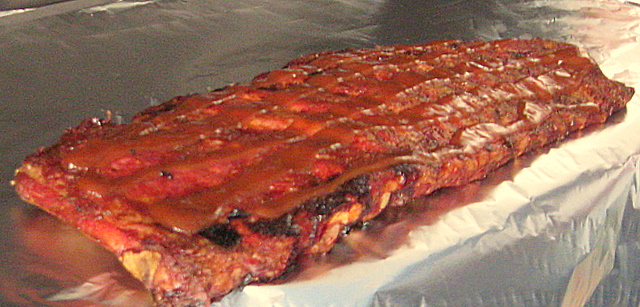 Kentucky Derby Party Food.
Call now! (270) 384-2360 to delight your guestsAvailability of Perfect Barbecue from Ol' Joe's is limited.

Dining Room Non-Smoking Facility; Smoking permitted in Picnic Area
OL' JOE's B&B QUE, 824 Campbellsville Rd, Columbia, KY IS OPEN NEXT on Friday & Saturday, May 1 & 2, 2009.
With the Best Ribs in America. Barbecued Chicken. Kentucky Wings. Pulled Pork Sandwiches. Loaded Potatoes. Wickedly Delicious Desserts
Large Orders for Kentucky Derby Parties are now being taken. But please hurry. Capacity is Limited!
Call today, also, to order Ol' Joe's Sauce (270) 384-2360, MENU
QUICK STOP
Next to Downey's Gun Pawn and Downey's ATV's and Motorcycles. 702 Campbellsville Road, Columbia, KY. Phone (270) 384-9833. Hours: Mon-Friday, 4:00am to 2:00pmCT. Sat. 4:00am to 12noonCT.
BREAKFAST: Cooked to order. Pick up breakfast sandwiches quick at Quick Stop.
Thursday, April 39, 2009!
Two Big Choices today>
Three (3) Mini-Burgers + Tater Tots or French Fries Just $4.25
MEATLOAF plus Pasta Salad, for Just $3.99
Call ahead for large carryouts; we'll try to have it ready when you get to the Quick Stop: (270) 384-9833
Rerun's Holmes Bend General Store
BREAKFAST: Cooked to order. Served anytime.
Thursday, April 30, 2009!
We'll be cooking every meal to order today. Open Grill.
MAYFIELD'S ICE CREAM is the best. DESSERTS:Rerun's is the Chocolate Capitol of Green River Lake. Enjoy Rerun's HUGE Chewy, Chocolaty BROWNIES, only 50 cents each. Fried Apple Pies, a Rerun & Lindy Special. Great take-home treats.
The MINIATURE GOLF COURSE IS OPEN!
Adair County School District menus April 6-May 1, 2009-
Non-Smoking Facility
Thursday, April 30, 2009!
BREAKFAST: Manager's Choice. Toast and Jelly. Juice/Fruit. Choice of Low Fat Milk. Cereal choices and toast offered daily at breakfast. LUNCH: Manager's Choice. Choice of Low Fat Milk. Salads available daily. Fruit and/or juice offered daily with lunch
TELL THE WORLD WHAT YOU'VE GOT COOKING WITH LOW COST, PAID ADVERTISING: To advertise your restaurant, or fundraising meal or your special one time event in "What's Cooking in Adair County," use any Contact/Submit button to email us at ColumbiaMagazine.com.
Special Advertising
Big event starts Friday, May 1, 2009
MARY ANNE'S HALLMARK
in Green River Plaza, Campbellsville, KY. Coming: Webkinz Extravangza Friday-Sunday, May 1-3 2009.
Ja Ci's Boutique
Ja Ci's has new shipment of handbags & wallets. Plus ED HARDY Inspired Tees
Shoe Prices reduced at Best Buy Clothes and More. Visit today.
At Tucker's Station, our corner of the world is beautiful
Let's us help make yours prettier, too!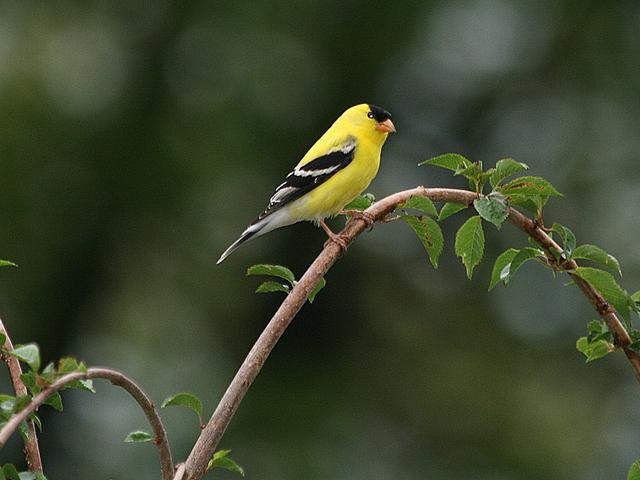 Gold finch at Tucker's Station
Tucker's Station Farms
Is open Thursdays, Fridays and Saturdays.
Order online
Do your shopping from home, with
Wal-Mart Site-to-Store
(SM).
Support our Citizens in Service
Reminder: Send mail from home to Adair Countians who are deployed to war zones in Iraq and Afghanistan.
How to mail to servicemen and list of addresses
>
Scroll to end of article for Today's Picture Album. More added throughout the day. Also, NEW: Photos added within Today. Check throughout the day for updates.Click here
to read yesterday's "Today" feature.
A note: You can keep going back, a day at a time, each time an older "Yesterday's" page is accessed.
Great Backyard Bird Count: The Count is Over. We won! Columbia #1 in KY!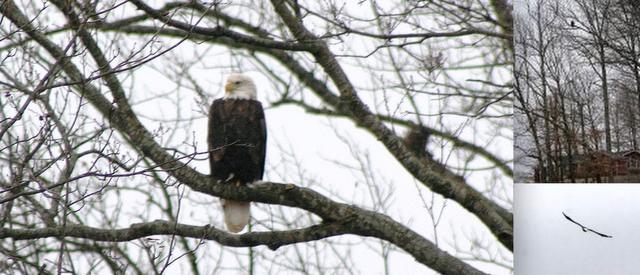 Birds of KY: Eagles are occasionally in the area. This eagle photographed by Stacy Loy visited the Kenneth Loy farm in January 2009. The farm is located in Russell County, near the Adair-Russell County line on KY 55. Sightings have also been confirmed on Sulphur Creek near the bridge on L. Hancock Road, in Adair County, KY, and below the Green River Bridge on KY 55 in Taylor County, KY. More details
To check full rankings of checklists in Kentucky Click Here
NEEDED for Birds of Kentucky: Bluebirds, stories on attracting bluebirds. Also, CM Birds of Kentucky needs local mourning dove pictures, photograph of the Arnold's Landing osprey, egrets at recognizable Green River Lake Site.
Lindsey Wilson Arts & Lectures Spring 2009 Schedule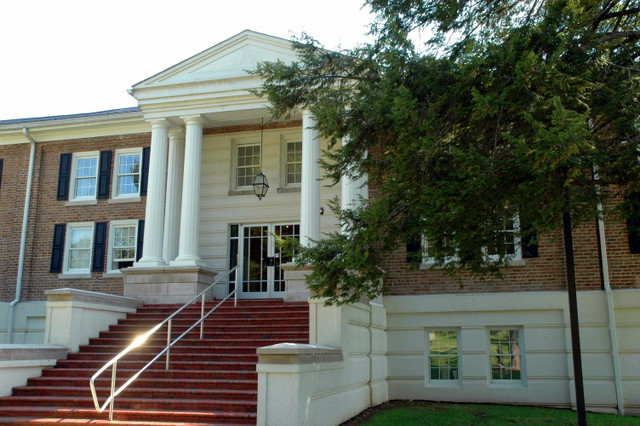 W.W. Slider Humanities Center, Lindsey Wilson College, Columbia, KY.
Adair County, KY, School District website.
A must visit daily for parents, teachers, and students. It's big. And it's the really well maintained.
Classes cancelled May 1, 2009, for funeral of beloved student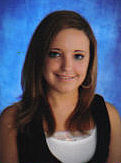 Haley Marie Luttrell, 17
Clasess in the Adair County School District will be closed in honor of her memory,Friday, May 1, 2009 and for the funeral at at 10:00amCT at Adair County High School Gymnasium, 526 Indian Drive, Columbia, KY,
School website was updated April 20, 2009
Important School dates in Upcoming Events at AC Schools website
Adair Band.com
Doyle Lloyd, websmaster
The Adair County Marching Band fundraiser thermometer at
Adair Band.com
now stands, at 4:09amCT, Thursday, April 30, 2009, at $82,606., leaving $57,294 to raise in the next 210 days, or an average of $272.82 per day needed to be raised by by Parade Day. The new total is the result of a $2,600 deposit from the Friday plate lunch delivery. Visit AdairBand.com for much, much more.
Adair Band.com
A HUGE LEAP FORWARD FOR THE BAND:
The ADAIR COUNTY FAIR ASSOCIATION has given the Adair County Band Boosters the concession stands for the 2009 Fair to help them raise money to meet their goal for their Macy Parade trip, Greg Thomas announces. "The value of the stands have ranged from $6,000 to $10,000 in the past few years," he says, adding, "Pictured are (not necessarily) in order): Fair Association members and Band Booster members Shamarie Claiborne, Charles Grimsley, Shannon Thomas, Tim Allen, Amanda Long, Jennifer Carter, Marshall Judd, James Curry, Thomas Long, Courtney Long, Terry Harvey, Fay Davidson, Billy Pickett, Justin Burris, Winston Keltner, and Gene Burton. The Band Boosters will be in for a full week of hard work but the Adair County Fair Association wishes them luck and hope they reach their goal." Photo April 29, 2009 by Greg Thomas.More Details
Driver's Seat Links:
To sponsor news and features on ColumbiaMagazine, please use our
contact form
.
Mountain Laurel Watch, Corbins Bend RD, April 30, 2009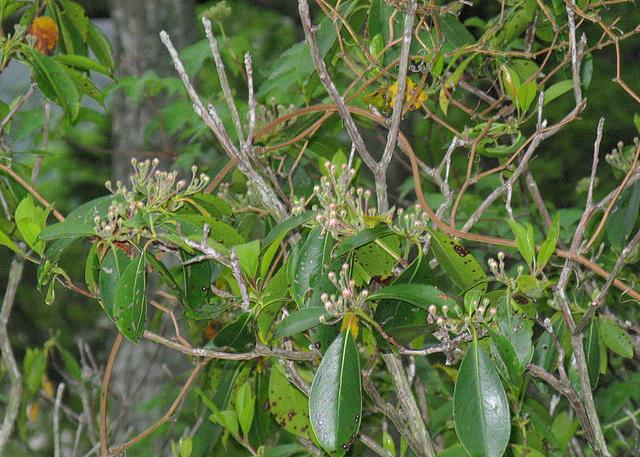 2009-05-01 - Adair County Mountain Laurel Trail, Jericho Cliffs, District 6, Columbia, KY - Photo by Ed Waggener.
IN THE PAST, we've seen mountain laurel in full bloom anytime from as early as May 1 to May 19. This year, with clearance of roadside brush by the Adair County Road Department, the shrubs are much easier to see from Corbin's Bend Road on top of the Jericho Cliffs overlooking Green River Lake. Yesterday, Thursday, April 30, 2009, this plant had the most promising buds. Any day now and the mountain laurel should be in full flower. A note on the location: It's dangerous to walk near the edge of the cliff. As surefooted as I am, with the agility of a billy goat and superb military training in the Campbellsville KNG Cannon Battery, found myself within one foot of a sheer 50 foot drop, while observing the fresh crop of wildlife. Heaven only knows what could have happend to a neophyte. -Ed Waggener. Clicking on read more puts takes reader to the "Today, Thurs., April 30, 2009 feature," the day the photo was taken.
Read More... | Comments? | Click here to share, print, or bookmark this photo.