Gurney Norman appointed KY Poet Laureate for 2009-2010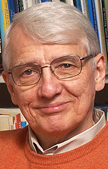 Gurney NormanFrom Commonwealth News Service
FRANKFORT, KY-- The Kentucky Arts Council announces that Gov. Steve Beshear has appointed Gurney Norman as Kentucky Poet Laureate for a two-year honorary term. Norman will be formally inducted on Kentucky Writers' Day at 11:00amET, Friday, April 24, 2009, in the Capitol Rotunda in Frankfort.
Over the past thirty years, Norman has been a major force in the literary and cultural renaissance throughout the state and region. He played a significant role in the founding of the Appalachian Poetry Project and helped establish the Southern Appalachian Writers Cooperative. A charter member of the Hindman Settlement School's annual Writers Workshop faculty, he continues to be involved in the Workshop as Senior Writer In Residence.
Norman's first novel, "Divine Right's Trip" was originally published in the margins of the "Last Whole Earth Catalog," which sold 2 million copies worldwide. "Divine Rights Trip: A Folk Tale" was subsequently published by Dial Press and Bantam Books in 1972 and Gnomon Press in 1990. Other fiction Norman has published includes "Book One From Crazy Quilt: A Novel in Progress," (Larkspur Press, 1990) and "Kinfolks: The Wilgus Stories," (Gnomon Press, 1977). His recent fiction has appeared in "Appalachian Heritage" magazine.
A writer and editor of non-fiction literary criticism, Norman, with co-editors Dwight Billings and Katherine Ledford, edited "Confronting Appalachian Stereotypes: Back Talk from an American Region," published by the University Press of Kentucky. Sharon Hatfield and Danny Miller were co-editors, along with Norman, of a collection of essays titled "An American Vein: Critical Readings in Appalachian Literature," published by Ohio University Press. He has also written and narrated three documentary films about Kentucky's Appalachian region for KET: "Time on the River," "From This Valley" and "Wilderness Road."
In 1990, Appalshop of Whitesburg, Kentucky produced a short dramatic film starring Kentucky's Ned Beatty based on Norman's short story "Fat Monroe," which was first shown at the New York Film Festival. Andrew Garrison directed "Fat Monroe" and two other films based on Norman's short stories; "Night Ride" and "Maxine." "Night Ride" was featured at the 1994 Sundance Film Festival in Park City, Utah.
Gurney Norman was born in Grundy, Virginia in 1937 and was raised alternately by his maternal grandparents in western Virginia and his paternal grandparents in eastern Kentucky. After graduating from Stuart Robinson School in Letcher County, he attended the University of Kentucky from 1955-1960 majoring in journalism and English. He then studied writing at Stanford University as a Stegner Creative Writing Fellow. Other Kentucky writers who went to Stanford in that era include Wendell Berry, James Baker Hall, and Ed McClanahan. Norman lived in the San Francisco Bay area from 1967 to 1979 when he returned to Kentucky to join the English Department faculty at the University of Kentucky. Presently the Director of the University of Kentucky Creative Writing Program, Norman will soon complete his thirtieth year teaching at the university.
In addition to his writing, editing and university teaching, Norman carries on an active service role as advisor to schools and community-based arts groups in Kentucky and the Appalachian mountain region. He is a frequent presenter at education conferences and enjoys visiting small rural schools where Kentucky literature and culture are under discussion.
The Kentucky Poet Laureate is appointed by the governor to promote the literary arts in Kentucky through readings and public presentations at meetings, seminars, conferences and events, including Kentucky Writers' Day.
The Kentucky Arts Council coordinates the nomination and selection process for recommendation to the governor. Kentucky's Poet Laureate must be a resident of Kentucky with a long association with the commonwealth and have received critical acclaim for their literary work. The word "poet" in the position's title is interpreted in its broadest sense to include persons whose accomplishments are in any literary form.
The Kentucky Arts Council is a state agency in the Tourism, Arts and Heritage Cabinet that creates opportunities for Kentuckians to value, participate in and benefit from the arts. Kentucky Arts Council funding is provided by the Kentucky General Assembly and the National Endowment for the Arts, which
This story was posted on 2009-03-13 16:49:16
Printable:
this page is now automatically formatted for printing.
Have comments or corrections for this story?
Use our
contact form
and let us know.