Today, Wed. Oct. 8, 2008: CACIDA meets at Chamber Building
EVENTS: Spotlighting, in brief, today's events for Day 281 of 2008 (Leap Year - 85 days remaining)
Today: Adair County CJE Ann Melton's county wide outdoor burning ban was lifted this morning, Wednesday, October 8, 2008.
Today: Fall Break Adair County School District continues. No school Oct 6-10
Today: Adair County Public Library Bookmobile in Milltown & Portland area
7:00am and continuing all day: Pinewood CC will be open to Adair County Golfers
8:00amCT: Meeting, Columbia-Adair County Industrial Development Authority at Chamber Building
8:00amCT to 4:00pmCT: Begley Gallery features seven Adair Artists: R.D. Fishback, Lloyd French, Sue Henningsen, Ron Johnson, Katie Kerr, Cora Renfro and David Waltz
8:00am to 3:30pmCT: Adair Co. Health Dept. 2nd of 2 flu clinics
10:00amCT: Children's Story Hour with Miss Aleina at AC Public Library
10:00amET/9:00amCT: CU Chapel Service, Ransdell Chapel
1:00pmCT: Homeschool Story Hour at ACPL
1:00pmCT to 6:00pmCT: Red Cross Blood Drive at Bowling Community Park, in Edmonton, KY
4:30pmCT: Teen Book Club at Adair County Public Library
This evening: See Directory of Churches for Wednesday evening worship service schedules.
6:00pmCT: Revival services this week at Praise Assembly of God Church
6:30pmCT: Revival Barnetts Creek United Methodist Church
Reminder: Send mail from home to Adair Countians who are deployed to war zones in Iraq and Afghanistan. How to mail to servicemen and list of addresses
For events in detail and to scan future events into 2009, Click here
Court:
Wednesday, October 8, 2008. No (0) Cases in Adair Circuit Court (Judge Janes Weddle). No (0) cases in District Court (Judge Michael Loy).
Click Here
to check Adair Court schedule at the Kentucky Court of Justice Website. To visit Adair Circuit Clerk site,
Click Here
This date in history:
Click Here
to access facts from
Wikipedia, the Free Encyclopedia
about this day in history.
Countdown to traffic light turn-ons, Columbia Western Bypass
: 1 days. Thursday, October 9, 2008.
Countdown to Downtown Days
: 2 days. Starts Friday, October 10, 2008.
SCHEDULE, DOWNTOWN DAYS
Countdown to Second Sunday
: It's only
4 days
to 2:00-5:00pmCT, Sunday, October 12, 2008, when Adair Countians make a bold move for a healthier, wealthier, happier community. A wonderful stretch of roadway, from on Greensburg Street, now also KY 439, from Paul Mann Road to the Adair County Schools Administration Building and across Indiana Drive to the Adair County Elementary School, will be closed to motorized traffic on Second Sunday. A huge turn out is expected. For further information, contact Kelli Bonifer at the UK Extension Service. Phone (270) 384-2317.
Countdown to Super Wal-Mart opening, Holladay Place:
21 days to October 29, 2008.
Countdown to November 4, 2008 General Election
27 days remaining.
Ballot position, local candidates
Register to vote in the office of Adair County Court Clerk Sheila Blair Mon.-Friday, 8:00am-4:00pmCT.
RCP Electoral College Outlook
.
Presidential Polls
;
RCP Presidential Poll, Kentucky only
The candidates' messages:
The following candidates are seeking your vote in the Tuesday, November 4, 2008, Election:
51st District Kentucky House of Representatives
Billy Joe Fudge
Pd. Pol. Adv. Paid for by candidate, Libby Reynolds Fudge, treasurer.


John BAM Carney
Pd. Pol. Adv. Paid forCommittee to elect John "Bam" Carney 51st District State Representative
Columbia City Council:
(ADV): What's Cooking in Adair County, KY, today:
Click restaurant names for hours, directions, and prices.
Betty's OK Country Cooking Wednesday, October 8 2008 Buffet: Meats: CATFISH. SMOKED SAUSAGE wSAUERKRAUT. GRILLED CHICKEN/wRICE. Vegetables: Mashed Potatoes. Green Beans. Fried Appless. Baby Limas with Tomatoes. Macaroni/Cheese. Vegetable Sticks. Corn. Broccoli/Pasta Bake. Great Northern Beans. Buffet includes Cornbread, Rolls. On the buffet cold bar: Pasta Salad, plus Potato Salad. Coleslaw. Peaches. Pears. Cottage Cheese. Pepper relish. Sweet onion. Today's SPECIAL DESSERTS: Apple Pecan Cobbler. Sugar Free Butterscotch PiePlus our really big regular list of favorite cakes and desserts. BREAKFAST: Served anytime. We have Grits


Bob's Country Kitchen & General Store
Hotbar Special, Wednesday, October 8, 2008: Wednesday is MEATLOAF day at Bob's! Green Beans. Pickled Beets. Pinto Beans. Sliced tomatoes. Sweet white onion. Coleslaw. Bob's Crunchy, Crusty Cornbread.
SOUPS: Pinto Beans as a soup with crackers or cornbread, sweet white onion
DESSERTS: Cherry Delight. Plain Cheesecake. Turtle Cheesecake. Strawberry Swirl Cheesecake. Carmel Chocolate Cheesecake. Holy Cow Cake!
LUNCHES: One of Adair County's best selections of Cold Cuts, Cheeses, sliced to go or made into great lunchpail sandwiches.



Buffalo Hills RanchNothing can be more refreshing on warm Autumn Days than a Dr. Smoothie Smoothie from Buffalo Hills Ranch. Get America's Original Health Food, Buffalo (American Bison), for weekend grilling. Soon: First Adair County Grown Buffalo will be available here.


The Dairy Dip Wednesday, October 8, 2008: It's raining!!!!!! To celebrate, we're have a Wednesday, Rainy Day Special at The Dip: Our fresh PULLED PORK BBQ Sandwich + Fries or Tater Tots + 16oz drink, Only $3.99 (regular $4.89). Remember, you can use our convenient drive thru to get your order. This year, The Dairy Dip of Columbia will remain open ALL YEAR! Don't forget, for that perfect cone of ice cream, it's here at Dairy Dip. Call ahead (270) 384-4644 and we'll have you back on your way in no time! -PATRICIA WILLIS.


Ol' Joe Barbee's B&B QUE Ol' Joe's will be open next on Friday, October 17, 2008 & Saturday, October 18, 2008 with barbecue ready sometime around 8:30-9:00amCT. Get it and eat it today or get it and freeze it for the long wait for Ol' Joe to open again in 2 weeks! Ol' Joe's is the Home of Ol' Joe's Original KY Wings, Ol' Joe's Sauces and Rubs, and just about the best barbecue you'll find anywhere. Slow smoked to perfection. Meaty ribs. Delicious barbecued chicken. Call for Catering. Call ahead for large orders. A smoke free restaurant.


Old Town Restaurant, KY 551, Knifley, KY.Open, each day from 5:00amCT with full breakfast, lunch, and dinner in the completely remodeled Knifley Grade Center.


NEW! Red Barn Bar-B-Q. 309 Hudson Street, Columbia, KY. A smoke free restaurant.
With all the great choices: Shoulder, Pulled Pork, Ribs, Tenderloin, and Chicken cooked fresh daily from an Open Pit Barbecue! See MENU then call ahead for quicker service or for large orders.
HOURS: Thursdays (10-8), Fridays (10-8), Saturdays (10-8:30) and Sundays (10-7) with Genuine Monroe County Style Barbecue. We'll make your taste buds tingle. Catering available. Dine in. Call ahead (270) 384-1645. Owners Gary & Marketta Dubree.
Rerun's Holmes Bend General Store

DAILY SPECIAL: Wednesday, October 8, 2008:
Today, two choices:
BEEFSTEAK & GRAVY. Mashed potatoes. Lima Beans. Bread For Just $6.00
or HAM & CHEESELOAF SANDWICH + CHIPS +16 oz. Drink, ALL for JUST $4.00
Or, order from Rerun's extensive menu will be cooked to order today! Come in for Simply the Best Food on Green River Lake Breakfasts Anytime.
DESSERTS: Blackberry Cobbler, Just $1.00 a bowl. Where else but Reruns. Great heated with a scoop of Mayfield's Ice Cream. Try our Huge Chewy, Chocolatey BROWNIES, only 50 cents each.
MINIATURE GOLF: Play all day and under the lights. Join the crowds enjoying the great Fall Weather here. Just $2.00 per game per player!

Adair County School District Menu
FALL BREAK until Monday, October 13, 2008: We'll announce School Menu when school resumes. Menu September 29 through October 24, 2008
Order online
Do your shopping from home, with
Wal-Mart Site-to-Store
(SM).
Special advertising today:Real Estate Auction Calendar:
There are currently many once in a iife time opportunities in Adair County Real Estate. For listings and links,
Click Here
Special Sales in New CM
Clothing Classification:
Ja Ci's Boutique has Sale Prices, Summer Clothes. New Fall Line of Clothing and Jewelry.
Mitzi's has closed. Inventory has been bought by Best Buy Clothes and More, 310 Public Square, Columbia, KY. (270) 634-2389. New ad coming soon. We're looking forward to serving you.
Submit Your Classified Ad now,
using our
contact form.
Sports CalendarsENTERTAINMENT:
Coming Saturday, October 11, 2008. Diamond Rio concert. Booster Field. Adair County School District Campus. Tickets $15 available at CIty Hall, 116 Campbellsville ST., Columbia, KY. Phone (270) 384-6183.
NEW!
Click Read More to go links to SPORTS CALENDARS, TODAY'S BEST PHOTOS, and MUCH MORE
Scroll to end of article for Today's Picture Album. More added throughout the day. Also, NEW: Photos added within Today. Check throughout the day for updates.Click here
to read yesterday's "Today" feature.
A note: You can keep going back, a day at a time, each time an older "Yesterday's" page is accessed.
Academic calendars
For 2008-2009 School Calendar,
Click Here
.
School website was updated September 29, 2008
Click Here Daily
for the comprehensive Adair County Schools website. In a community with some of the world's best websites, this frequently updated one is a standout. Find your child's school for important contacts, athletics, clubs/organizations, faculty staff listings, SBDM Council meetings, events, and links.
ACHS BAND
2007 Adair County Band website
. Doyle Lloyd, webmaster.
Western Bypass from 24,000 feet, 13 minutes from Lexington, KY
, photo by Doug Campbell, Columbia Pilot posted on CM on June 28, 2007.
Perry Parrish Aerial Photographs: CWB, others, August 9, 2008
Photos of Holladay Place, Majestic Yachts, The Long Bridge, the Adair Justice Center, Adair County Water Treatment Plant, ACES and ACHS, Green River Lake, and Adair School Property will be in the series.
Wolf Creek Dam
To access the Army Corps of Engineers Wolf Creek Dam website online,
Click Here
Wolf Creek Dam Weekly Progress:
Latest, with aerial view of all the new work at Halcomb's Landing, Dated September 4, 2008 Water level, down, at 680.53 feet
Click here
for September 4, 2008 (latest) Wolf Creek Dam update.
2008 Kentucky Primary Election Calendar & Candidates
See candidate filings for City Council, Constable, School Board, and Soil Conservation District races.
Click Here
Click Here
for 2008 Election Calendars at the Secretary of State's website.
To see the results by precincts or absentee voting, click on links below:
Absentee totals
.
White Oak
.
Eunice-Pellyton
.
Little Cake
.
East Columbia
.
Ozark
.
S. Columbia-Ozark
.
Glens Fork-Melson Ridge
.
Gradyville-Nell
.
Sparksville-Breeding
.
Milltown
.
West Columbia
.
Cane Valley-Holmes
.
Knifley-Roley
.
North Columbia
.
Hurt
.
For complete filings at Kentucky Secretary of State Trey Grayson's office
for President, US Senator US Representative, State Representative, Justice of the Supreme Court, Judge of the Court of Appeals, and District Judgeships,
Click Here
.
Please remember to
submit events, celebrations now
for January 2008 and all of 2008 ColumbiaMagazine.com calendar of Events and Celebrations and to send new and updated entries for the Directory of Churches
Driver's Seat Links:

Salon.com breaking news, opinion, entertainment. Online magazine with news you'll see up to four weeks before you see it anywhere else.
Traveler's Guide to Southern Kentucky.A collection of great ColumbiaMagazine.com Scenic Adair County photos from 10,500 CM articles ago.
TV Listings Link to Tv Guide
This story was posted on 2008-10-08 05:36:01
Printable:
this page is now automatically formatted for printing.
Have comments or corrections for this story?
Use our
contact form
and let us know.
To sponsor news and features on ColumbiaMagazine, please use our
contact form
.
Daytrip over bridge out of time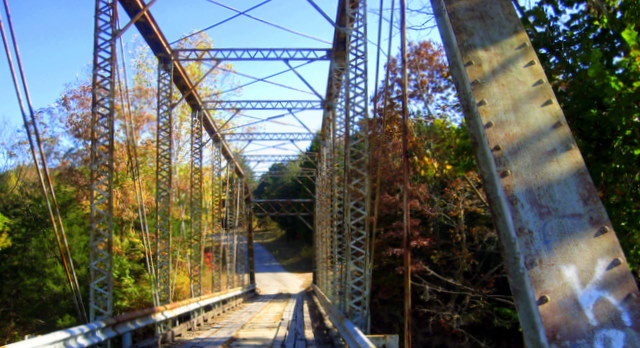 2008-10-08 - Redlick, Mosby Ridge Road, Metalfe Co. KY - Photo By Ed Waggener.
THE HIRAM BELL BRIDGE over the East Fork of the Little Barren River in Metcalfe County is one of the few truss bridges still in use on public highways in this area. It's located on Mosby Ridge Road (or is it called Red Lick Road) between KY 80 and Flat Rock Roads in Metcalfe County, at Red Lick. The floor is rough and the trusses need paint, but it offers a gateway to a spectacularly beautiful road, especially in fall. Dramatic flights of great blue herons can often be viewed looking down from the bridge. For a noontime drive, go west from Columbia through Gradyville, over Nell Hill into Metcalfe County. Mosby Ridge Road is past the marking place Red Lick Community (abandoned general store on left) C.A. Bell mansion on right. The road is a left (south) before one reaches the slew. TaKe Mosby Ridge Road to Flat Rock Road (we used to call it Breeding Road in Metcalfe), then take a left on Flat Rock to return to KY 61 at Breeding, and left on KY 61 at Breeding to return to Columbia, KY. Along the way, there are stores at Gradyville and Breeding offering gas and restrooms. About 35 miles, round trip. You'll need a camera.
Read More... | Comments? | Click here to share, print, or bookmark this photo.


Trinity UMC kids take fall outing to apple orchard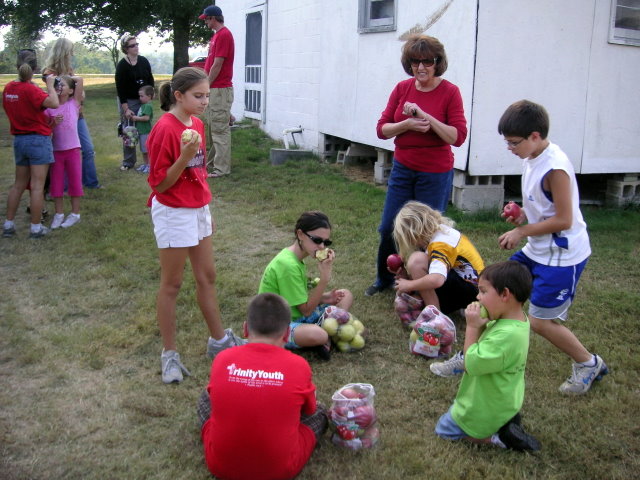 2008-10-08 - Nancy, KY - Photo By Carmen Wall.
KIDS from TRINITY UNITED METHODIST CHURCH took a fall outing to the big apple orchard in Nancy, Pulaski County, KY. Children in the picture are Kayla Garrison, Holly Pyles, Damon Honaker, Jeremy Wall, Jacob Hadley, Ian Johnson, Emily Wall, Chase Coomer, Donna Bryant, Ryan Harris, Andrea Burton, and Stephanie Coomer, with Wes Irvin, the youth minister at Trinity UMC.
Read More... | Comments? | Click here to share, print, or bookmark this photo.


Scenic Adair Co., KY: Bull Run Creek, from DCR Bridge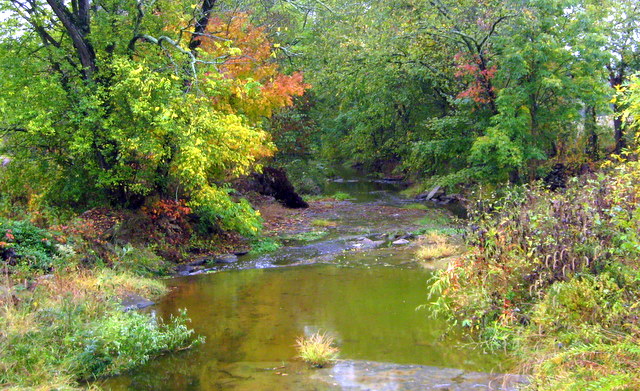 2008-10-08 - Columbia, KY - Photo By Ed Waggener.
The CALL ON FALL: General store experts around the county who have written off fall color appear to be wrong. It may have been the sweet autumn rain we got last night. It may have been righteous living in Columbia. But, for whatever reason, a prayer meeting day know your county better tour has yielded a number of indications that the pessimism was premature. This is a view upstream from the bridge over Bull Run Creek on the Dwight Curry Road, at a point where the stream gentles down and settles into shallow, flat pools with fairly regular ripples. Bright autumn colors are just hinting at more spectacular colors may yet come.
Read More... | Comments? | Click here to share, print, or bookmark this photo.


Scenic Adair Co., KY: Life is Good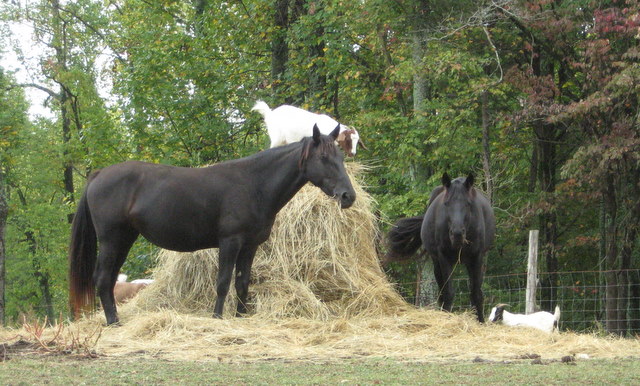 2008-10-08 - Nelson Wallkup Road, Flat Woods, District 4, Adair County, KY - Photo By Ed Waggener.
REGARDLESS OF ONE'S STATION, there's plenty to eat here, even if the goat, "Mince Meat," is more equal than the horses, or at least think's it is. It's not unusual to see this dinner scene at Ed & Lynne Darnell's Majestic Acres on Nelson Walkup Road. Whether it is proper for the goat to be there depends. I asked my oldest grandson, when he was four, if the goat should be up there. He thought several minutes about it. "No, Granddad," he said. "He shouldn't be." --Ed Waggener.
Read More... | Comments? | Click here to share, print, or bookmark this photo.


Holladay Place: Signs up at Super Wal-Mart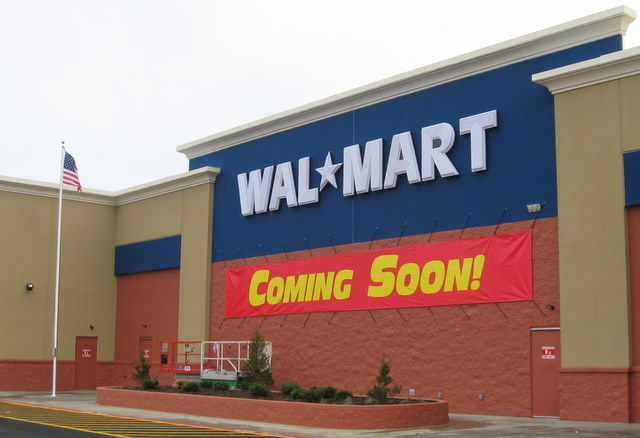 2008-10-08 - Holladay Place, S KY 61, Columbia, KY - Photo By Ed Waggener.
The BIG SIGN IS UP at the Columbia Super Wal-Mart on KY 61 South at the Louie B. Nunn Parkway in Columbia. The large sign is in the center of the 147,000 s.f. retail center. The food section will be on the left, the home and pharmacy and Woodforest National Bank center in the store is to the right. The store is scheduled to open in three weeks, on October 29, 2008.
Read More... | Comments? | Click here to share, print, or bookmark this photo.


Autumn colors at their best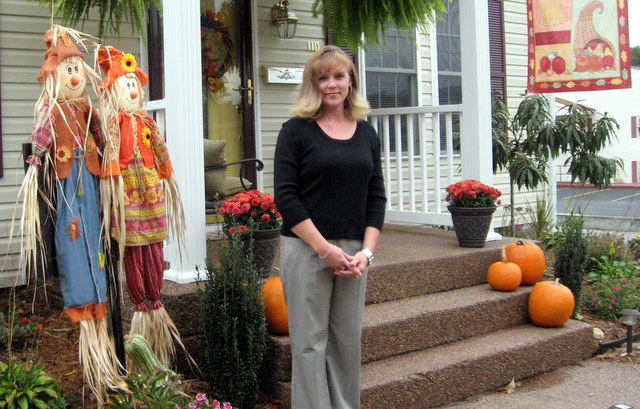 2008-10-08 - 110 East Fortune ST, Columbia, KY - Photo By Ed Waggener.
HARVEST COLORS were coordinated in this fall scene, complete to Halloween pumpkins and people to the delight of passers by on Fortune and Reed Streets just off the Square in Downtown Columbia. Monica Janes, above, did it most of all for her men, 11 year old Cody Janes and husband Doug Janes.
Read More... | Comments? | Click here to share, print, or bookmark this photo.