(ADV) Elect BILLY JOE FUDGE 51st Dist. Representative
<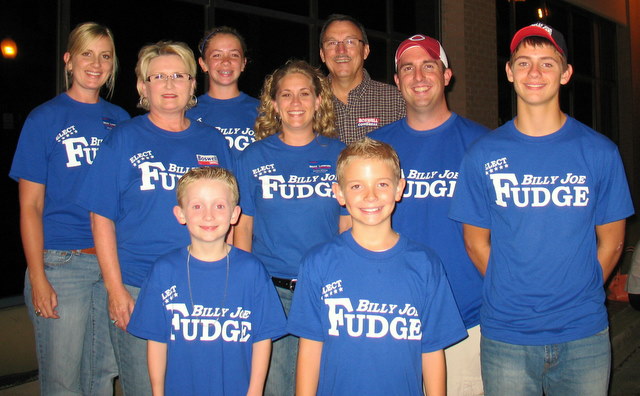 MY FAMILY:
Billy Joe Fudge says, "We want you to meet our family. They are the big reasons why I am committed to winning the race to represent Adair and Taylor Counties in the Kentucky House of Representatives. I want to help assure Kentucky, and especially these counties a brighter future--a brighter future for them :
Front, from left:
Jackson Hinton & Harrison Knifley, grandsons.
Middle, from left:
Libby Fudge, Prindle Hinton, daughter; Mike Hinton, son-in- law & Hayden Neal, grandson.
Back, from left:
Shay Knifley, daughter; Hayley Knifley, granddaughter and Billy Joe Fudge.
I PLEDGE TO YOU THAT:
I Will Listen To You,
I Will Be Your Voice In Frankfort,
I Will Be Your Full-Time Representative,
I Will Unite Rather Than Divide.
As a son, husband, father and grandfather, I've learned the joy and comfort of family.

As a farmer I've learned hard work, and community responsibility.

As a forest ranger and firefighter I've learned teamwork, not going home until the job is done, and serving the needs of others.

As a district forester I've learned that a leader inspires the strong to excel, and the weak to never give up.

As a citizen of the 51st district, I know we can do better.

We in Taylor and Adair are a strong, smart, and determined people of faith. We, each and everyone are different, yet, we believe in each other and pull together for the common good of our communities. It is not too much to ask that those we elect go to Frankfort and work together despite their differences.
On November 4th, Vote For And Elect



BILLY JOE FUDGE
State Representative 51st District
Adair County And Taylor County


Thank you for your support and encouragement.
If you have concerns, or want to help: E-Mail me at: bjfudge@duo-county.com
Paid for by candidate. LIbby Reynolds Fudge, Treasurer
This story was posted on 2008-09-16 17:12:56
Printable:
this page is now automatically formatted for printing.
Have comments or corrections for this story?
Use our
contact form
and let us know.