Rivermen of the Cumberland:
Chapter 4
By Chris Bennett
Chapter 4: "Day two, Burkesville to Cordell Hull"
At about 4:15 am the eastern sky began to fill itself with beautiful color. The morning was really foggy and cool. I hollered and told Neal to get up, "cause were burning daylight". He didn't want to get up, but after some loud and graphic coaxing, and throwing a few rocks at his tent; he started packing up his gear.
It was Sunday June 3rd and I was a man on a mission. I wanted to reach Celina Tennessee with enough time to do some "trout fishing" in the Obey River before nightfall. The Obey River flows from Dale Hollow Lake Dam, and meets the Cumberland River near Celina at river mile 381. The Cold waters that flows from the Dam into this stretch of the Cumberland is supposed to be one of the best Trout fisheries in Tennessee.
---
Columbia's resident adventurer, electrician, and author
Chris Bennett's
series is now available in the softcover book, "
Rivermen of the Cumberland
."
It can be purchased from
Amazon.com
or ordered through your local bookseller with ISBN 978-0-557-05263-9.
For fastest home delivery, order online today at columbiamagazine.com/books
, where it is available both in softcover book form or formatted as a PDF for instant downloading to your computer or portable book reader.
---
Shallow water had slowed first day journey
The previous day's journey had been slowed by extreme shallow water, and then rushed by thunderstorms. Today, I hoped to travel at a more moderate pace. I knew that we would be passing several historical sites on the river. I looked forward to seeing them. I knew that early settlers had used the river for navigation into new lands.
Then, the steamboat era gave birth to new towns and cities around the river. River travel was much easier and faster than by horse and wagon, and it allowed the cheap transportation of goods to these ports on the river. The Cumberland was a used as a highway and a natural barrier in the civil war. General John Hunt Morgan's Confederate troops had crossed the river barrier several times during their raids into Kentucky.
Smell of coffee, bacon, and eggs
mixed in with the clean morning air was intoxicating
We decided to eat breakfast, before we left "Tranquility Base", our overnight riverside haven. You can imagine what this was like. There was a cool morning breeze lifting up off the river. The sun was still below the horizon, just rationing us enough daylight to see. The sizzling and popping of bacon an eggs frying in skillet, was softened by the sound of the river running south toward Tennessee. The songbirds that make their home in the trees that surround the river had awakened, and decided to sing praises to heaven.
The smell of the coffee, bacon, and eggs mixed in with the clean morning air was so intoxicating I could hardly wait. At this point I felt hunger in my stomach, and I was convinced that coffee, bacon and eggs were what the Greek Deities had called Ambrosia. This was the breakfast of champions! It would make any camping trip memorable except; this meal was a fantasy, in reality we ate cold "pickle dog" that morning. We chased it with a few club crackers and some of that cheese that you get in a squirt bottle. (Squirt bottle cheese, Astronaut food?) This was all washed down with a can of luke-warm Ski because; in the excitement of the evening we forgot to put them in our cooler.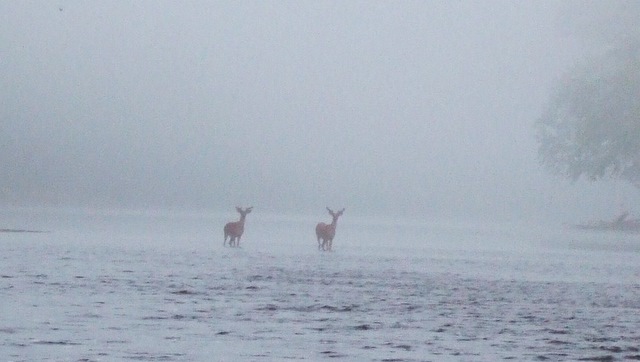 Early Morning Crossing of two buckson June 3, 2007 at 5:23am, in deep fog on the Cumberland River, south of Burkesville, KY. "I think these deer were as shocked to see us as we were at seeing them. To tell you how shallow the river was during last year's drought. We took our boat right down the middle of the river, where those deer are standing," writes adventurer and photographer Chris Bennett of Columbia, KY.This morning we got photo, 'Early morning crossing of two bucks'
We had all our gear loaded on the boat and shoved off at approximately 4:50 am from river mile 416. We were traveling at a slow pace because the water was still very shallow. Neal took the first photo of the morning around 5:02 am of the river landscape. Next he took a photo of two deer standing on the bank, watching the boat float by. The water was so shallow in places it looked like white water rapids.
At approximately 5:23am Neal and I were amazed to see the "Early Morning Crossing of Two Bucks". (By searching this title in the search bar you will see this amazing photo) It is a photo of two bucks crossing the river in a deep Cumberland River fog. "I think these deer were as shocked to see us as we were at seeing them. To tell you exactly how shallow the river was during last year's drought. We took our boat right down the middle of the river, where those deer were standing.
Trout came quickly above Monroe County
As we traveled down the river that foggy morning, I decided to do a little fishing. I got the two fishing poles out of the rod box and handed one to Neal. We put our lines out and we began to troll downstream. After just a few minuets, "BAM!" I had a nice sized trout on my line. I reeled it in unhooked it and threw it back.
I threw my line back out, and then in just a few more minutes, "BOOOYAA!!" another nice trout. I threw it back and put my line out again, the next fish I caught was a "good one" he fought quite hard, I finally had to shut off the motor so I could reel him in. After about six fish I decided to stop, Neal had not caught any fish, so I didn't want to hurt his pride. We put our fishing poles away, and putted on toward Monroe County.
Some parts of the river channel south of Burkesville are very wide. In times of low river flow these areas become extremely shallow. These shallow areas always slowed our progress, as we didn't want to get going real fast, and then hit a rock or submerged tree with our motor or the hull of the boat. Hitting one of these obstacles could have ended our trip. One common misconception people have is that the river current would have carried out boat downstream if our motor quit, this was not true. In times of flooding or high river flow, there is a strong current, but this was not the case in June of 2007.
The only areas that had strong current were the extreme shallow areas, and they would not let the boat float freely. Another misconception is that there are boat ramps all up and down the river, and we could have stopped anywhere if we had a problem. Boat ramps on the Cumberland are sometimes miles apart, and many times are inaccessible as they are on private property.
Stone wall dikes on both sides of river south of Burkesville
A landmark we had been seeing south of Burkesville were the stone "slave wall dikes" on the sides of the river. During the nineteenth century steamboat era, the wide shallow areas of the Cumberland would inhibit river navigation during times of low water flow. The nineteenth century solution was to stack huge stones up in piles, building "stone wall dikes" on both sides of the river channel. The intent was to make the river narrower, and deeper.
Tradition says that slave crews, brought up by Nashville shipping interests, built these dikes. I haven't found any written historical data proving this, so I cannot comment on this information, but it seems to be a common story told about them. We took many photos of these massive riverside landmarks. It seems the work to construct these dikes without modern earthmoving equipment would have taken years. Today the remains of these stonewalls are still easily seen, floods and time have scattered a few of the huge rocks although the bulk of them are still in place.
Keeping boat in center of river, where water is deepest, was hard
As I traveled south we began to notice a change in the river. The father downstream we traveled, the shallower and swifter it became. I tried to keep the boat in the deepest part of the channel, but that was becoming more and more futile. Neal was using the push pole to help steer the boat, out of the rocks the best he could. We came upon a deeper pool where the water was swirling around creating a river eddy. When the current caught the boat, it did a half spin in the swirling water and bottomed out. We tried rocking the boat back and forth, then pushing off with our pole, all to no avail.
Next we decided to vacate the boat. I got out first, and then Neal. Taking our weight out of the boat dislodged it; in the swift current the boat came racing into my legs as I bent over to grab it, the force was so strong it nearly knocked me over. Neal and I held to each side of the boat and walked it toward the deeper water. The water flow was so swift; I don't think I could have stood straight up in it without being pushed over. We walked until the water was above our knees, then we got back in the boat.
When I got back into the boat and sat down, I removed my rubber "river wading moccasins", because they were full of rocks and sand. The fast moving water had pumped small smooth stones and sand into my moccasins. I started my motor and again we slowly crept south. In the distance I could see more rough water ahead. I knew that we would have to repeat what we had just experienced over, and over until we reached deeper water. In my mind I started running scenarios of "what if". What if the water becomes so shallow we can no longer travel downstream? Should we try to make it to a boat ramp and quit? Is our trip over?
For six hours we battled shallow water; it took its toll
The next few hours of traveling were very strenuous and stressful. As we came to each shallow area of the river, we would repeat the process of getting out of the boat and walking it to deeper water. About the seventh time we got out of the boat, the river was so shallow that we had to lift the boat up as we drug it across the rocks. I put several minor scratches on the hull of the boat in this area, and I also broke the depth finder transducer off the hull of the boat, this would affect the rest of the trip. I started hearing some grumbling out of Neal.
Later he told me that he thought we were not going to make it, the shallow water was going to end our trip. I didn't know 100% if Neal realized that we couldn't turn around; we would never have been able to make it upstream. Our only option was to keep heading south. I think we had to get out of the boat about 11 times that morning. Finally after about four hours of fighting the river we came to an area that had a little deeper water. We had only traveled about five miles, in four hours.
Neal spots a bald eagle!
>
The time now was around 9:15am; we were traveling about 6 miles per hour and in much better water. Neal started yelling over the sound of our outboard engine, "Look I see an Eagle!" It was a male Bald Eagle sitting on a tree limb on the right descending bank of the Cumberland. He appeared to be "fishing." Several times we saw him swoop down to the river and pick up fish. As we tried to get closer to him, he would fly further downstream. We took several photos of the Eagle, but the camera I brought only had about 4x zoom, so we were unable to take close up photos of the Eagle. Eventually He flew over our heads back upstream, probably toward his nest. We did not follow him; our business was south in Tennessee.
The area of the river we were currently in was very remote and beautiful. There are very few houses, and plenty of trees and wildlife. The terrain has steep banks and large rock ledges. The water was almost crystal clear that day. We saw a large group of about thirty Geese on a sand bar.
As the sun climbed higher in the sky, I knew we were behind schedule. If we couldn't travel any faster we wouldn't make our fishing date at the Obey River. I looked over at Neal and he was sleeping, he apparently was not concerned with our schedule. At around 10:12am we came upon one of the last Kentucky landmarks, it told me that we were getting close to the Tennessee line.
McMillans Ferry marked 23 miles from 'Tranquillity Base'
McMillians Ferry connects Monroe and Cumberland County, and it is the last state ferry in Kentucky to be operated 24 hrs a day. It is located at river mile 393. Seeing the ferry told me that I had traveled approximately 23 miles since I left "Tranquility Base" in Cumberland County. Just passed the ferry Sulphur and Long creeks runs into the Cumberland they gave us more water and allowed me to increase our speed. I was now making about 10 mph, and things seemed to be going good, twenty more miles to Celina.
This was the first time on the trip that I was able to increase our speed fast enough to get the boat on plane. The deeper the water got, the more I accelerated the boat. We hadn't seen another human that day until we came upon McMillians ferry. We were now seeing a few boats, and fishermen. Cattle was a common sight on the riverbanks they seemed to enjoy the cool water, on that hot day.
At river mile 385, we were no longer in the Bluegrass State
At river mile 385 I knew that we were now no longer in the Bluegrass State, the GPS I bought was serving me well. Kettle Creek flows into the river a little passed the Tennessee line; it allowed me to increase speed even more. The anticipation of the conflux of the Obey and Cumberland rivers entered my thoughts, with deeper water I could travel even faster. To my right I began to see a darkening skyline, "storms coming".
We got our rain jackets out of dry storage as the first drops of water started falling. The outboard low oil siren kicked on, so I pulled under the cover of some trees to add oil to the reservoir. I also used this break to add the reserve five gallons of gas I had brought along, to the main tank. A steady rain fell upon the river as Neal retrieved the club crackers, "pickle dog" and bottled cheese so we could have a little riverside lunch. It was now almost 12:00pm. Luckily the bulk of the storm crossed behind us again, that was two in a row.
Cumberland changes in split second at Obey River
The next landmark we reached on the Cumberland was the Obey River at mile 381. It was amazing how the river changed in a split second. The temperature dropped from 72 degrees to 50 degrees. A deep fog rolled off the water as the cold water and the steamy warm air mixed. Neal and I now had a discussion on our next course of action. The plan had been to fish the Obey River and camp somewhere between Celina and Cordell Hull Lake. All day long our river trek had been slowed by shallow water, and then by bad weather, but we now had plenty of water and the resolve to travel hard for a few hours to make up for lost ground. That is exactly what we decided to do. I headed the boat downstream and opened her up to our fastest speed yet. The boat speed increased to about 25 mph.
At river mile 370 we saw something new, it was a river road sign. For the rest of the trip we had signs marking the right and left sides of the river channel, some of these signs that had a number on them like the first one that said 370.7. The sign was green, to indicate it was the right side of the channel and there was 370.7 miles until we reached the Ohio River. This makes navigation on the rivers and lakes much easier for large boats and barges that cannot operate in shallow water. It also helped us, to always know where we were at, and it made the Corp of Engineers navigation charts easy to follow.
At river mile 358 we encountered another tributary to the Cumberland, The Roaring River. The two rivers now formed Cordell Hull Lake. I increased our speed even more, and I started thinking about trying to make it to a Marina for our overnight stay. A shower and a bed would be real nice after 24 hours of being on the river. I did have one little problem; my gas hand was heading south in a hurry. Our destination was Granville Marina located at mile 331. I had at least 20 miles more to travel with a little more than a quarter tank of gas.
Cordell Hull is nice looking lake with steep banks and rolling hills
We found Cordell Hull to be a nice looking lake with steep banks and rolling hills for shoreline. I would compare it to the look of Green River Lake near home. We saw very few boats on the lake, with the exception of an occasional fisherman the lake was dead. On the lake our marker signs turned into red and green buoys, which kept us in the river channel. On Cordell Hull it is easy to be in 60 feet of water, but if you stray from the river channel you can find yourself in 2 feet of water in a split second.
At about 3:30 pm I caught the first glimpse of the Granville Marina in the distance. I pulled the boat up to the gas pumps and shut off the engine. I had trouble walking when I got up, because I had been sitting on the boat so long. We had been traveling since about 5:00 am, with only one break around lunchtime. I was hungry, tired, hot, and happy to have reached another milestone of our trip. I filled our tank with gas, and it held 12.5 gallons. That meant I had around 10 miles worth of gas left and this was the first gas station we had seen since we had left on our trip. I would call that cutting it close.
I made arrangements at the Marina to dock my boat in a covered slip, and rented a two-bed room cabin on the waters edge. It wasn't the greatest or cleanest place I ever stayed, but it had hot showers, cold air conditioning and a king sized bed. I found out later that night that it was actually two twin beds put together on a king bed frame, but I didn't complain.
The main building of the marina was a restaurant. Neal and I thought we would get a hot meal before we retired for the night. We sat down with menus and both ordered the rib-eye meal, our pretty little waitress who was also one of our cooks told us that they were out of steaks and about everything else on the menu. She explained that Saturday night had been a big sales day for them, and about all she could make us was a Cheeseburger with fries, so that is what we ordered. Our cooks were watching the world series of ladies fast pitch collage softball on ESPN, it so happened that Tennessee was playing in it. They were quite friendly so we told them about our trip as they prepared our food. "Wolf Creek Where"? They asked. They were pretty to look at but had not spent much time studying the geography of their local river.
Our burger basket at the marina restaurant was huge!
Our cooks delivered our burger basket, and it was huge! "Those little gals served me up the best cheese burger and fries I have ever eaten". Now maybe it was because it had been almost 24 hours since my last cooked meal, or because I had only eaten "pickle dog" all day long, but I still say that it was a great meal. Neal still brings up his burger to this day!
At 5:00 pm I took a shower and went to bed. It had been a day that will live with me for the rest of my life. We started at river mile 444, and now we were at river mile 331. We had traveled about 113 miles since Charles had dropped us off at Winfrey's Ferry. I went to bed by 5:30, and was out for the next 14 hrs, I was exhausted from the days adventure.
---
INDEX to
Rivermen of the Cumberland
By Chris Bennett
The story is being carried in 9 mini-chapters. They will go online as they are written. Just click on each chapter title, underlined and linked, as it is posted, to read it.
Chapter I. "Why would any one take a river trip" tells my history on the river, and what inspired me to go on my trip.
Chapter II. "Planning" Planning the trip, and finding some one that would go with me.
Chapter III. "Day one" Creelsboro to Burkesville, 25 miles traveled in 5 hours
ChapterIV. "Day Two" Burkesville to Cordell Hull 89 miles traveled in 11 hours
Chapter V."Daythree, Cordell Hull to Old Hickory Dam
Chapter VI. "Day three, Old Hickory Dam to Nashville"
Chapter VII. "Day Four "Nashville to Lake Barkley"
Chapter VIII. "Day Five, Mississippi here we come"
Chapter IX. "Old Tennessee River, take us to Pattis 1880's settlement"
This story was posted on 2008-09-14 13:05:09
Printable:
this page is now automatically formatted for printing.
Have comments or corrections for this story?
Use our
contact form
and let us know.