Today, Sun. Sept. 7, 2008: Homecoming at Melson Ridge
EVENTS:
Spotlighting, in brief, today's events for Day 251 of 2008 (Leap Year - 115 days remaining).
Today: Flags at half staff for Williamsburg, KY soldier
Today:See Directory of Churches for Sunday morning & evening worship service schedules.
ASBURY UNITED METHODIST CHURCH. 9600 New Columbia Road, Campbellsville, KY 42718. Pastor William Don Watson. Phone 270-789-4111. Sunday Morning: Life Development Groups 10:00 a.m. EDT. Morning Worship Service 11:00 a.m. EDT. Sunday Night Youth Worship 6:00 p.m. EDT. Wednesday Night: Youth & Adult Services 7:00 p.m. EDT. SPONSORED
COLUMBIA CHURCH of CHRIST. 501 Jamestown Street, Columbia KY 42728. Phone 270-384-6467. Service times: Sunday Bible Class 9:00am, Worship 10:00am, 6:00pm. Wednesday Bible Class 6:30pm. Dean Roach, minister. SPONSORED
Today: Melson Ridge Baptist Church Homecoming
6:30pmCT: Jerry Bennett Singing at Beulah Chapel Brethren in Christ
Sunday evening: Truly Blessed in Concert at Edmonton UMC
Reminder: Send mail from home to Adair Countians who are deployed to war zones in Iraq and Afghanistan. How to mail to servicemen and list of addresses
For events in detail and to scan future events into 2009, Click here
This date in history:
Click Here
to access facts from
Wikipedia, the Free Encyclopedia
about this day in history.
Countdown to Second Sunday
: It's only 35 days to Sunday, October 12, 2008, when Adair Countians make a bold move for a healthier, wealthier, happier community. Tentative location: The new Columbia Western Bypass by Adair Elementary School. A huge turn out is expected. For further information, contact Kelli Bonifer at the UK Extension Service.
Countdown to November 4, 2008 General Election
58 days remaining.
Ballot position, local candidates
Register to vote in the office of Adair County Court Clerk Sheila Blair Mon.-Friday, 8:00am-4:00pmCT.
Presidential Polls
Court:
Monday
, September 8, 2008. One 1) Cases in Adair Circuit Court (Judge James Weddle). Forty-six (46) cases in District Court (Judge Michael Loy).
Click Here
to check Adair Court schedule at the Kentucky Court of Justice Website. To visit Adair Circuit Clerk site,
Click Here
Advertising
INDEX to
Rivermen of the Cumberland
By Chris Bennett
The story will be carried in 8 mini chapters, they will go online as they are written. Just click on each chapter title, underlined and linked, as it is posted, to read it. The index will be carried in the "Today" section of ColumbiaMagazine for easy access.
Chapter I. "Why would any one take a river trip" tells my history on the river, and what inspired me to go on my trip.
Chapter II. "Planning" Planning the trip, and finding some one that would go with me.
Chapter III. "Day one" Creelsboro to Burkesville, 25 miles traveled in 5 hours
Chapter IV. "Day Two" Burkesville to Cordell Hull 89 miles traveled in 11 hours
Chapter V. " "Day Three" Cordell Hull to Nashville 157 miles traveled in 10 hrs
Chapter VI. "Day Four" Nashville to Lake Barkley 143 miles traveled in 11 hrs
Chapter VII. "Day Five" Lake Barkley to the Ohio, then on to the Mississippi, back to Paducah, Up the Tennessee River to KY Lake. 150+ miles traveled.
Chapter VIII. "Reflecting on our trip"
The 2008 Westlake Regional Hospital
HEALTH FAIR
Saturday, September 13, 2008! Events all day!


Westlake Primary Care - (270) 384-4764
Edmonton Primary Cre - (270) 432-5782
WESTLAKE REGIONAL HOSPITAL, (270) 4753
Westlake Primary Care of Russell County (270) 858-3636

---
Real Estate Auction Calendar:There are currently many once in a iife time opportunities in Adair County Real Estate.
For listings and links,
Click Here
Thursday, September 11, 2008. 12:30pmCT.
Absolute Auction, : 300 Bomar Heights, Columbia, KY. 15,500 sq. ft. Sprinklered former Medical Office/Hospital.
3.57 Acres. Remax 100 Auction Team/Hansford Auction Co.
Click Here for current auction and upcoming auctions
Next OPEN HOUSE at 300 Bomar Heights: Monday, September 8, 2008, from NOON to 2:00pm.
(ADV): To see What's Cooking in Adair County, KY, today,
Click Here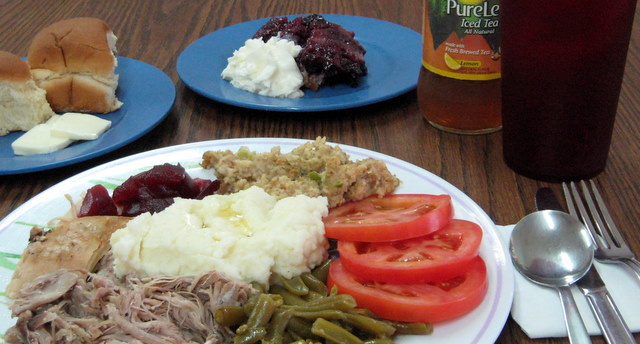 Bob's Country Kitchen & General Store is the place for a delicious ROAST TURKEY Sunday dinner.
BOB'S COUNTRY KITCHEN & GENERAL STORE,
5097 Liberty Road, Vester, KY. Breakfast anytime. Lunches packed. Pies a specialty.
"What are you having to eat today"
Hotbar Special: Sunday, September 7, 2008,: Sunday Dinner is Like Thanksgiving Feast with Bob's ROAST TURKEY and DRESSING, gravy, Mashed Potatoes. Green Beans (As a soup with onions and crackers, just $1.79.) Pasta Salad. Farm Fresh Sliced Tomatoes. Sliced Cucumbers., with Rolls or Biscuits, All for $5.99 (less than a DX hamburger a lot of places!)
SANDWICHES: At Bob's, we'll cut a country store sandwich and fix it up the way you like it. Made to order eat in sandwiches with the widest variety of cold-cuts in Adair County. Eat here. Or let us fix your lunch to go.
The PIE SITUATION: Blackberry Cobbler today! Chocolate Pie. Cocanut Pie. Butterscotch Pie. Chocolate Pie. Our specialty Cherry Delight. And Turtle Cheesecake
SPECIALS From the Drink Case: Aqua Fina bottled water, 99 cents! Also, 4/32 oz. Powerade Drinks, just $5.00. Dasani, 20 oz. just 99 cents.
Gas up at Bob's: Save money with one stop shopping. Fill in groceries and hardware, deli food, and gas in one stop.


The DAIRY DIP,
Jamestown ST, Columbia, KY. Phone (270) 384-4644.
Special Sunday, September 7, 2008:
TBA. You can't beat that for yumminess or value!.Look for posters in windows. Great deals, everyday. Stop in and see the colorful new picnic table umbrellas we ve added. There's no better place to enjoy the perfect weather we're having than to have a picnic lunch in the wonderful shady at Dairy Dip, and come down for a picnic under the stars tonight. - Patricia Willis.


DONUT EXPRESS
Start the day right. Take a box of Donuts from Donut Express on sales calls, to work, and home to be a hero everywhere you go today!
Donut Express. 605 Fairgrounds ST, Columbia, KY. Nick Wortham, proprietor. Start the week off right. Make Today special with Fresh Hot Donuts from Donut Express. Take a $5.00 dozen box to work, on sales calls, or home to make the family happy. They're good! They hot and they're ready, today. Made right here in Columbia! And they're making Columbia famous!



OL' JOE BARBEE'S B&B QUE
MENU: Click here for menu.
OPEN NEXT: Open Friday, September 19, and Saturday, September 20, 2008.
CATERING: Let us cater your next homecoming, reunion, party, or event. Call now to book Memorial Day and July 4th. (270) 384-2360 or (270) 634-0602 (Catering, bulk order hotline).


RERUN'S HOLMES BEND GENERAL STORE. 3399 Holmes Bend Road, Columbia, KY.
Phone (270) 384-7253: For carryouts and expedited orders. Let us prepare your Green River Lake picnic! Hours: Mon-Sat: 4:00am to 9:00pmCT.
Breakfast: FOR THAT GREEN RIVER LAKE COUNTRY HAM BREAKFAST, this is the place. Best Country Ham on Green River Lake Breakfast Any time of day. Cooked to order. Eggs, bacon, ham, tenderloin, and the best sausage you ever ate. Country biscuits. Redeye or sawmill gravy. Generous portions. Kinfolks prices. We treat everybody like favorite cousins! Get Famous Nick's Made-in-Columbia Donuts right here.
DAILY SPECIAL:Saturday, September 6, 2008:
Special: Rerun's giant BBQ Roast Pork sandwich, plain or dressed up, with a huge serving of French Fries, All for just $5.00. Or, let us cook from Rerun's extensive menu.RERUN's: For The BEST FOOD on GREEN RIVER LAKE.
Great Gas Stop Save money. Fill up your car and your boat tanks at Rerun's for cheapest gas before Green River Lake.
PUTT-PUTT MINIATURE GOLF COURSE OPEN!Rerun's 18 hole Putt-Putt Miniature Golf Course is open. Just $2.00 per game per person. Check in at Rerun's Holmes Bend General Store to pick up clubs to play next door. Special deals for Church and School Groups, Birthdays and other Celebrations.


What's Cooking for Adair County School District Kids
Monday, September 6, 2008: BREAKFAST: Breakfast Pizza. Juice/Fruit. Choice of Low Fat Millk. Cereal choices and toast offered daily at breakfast. LUNCH: Pimento Cheese Sandwich or Bologna & Cheese Sandwich. Baked Cheetos. Carrots with Dip. Grapes. Choice of Low Fat Milk. Salads available daily. Fruit and/or juice offered daily with lunch. To see menu through September 26, 2008, Click Here
Special advertising today:
Click Here
to do your shopping from home, with
Wal-Mart Site-to-Store
(SM).
Special Sales in New CM Clothing Classification:
Click Here
for CM classifieds, "Clothing"
Ja Ci's Boutique has new shipment of Plus Size Clothing
Mitzi's is reducing inventory as quickly as possible before closing in September because of health reasons
Classified Advertising
Quick access: ColumbiaMagazine.com Classified Categories:
|
Animals
|
Announcements
|
Automotive
|
Benefitsand Fundraisers
|
Bicycles| Boats| BusinessListings | Cardsof Thanks | Employment:Help Wanted, Jobs Wanted | Entertainment| FarmEquipment, Lawn & Garden | Food:What's Cooking in Adair County | ForSale | Freecycling| Healthcare| Miscellaneous| MobileHomes | Motorcycles,Motorcycles, & ATVs | PublicNotices | RealEstate and Auctions | Rentals| Reunions| Revivalsand Church Announcements | Services| Venuesfor Meetings | Wantto Buy | YardSales |

Submit Your Classified Ad:
To place your ad now contact form. to place your ad.

Entertainment
Columbian Theatre:
Tonight: "Star Wars: The Clone Wars". It is rated PG and will play nightly at 7 and Sunday at 2 pm only. The Columbian TheatreSPORTS CALENDARS
NEW! Click Read More to go links to SPORTS CALENDARS, TODAY'S BEST PHOTOS, and MUCH MORE
Scroll down for Today's Best Pictures. More added throughout the day



Click here to read yesterday's "Today" feature.
A note: You can keep going back, a day at a time, each time an older "Yesterday's" page is accessed.

Academic calendarsAdair County Schools "Learning for a Lifetime"

For 2008-2009 School Calendar, Click Here.

School website was updated September 4, 2008Click Here Daily for the comprehensive Adair County Schools website. In a community with some of the world's best websites, this frequently updated one is a standout. Find your child's school for important contacts, athletics, clubs/organizations, faculty staff listings, SBDM Council meetings, events, and links.

ACHS BAND

2007 Adair County Band website. Doyle Lloyd, webmaster.

Click here for Adair County Band Audio Tapes. Great gifts!

Columbia Rotary Club's Adair County "Walk Around the World"
See Standards in CM Classifieds Healthcare
24,901.5 miles is goal.
307 Miles Walked, reported through July 30, 2008
24,594.5 Miles to Go!
Send in your miles totals to : rotarywalk@gmail.Com
to be included in the next report, shortly after August 21, 2008

Click here for Adair County Band Audio Tapes. Great gifts!

Western Bypass from 24,000 feet, 13 minutes from Lexington, KY, photo by Doug Campbell, Columbia Pilot posted on CM on June 28, 2007.

Perry Parrish Aerial Photographs: CWB, others, August 9, 2008 Photos of Holladay Place, Majestic Yachts, The Long Bridge, the Adair Justice Center, Adair County Water Treatment Plant, ACES and ACHS, Green River Lake, and Adair School Property will be in the series.

Wolf Creek Dam
To access the Army Corps of Engineers Wolf Creek Dam website online, Click Here

Wolf Creek Dam Weekly Progress: Latest, Dated August 22, 2008 Water level, down, at 680.73 feet Click here for August 22, 2008 (latest) Wolf Creek Dam update.

2008 Kentucky Primary & Election Calendar & Candidates
See candidate filings for City Council, Constable, School Board, and Soil Conservation District races. Click Here

Click Here for 2008 Election Calendars at the Secretary of State's website.
To see the results by precincts or absentee voting, click on links below:
Absentee totals. White Oak.Eunice-Pellyton. Little Cake. East Columbia.Ozark.S. Columbia-Ozark. Glens Fork-Melson Ridge. Gradyville-Nell. Sparksville-Breeding. Milltown. West Columbia. Cane Valley-Holmes. Knifley-Roley. North Columbia. Hurt.

For complete filings at Kentucky Secretary of State Trey Grayson's office for President, US Senator US Representative, State Representative, Justice of the Supreme Court, Judge of the Court of Appeals, and District Judgeships, Click Here.

Voter Registration is open in the office of Adair County Court Clerk Sheila Blair. Office hours 8:00am-4:00pmCT Monday, Friday. Closed Saturday and Sunday. Qualified individuals who are not registered to vote may do so starting Wednesday, May 28, 2008. "Registration books are closed from April 22, through May 27, 2008. (fourth Tuesday preceding through first Monday following primary)(This time period may vary depending on whether the last day to register to vote falls on a state or federal holiday. If the last day to register to vote falls on a state or federal holiday, the period runs until the end of the next day which is not a Saturday or Sunday nor a state or federal holiday.)," according to Secretary of State Trey Grayson's website and word from the office of Adair County Court Clerk Sheila Blair.

Please remember to submit events, celebrations now for January 2008 and all of 2008 ColumbiaMagazine.com calendar of Events and Celebrations and to send new and updated entries for the Directory of Churches

Driver's Seat Links:

To sponsor news and features on ColumbiaMagazine, please use our
contact form
.
Old Glens Fork High School 2008 Homecoming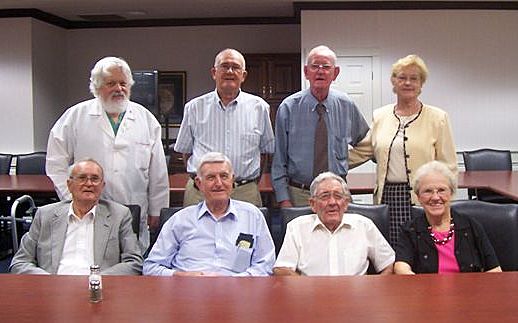 2008-09-07 - Cranmer Dining Center, Lindsey Wilson College - Photo By McEva Mayse.
The 2008 OLD GLENS FORK HIGH SCHOOL REUNION on August 29, 2008 at Lindsey Wilson College. All that were able to attend were, Front row, from left, John Smiley Collins, George Willard Collins, Calvin Aaron, Allene C. Aaron;Back row, Dr. Phil Aaron, Clyde Collins, Arnold Mayse & McEva B. Mayse. Not pictured, Maurine Hughes and Joann Collins.
REUNIONS
Read More... | Comments? | Click here to share, print, or bookmark this photo.


Bus 29 Driver: First grade and now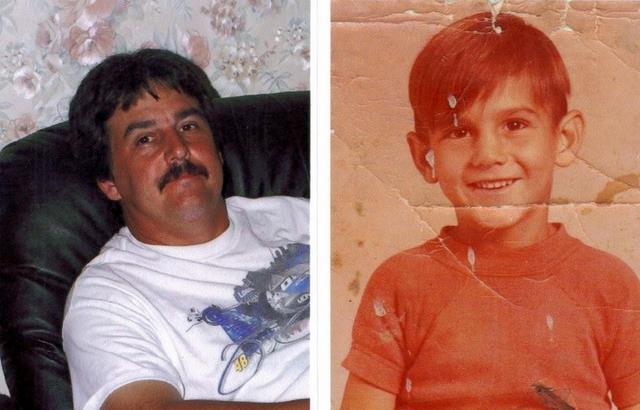 2008-09-07 - Roley, KY - Photo By Frances Salyers.
Frances Salyers sent these two then and now photos with this caption: "Well here is the driver of Adair County School Bus No. 29, Daril Salyers. Not much different from first grade till now, do you think?" A Today's Picture Album photo
Read More... | Comments? | Click here to share, print, or bookmark this photo.


(ADV) What's Cooking: Roast turkey dinner at Bob's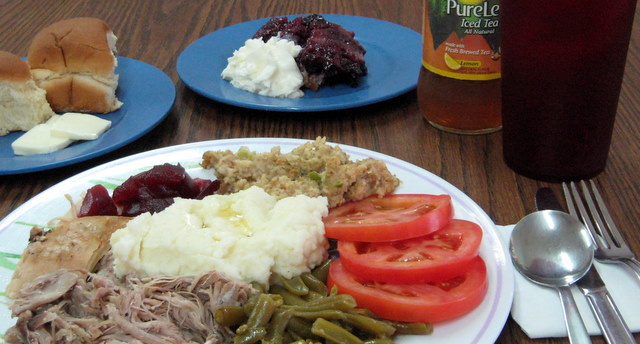 2008-09-07 - Vester, KY - Photo By CM Adv. Dept.
For a Sunday Dinner that will make you think it's Thanksgiving, hurry to Bob's Country Kitchen & General Store, 5097 Liberty Road, Columbia, KY, in the Vester Community. Hotbar Special: Hotbar Special: Sunday, September 7, 2008,: Sunday Dinner is Like Thanksgiving Feast with Bob's ROAST TURKEY and DRESSING, gravy, Mashed Potatoes. Green Beans (As a soup with onions and crackers, just $1.79.) Pasta Salad. Farm Fresh Sliced Tomatoes. Sliced Cucumbers., with Rolls or Biscuits, All for $5.99 (less than a DX hamburger a lot of places!).
Choice of drink and dessert extra. Special today, Bob's Own Blackberry Cobbler.
Read More... | Comments? | Click here to share, print, or bookmark this photo.