Chamber Insights: Complete September 2006 issue
Welcome to Chamber Insights, the monthly newsletter of the Columbia-Adair County Chamber of Commerce. Editor: Sue Stivers

Feature writers: Darrell Overstreet, Rita Murrell, and Vonnie Kolbenschlag
---
In this issue: Thought for the month, President's Message from Darrell Overstreet, Salute to Corporate Sponsor Adair Progress, Rita Murrell's talk on the Adair Progress, upcoming events, welcome to new members, details on September meeting, corporate sponsor Shoreline Communications, Kentucky Chamber story, "Education, Globalization Crucial to Kentucky's Future"; Business Preparedness Summit to Be Held At Center for Rural Development
---
Thought for the Month: I do get paid for my voluntary work. I just don't get paid money.
---
Chamber President's Message: from Darrell Overstreet
---
The Wares Fair has just happened. What an exciting evening!! There were 55 businesses that participated with over 600 persons in attendance. It was a great opportunity for businesses to show to the students and staff at LWC what they have available.
The Wares Fair idea began about a year ago from Ron Heath, Vice President for Advancement at LWC. Ron did a tremendous lot of work in planning and executing the Fair and I want to say a very special "Thank You" to Ron Health. Also, Allison Shepherd with Community Voice, who visited many of the businesses encouraging them to be a part of the Fair and Sharon Burton at Community Voice for the special publication promoting LWC, the Chamber and the Wares Fair.
I also want to thank Alan Reed with WHVE 92.7 radio for being the Master of Ceremonies for the evening, giving away over $4000 in prizes. Most of all I want to thank all the businesses who participated in the Wares Fair, without you folks the event would not have been successful.
I want to continue to encourage new memberships in the Chamber and to remember that Columbia, KY is "A Great Place to Call Home".
Thank You: The Adair Progress
A special thank you to the Adair Progress for being the Corporate Sponsor of the Month.
Owner and Publisher is Donna Hancock and the Editor is Tiffany Hadley. Door Prize winners were Monica Rodgers and Joe Payne. A copy of the Adair Progress was given to each person in attendance.
'To be a Corporate Sponsor, the business provides a door prize, pays a corporate fee of $100.00 and makes a presentation about their business at the monthly meeting. They may give out flyers or showcase their business in any way they choose.
The Corporate Sponsor of the Month has been a new feature of the Chamber meetings for the past 5 months. In addition to "The Adair Progress" other Corporate Sponsors have been United Citizens Bank, Bank of Columbia, Key Mortgage Company, and Barger Insurance Agency. Another big "Thank You" to each of our sponsors.
If you would like to showcase your business to the community, contact Executive Director Sue Stivers at 384-6020.
---
The Adair Progress - Corporate Sponsor of the Month
---
Rita Murrell, an employee of the Adair Progressm for the past 18 plus years, gave the following presentation at the August Chamber Meeting.
"We are so excited to be sponsoring this month's meeting of the Chamber of Commerce.

"The Adair Progress has been your hometown weekly newspaper since April of1987 - so we will be celebrating our 20th anniversary in 2007.

"Owner/Publisher Donna Hancock started the business in the Madison SquareBuilding with only herself and three employees.# From there they movedto the Dr. Grant veterinary building where we are located today on GrantLane.

"There have been many changes over the years - in 1990 we added the press. We currently print four issues a week of our own- including The Adair Progress on Tuesday and Thursdays and the Adair/Russell Shopper and the Casey County Shopper which provide total market coverage in three counties - 8 other weekly newspapers, two college/five high school newspapers, plus seven other additional publications through the year. We now have 26 full and part-time employees.

"The modern day advance in technology has changed the way the newspaperis created. We have gone from cut and paste to computer layout, fromdeveloping our own film to digital photography where we never have toprint out a photo, and the out-of-town newspapers we print come to usthrough email where we send it to an image setter which in turn burns itto film, then we can put it on a plate that goes straight to the press.

"Because of you, the business community and subscribers, the Adair Progress is what it is today and for that we are grateful.# We welcome you to come by our office any time.

"Eight employees representing The Adair Progress attended the meeting:Tiffany Hadley, Editor; Rita Murrell and Lee Babbitt, Sales; RichardBowling, Production Manager; Melanie Ollery, Secretary; Sarah Bolton,Staff Writer/Composition; Renee Reeves and Jennifer Martin, Composition."
---
Upcoming Events
---
Don't miss the Chamber sponsored activities during Labor Day weekend. Come and give your support to our Community events:
Buy, Swap, Trade, Sell Day...on the Public Square...Labor Day
1st City Yard Sale...Friday, Sept 1, Saturday, Sept.2 and Labor Day
Classic Antique Car Show - Labor Day at the Fairgrounds sponsored by the Green River Kruzers
Ribbon Cutting
The Chamber will have a ribbon cutting ceremony in conjunction with an
Open House at Barger Insurance Agency
and
Edward Jones
on Thursday, August 31 from 4:00-6:00 p.m. The new offices are located at 326 Public Square, Suite 100 in Columbia. All Chamber members and the public are invited to attend.
---
Welcome New Members

The Chamber is delighted to welcome the following new members:
Gray's Natural Health located at 100 Saddlebrook Lane. Owner is Lidie Gray. She can be reached at 385-9198 or email at lidie@alltel.net


Hallmark of Columbia, located at 930 Jamestown Street. Owner is Paula Eubank andphone number is 384-0232.


The Medicine Shop, located at 920 Jamestown St. David Eubank is owner and registered pharmacist. Phone 384-4474.
A special thank you to each of you for placing your membership and becoming a part of the Chamber family. Your investment in the Chamber means an investment in your community. Monthly Chamber meetings are held the 3rd Tuesday each month at 11:45am CT.at Lindsey Wilson College Dining Center, unless otherwise specified. You are invited to attend. Your membership shows that you believe in the mission of the Chamber.


---
Looking Ahead
---
The September Chamber meeting will be held September 19 beginning at 11:45 am at Lindsey Wilson College Dining/Conference Center. Guest Speaker will be Nikki Henderson, with the Kentucky Department of Aging. Corporate Sponsor of the month will be Shoreline Communications, Inc., representing 92.7 "The Wave" and 99.9 "The Big Dawg."


---
Education, Globalization Crucial to Kentucky's Future
---
At the Kentucky Chamber's Economic Summit held recently in Louisville, attendees heard speakers emphasize those themes in detailing the state#s prospects for success as competition intensifies, particularly from offshore.

If Kentucky is to grow economically, it must improve the education of its citizens and position the state to take advantage of global markets and investment opportunities. With Japan, India, and China joining the United States as the world#s economic powerhouses, the challenge for Kentuckians... and all Americans....is to increase entrepreneurship, innovation and technological ingenuity. That means better educated workers, especially those with high-level math and science skills. Summit attendees also were told:
A disruptive event may be needed to change Kentucky#s course, which would take 154 years at its current rate to put the state#s per capita income at the national average.


Improved college and high school graduation rates have had a positive impact. From 1989 to 2004, Kentucky had the greatest income gains related to improved educational attainment of all the states.

'
Kentucky has the 4th highest rate of export growth in the nation.The summit in Louisville also provided an overview of conditions in the major sectors of Kentucky's economy: Manufacturing, equine, agriculture, research and technology, tourism and coal.
---
Business Preparedness Summit to Be Held At Center for Rural Development
---
Protecting the commonwealth#s businesses is one of the core goals of the Kentucky Chamber of Commerce, but those efforts go beyond just advocacy in Frankfort. When it comes to protecting Kentucky businesses from emergencies and disasters, it is critical that our businesses have the resources and information they need to be prepared. The Business Preparedness Summit, hosted by the Kentucky Office of Homeland Security, has been designed to provide the commonwealth#s business community with information and resources to improve emergency and disaster preparedness.

Statistics show that 55 percent of small business owners say that having an emergency plan is important but less than 30 percent actually have a plan. After a major disaster strikes, 40 percent of small businesses never reopen. Having an emergency plan can save lives, company assets and your entire business.

The Business Preparedness Summit to provide information and resources to improve emergency and disaster readiness will be held Monday, September 18 from 9 a.m. to 3 p.m. Eastern time at the Center for Rural Development in Somerset, KY.

This event is open to business leaders, local officials and first responders interested in improving their community's preparedness for any type of emergency - natural or manmade.

Speakers will include: Congressman Hal Rogers, Wal-Mart's Global Security and Business Continuity Sector, along with officials from the U.S. Department of Homeland Security, Kentucky Department for Public Health and Kentucky Division of Emergency Management.

Other regional preparedness summits are being planned for October, but leaders from across the state are invited to attend this kick-off event.

Registration is available online at http://www.homelandsecurity.ky.gov
---
This story was posted on 2006-08-28 10:30:25
Printable:
this page is now automatically formatted for printing.
Have comments or corrections for this story?
Use our
contact form
and let us know.
To sponsor news and features on ColumbiaMagazine, please use our
contact form
.
Scenic Adair County: Sues-eye view of Adair Clocktower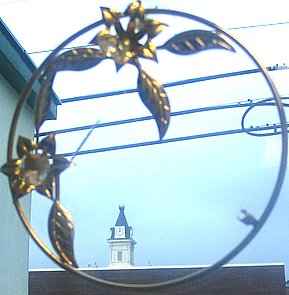 2006-08-30 - Adair Chamber of Commerce office - Photo CM staff.
---

Dean of Adair County boosters
has special view of Courthouse steeple
---
Sue Stivers, Executive Director of the Columbia-Adair County Chamber of Commerce and the number one promoter of tourism in Adair County and the dean of Columbia and Adair County boosters, is afforded this view of the famous clocktower from her office on the north side of the the Chamber of Commerce building at the southwest corner of Fortune and Burkesville Streets.
Read More... | Comments? | Click here to share, print, or bookmark this photo.


At doubleheader ribbon cutting for Barger, Edward D. Jones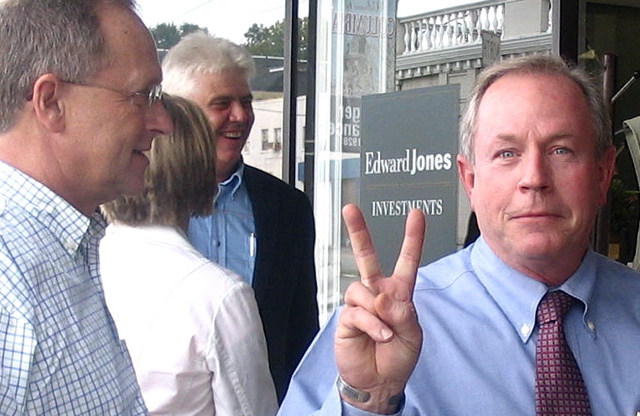 2006-08-31 - 326 Public Square - Photo CM staff. Heavy hitters at the doubleheader ribbon cutting for Barger Insurance Agency and Edward D. Jones Columbia office were, on left, Allan Reed of Shoreline Communications (Big Dawg, The Wave) and, flashing his "V" for inVestments sign, Jimmy Flowers, of the Columbia office of Edward D. Jones. In the back is Dwayne Loy of Barger Insurance Agency. The Columbia Adair County Chamber of Commerce sponsored ribbon cutting and the open house celebrations for Barger Insurance and Edward D. Jones, took place at 4:30, Thursday, August 31, 2006. The offices are located in the building most remember as the Ben Franklin store. The building has been tastefully remodelled into very spacious, quite elegant suites with grand views of the Columbia Square.
Read More... | Comments? | Click here to share, print, or bookmark this photo.


Columbia is such a cosmopolitan place: Danni and Sue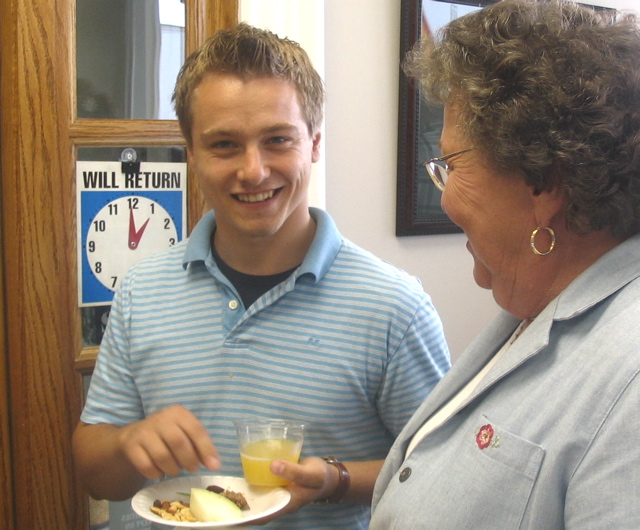 2006-08-31 - Public Square, Columbia, KY - Photo CM Staff. Columbia has become such a cosmopolitan city, with people from all over the world now residents here. Danni Barluci, is from Romania. Sue Stivers, right, is from Russell County, original. Barluci is a junior at Lindsey Wilson College who plans to get a masters degree and return to Romania. He's an intern at the Columbia-Adair County Chamber of Commerce. Sue Stivers is executive director of the Chamber, and the driving force behind the growth in tourism in Adair County. They are pictured above in the beautiful new office suite now occupied by Jimmy Flowers, local manager of the Edward D. Jones Investments office. The occasion was the Chamber ribbon cutting and open house celebration Thursday, August 30, 2006.
Read More... | Comments? | Click here to share, print, or bookmark this photo.


At Barger Insurance Company Open House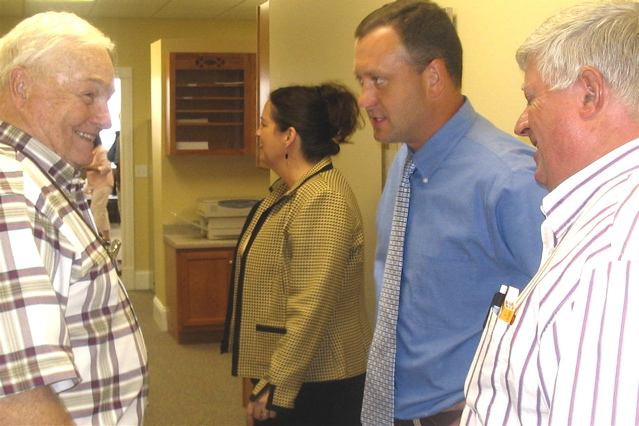 2006-08-31 - Public Square, Columbia, KY - Photo CM staff. Columbia real estate man Charles Barnes, left, shares a story with Barger Insurance Agency's Mike Glasgow, right, and Stephen Keen, next to right, in the corridor by the work station in the agency's new facility. Susan Loy of Barger insurance is chatting with another guest at the Open House and Ribbon Cutting held Thursday, August 31, 2006.
Read More... | Comments? | Click here to share, print, or bookmark this photo.


Susan Loy wields giant scissors at Barger ribbon cutting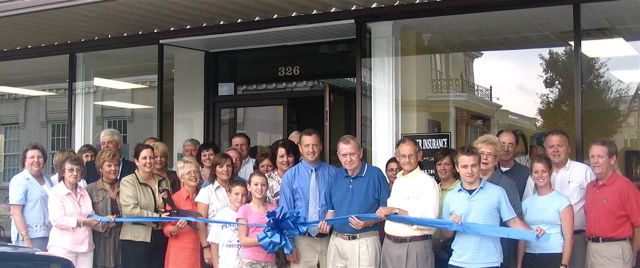 2006-08-31 - 326 Public Square, Columbia, KY - Photo CM staff. Susan Loy of Barger Insurance Agency, fourth from left, holding giant scissors, is preparing to cut the ribbon at the Columbia-Adair County Chamber of Commerce sponsored event on Thursday, August 31, 2006. Some 30 other dignitaries were on hand to be photographed in the event.
Read More... | Comments? | Click here to share, print, or bookmark this photo.