Martha Barnes Martin's Memories of Jamestown Hill September 19, 1998
From walking the ledge . . . to praying for Earl . .. to 14 gasoline. . . to the house (where Five Star is today) which burned because the fire truck couldn't go out of the Columbia City limits . . . to Ralph Shearer dribbling a basketball home in the dark. It all happened on Jamestown Street, a magical place that really was, as it could only be told by Martha Barnes Martin
---
By Martha Barnes Martin
Memories of Jamestown Hill Neighborhood
presented at September 19, 1998 Reunion
Cranmer Dining Center, Lindsey Wilson College
Copyright Martha Barnes Martin
---
Photos accompany this story; watch for more
---
---
The Public Square South on Jamestown Street to Guthrie Street
---
When you left the Square, how far could you walk the foundation ledge of the
Davis Hardware
building before you turned chicken and had to jump?
Remember the hiss of steam from
Ralph Willis' Pressing Shop?
The warm greasy smell of
Martin Johnson's Garage?
Did anyone figure out what "Eye Stye Eye tie" really meant? The lady at the tent meeting in the forties said one night it meant "Get behind me, Satan." The next night it meant "Praise the Lord." (Entertainment was scarce during the war!)
Next we passed the
Lewises,
which later became the
Waggeners.
Gentle
Audrey,
teasing
E.P.; Arthur Lee
never seemed to mind being called "Lard." Quiet, sweet
Wilma Jean. Helen Fay
directing the play of two little boys;
Annette's
blond curls blowing in the wind created by her tricycle. Then later, it became the
Browns'.
Mary Dee
and
Chelsey Barger
generously bought tickets to every play or operetta.
Peg
and
Barbara Jean
were busy girls.
Mr. Pitman, Junior, and Marie (Is that right?); Mrs. Hattie "Sam" Eubank, who kept boarders, including Miss Agnes Sharpe and Mr. Johnnie who would sit and chat with us on the little bridge over the branch--a great place to take off the shoes we had worn to town.

How about the circuses on the Neat lot? The checkered sidewalk at their driveway that skinned my knees when I went over the hill on my roller skates!


---
South on Jamestown Street from Guthrie Street to Miller Avenue
---
Remember how fat or skinny we were in Mr. Bowen's car bumper?

That's about where Mary Ritchey and I were eating off the same apple. I got scarlet fever--she didn't, but Joseph Hutcherson did.

Patricia and Ann Pendleton on the Merkleys' steps.

Mrs. Elma Frazier could give you a world tour in her living room.

Granny Barger always had a sack of Golden Sweet apples in August because she planted the tree that was in our garden when they lived there. It had a knothole where I could keep treasures. Mr. Ores chewed his cigar.

Millers and Pattersons were across the street, next door to Cy and Miss Myrtle. She was hostess at Circle #1's Silver Tea. The Lowe girls, Martha, Libby, and I got to dress up and help serve.

The kind, quiet Miss Mary and John Lee Walker; John Ritchey, Irene, David Lee.

Aunt Molly Garrison walked to the Nazarene Church and faithfully rang the bell.

Mr. Cortez Sanders was killed by an airplane propeller.

Mrs. Keys carpooled Morris T. and Billy and the rest of us to Nursery School.

Remember the umbrella trees in the Maupin yard? Mrs. Maupins' sewing, managing the barbershop, and other enterprises to provide well for her family after Mr. Mont died. Jimmy in school, in service, Philip's birth, Marion's death at D-Day. The hours I spent waiting for Martha to get her pancake makeup just right before going to church or town.


---
South on Jamestown Street from Miller Avenue to Jamestown Street/Russell Road
---
Oh, the beauty of Miss Susan's huge weeping willows after the ice storm. They glistened like fairyland. Lot of fun there with nieces and nephews until the sadness of Jimmy's funeral.

Across the street were the wonderful Wilsons. I first remember them at Jenny's eighth birthday party at the house where Mrs. Stevenson later lived. Mrs. Reece lives there now. the thump, thump, thump of Margaret's basketball and her beautiful dimples. Fun with Jenny, Sammy, and the rest of the family. Their huge Christmas trees decorated with Lux suds.

Next door was Mary Baker's Nursery School. Later, the Rogers and the Tarter girls lived there.

Remember Miss Lula Epperson crossing the street with her milk pail. Her cow was in Miss Susan's pasture. All of us prayed for Earl when he was a prisoner of the Japanese.

Olivia and Lenvy Mallet, the Tripletts the Sinclairs were next up the hill. Later, the Jim B. Pyles family came. Remember Howard's bulldog riding on top of his car?

The John Beard family and Dorothy's endless laundry. She was so patient, kind; a great mother.

Mr. and Mrs. Ballard--in their new brick house with steam radiators--after moving in from the country. he walked with his hands behind his back like most philosophers and teachers.

On the east side of the street--Grandmother Lowe and Miss Mary Lucy, where I broke up a meeting of Circle #1 on March 17, 1943, because I thought a future judge-executive might be born any minute.

Learning that Mr. and Mrs. Rollin Cundiff were making an extensive trip I asked Aunt Minerva if they went on a train. She said, "No, honey! They went in a touring car."

What fun playing in the Lowe's yard. The birthday parties, the biscuit machine on the back porch.

Next door, Mrs. Rose Montgomery had the first cancer I recall. We lost a dear, kind friend.

I don't remember when Uncle George and Aunt Effie Barnes lived in the next house, to which the Waggeners later moved. I do remember the Strong Hills and the big tin covered house next door where Avada Grider and her mother lived. It was later demolished and Miss Ruth and Ralph built a new house there. Hilda had a playroom all her own! When I visited, I told them about Will Rogers' and Wiley Post's plane crash.

On the West Side, Mr. and Mrs. Jim Beard sat on their front porch when he wasn't busy putting asphalt and rock chips on the sidewalk to stop our roller skating. We detoured to the street. Maybe he didn't like the rattle of our sticks across his paling fence.

Mrs. Hattie "Jim" Eubank was greatly disturbed with the construction of Highway 80. It left a high bank which was planted with iris to prevent erosion. But she wasn't half as disturbed as the Millard Young family across the street. Several cars crashed into their yard and front porch until the barrier was finally erected!


---
South on Jamestown Street from Jamestown Street/Russell Road to Hurt Street
---
Miranda Williams and Miss Martha Susan Williams had a lovely large home with a cool, clean, packed clay basement where they cared for milk and garden produce. Miss Mattie pieced lovely quilts. Miss Miranda tutored Terry Kelsey. i interfered a lot, listened to their stories, milked her cow when she stayed away overnight. Their house burned to the ground one night because the fire engine could not go out of town. Theirs was the first house outside the city limits.

Mrs. Bolin, in the next house, raised the alarm blowing her horn all the way to the square. Dr. Bolin was probably away ona house call, saying "Uh-huh!" as he examined the patient. We could always tell when Byron was home. He played wonderful swing on the piano.

The Wilkerson farm was on the East side of the road. The huge house had a lovely front porch and sat on a high hill. The acreage extended down 80, at least to the branch. Mrs. Wilkerson rang the dinner bell at noon to call the men from the fields. She fed them and boarders, including Uncle Jim Helm, who did some blacksmithing on the property. Others who lived there were Thera Murphy Clark Hickerson and her son, Steve, Pearl Denson Miller, and Jessie Tupman Shirley. They had an adjoining lot with huge oak trees around which granddaughters and I built playhouses. On the highway 80 corner, Paul Wilkerson put in a service station. Mr. Frank Garrison operated it later. Papa and I would loaf there after supper. Gulf gave away a little comic book I enjoyed.

Mr. Tom Neat operated the grocery E. Campbell later bought. Evie helped. When her sister-in-law got pajamas, Evie wanted some, too, so she tucked her dress in her bloomers.

E. Campbell used a hand pump, selling gasoline for 14 a gallon about the time Mike was born. As a baby, Mike drank buttermilk from a Dr. Pepper bottle with a nipple. He graduated to baby food and put carrots in his beautiful black curls.

We, the Barnes family, were directly across the street on one acre, containing a large yard, 2 chicken lots, a big garden, driveway, and barn lot. We had at various times, two sheep, a duck, chickens, a horse, usually 2 cows, fruit trees, and a grape vine. My mother's pink Monthly rose is struggling to survive at 304 Lindsey Wilson Street. Night sounds we often heard were the hoofbeats of Chigger Cole's horse - t-ttt- and the bump, bump, bump of Cooney Shearer's basketball as he went home from town.

The Elbert Nells and the Claude Backs were the first in my memory next door. George Otis Nell had a big, black rabbit that hopped under the house when I tried to catch it. His dog bit me me on the leg when I said, "Boo!" disturbing his nap by our front walk. Mrs. Nell kidnapped Charles and fed him cookies. Mr. Nell let me ride his big white sow when we fed her. Bobby and Stanley Montgomery lived there for a while. Then the Hutchersons came--Mr. Omer, Mrs. Ethel, Marjorie and Joseph--then Grannie Hutcherson came to live with them when Mrs. Hutcherson had tuberculosis. She taught me to hemstitch left-handed. Others who lived upstairs there with them were Fred and Hadis Yarberry, Mr. Louis Power and Margaret.

Later came the Simpsons and the Kell girls.

Across the street--Mr. and Mrs. Frankum--then Sine, Audrey, Aaron and Edward Turner, Sine's big Indian Motorycle--he built a machine shop in the empty lot. There were great paw-paw trees in the back yard--wonderful huge oak trees in the front yard. We could play hide and seek around them. There was a huge clump of pampas grass in the north front corner of the yard.

The Allen Frankums lived in the beautiful log house. Joyce and I played a lot together.


---
South on Jamestown Street from Hurt Street to the intersection with Tutt Street and Bomar Heights
---
Cousins Forrest and Kathreen Willis lived at the corner of Hurt and Jamestown. When I was 4, Lindsey Wilson College Aaron P. White was courting Cousin Kathreen and granted me permission to start kindergarten. That was 1935--I finally was graduated in 1991.

Miss Cora Thomas lived there later and attended every hog killing around, taking home a mess of sausage. I think she watched for Doc Todd's wagons as he hauled dressed critters so she'd know where to go "help." Mary Ellen and Jess Keith later lived there.

The Deering Furkins preceded them, as did Cleo and E. Campbell when they came back from Louisville and built the new store.

Mrs. Thetis Bass built the nice concrete block house on the high bank. She had a pitcher pump in the kitchen and a sugar pear tree in the side yard. Finally, Miss Thetis moved. Martha Caldwell will have stars in her crown for caring for Miss Thetis.

The Collins moved into the block house. Mary Martha, Dubin, Charles and I spent hours sliding down the Bermuda grassy front bank on cardboard.

In the field across the road, the Phelps boys flew kites every March.

Does anyone else remember Angie Dixon's whiskey dispensary? It was where Pizza Hut is now, just past the pretty little oak tree.

The Pres Miller family lived in the next house. One day, Jimmy, Mary Martha, Dubin, Charles, and I cleaned up George Goff's little house when he wasn't home. I remember cleaning mud off his shoes and cleaning his smoky lamp chimney. Nobody ever told him who did it.

The Luther Wheets lived opposite the Charlie Bybees at the corner of Jamestown and Harvey Streets.

Across the road were the Noah Loys. He was Adair County School Superintendent; she sold Raleigh Products. Oma Burton drove for her.

The Owen Keiths lived in the house George Goff left. The Keith boys played naked in the street when it rained.

Mr. Jim Vanarsdale operated the store at the corner of Bomar and Jamestown. He could reach the red and white box of Post Toasties on the top shelf.

In 1945, Mary Martha Collins and I roasted corn on the fire we built in the road. We took it from the Leon Phelps cornfield, which Tutt Street runs through now.
---

Notes on the Jamestown Hill Reunion

It's been almost seven years since we held the Jamestown Hill Reunion at Cranmer Dining Center at Lindsey Wilson.

The exact date of the reunion was September 19, 1998. For many of us, it was one of the grandest days of our lives.

The reunion idea was started by Annette Richards, my sister, and Hilda Jenkins, my third cousin, next door neighbor, and Annette's soul sister.

When it began, it was to be a reunion for the territory immediately around E. Campbell's Columbia Supermarket. It was the smaller neighborhood where families never stocked up on groceries, where there was no need to do so; where we had just in time household inventory before the Japanese ever thought of JIT.

"Eddie, go to the The Store and get a loaf of bread," might have been my marching orders at 11:30 a.m., before a summer dinner; and then, in the late afternoon, before supper, another sib might have been dispatched to Mr. Campbell's for salt or sugar. No gas was used. The exercise was good for us. And it meant so little waste.

Like many Annette & Hilda productions, this one grew. The reunion territory expanded. The invitations finally went out to those who had resided anywhere from the Public Square clean out to half-way to Glens Fork. It included every adjoining street, from the Jones-Wright Addition almost to Graded Hill. Jim Richards, my brother-in-law, qualified twice. Once by marriage. Secondly, he was eligible because he had been a regular in Jamestown Hill activities, even though his formal membership was up at Garlin.

A huge crowd showed up. I don't remember a one who was disappointed.Speakers at Cranmer were eager to tell their memories of that fabulous neighborhood, the likes of which we can only hope for in The Great Beyond. Thomas Wolfe didn't do a better job in Look Homeward, Angel," than each of the speakers did that day evoking the most wonderful memories of Jamestown Hill. We laughed a lot, cried a little, and got so nostalgic about The Greatest Neighborhood That Ever Was.

It wasn't billed as such, but one speaker delivered the keynote for the assembly: Martha Barnes Burris Martin's account was one we'll never forget.

Earlier, she had allowed the text of her speech with the video Annette Richards made of the program.

This year, Mrs. Martin agreed to let ColumbiaMagazine.com publish what she said that Saturday, September 19, 1998, to share it with our readers; though she still holds the copyright on the work. Our hope is that this most gifted Adair County writer and speaker will one day expand the work into memories about all of Adair County.There are a few underlined links in the text which will take you to photos of things as they were, things as they are now in the same location, and people's faces are they were or are.

But, unless you're totally lost on the locations of then and now, we hope you won't click to another page until after you've read Mrs. Martin's entire work.

It is classic Adair County literature.

-ED WAGGENER
---
See related story by Wilma Jean Waggener Cravens>
---
See letter from Frank Dickerson about Cortez Sanders, and with a photo of Cortez Sanders and three sisters by clicking here
This story was posted on 2005-08-17 22:24:18
Printable:
this page is now automatically formatted for printing.
Have comments or corrections for this story?
Use our
contact form
and let us know.
To sponsor news and features on ColumbiaMagazine, please use our
contact form
.
Re-enactment: Walking the Ledge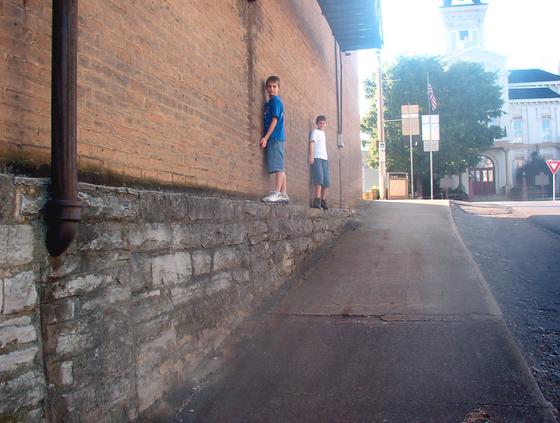 2005-08-24 - Columbia, KY - Photo Ricky Bault. Jake and Blake Cowan use opposite techniques to hug the brick wall while re-enacting the one-time popular Columbia tradition of Walking the Ledge off the Square on Jamestown Street. The boys' grandmother, Fay McKinley, remembers the best way for Walking the Ledge was to walk it barefoot. Hardly anyone walks the ledge anymore. It is not recommended, and should never to attempted without proper permission and supervision. But in Columbia's distant past, Walking the Ledge was a required element of every Jamestown Hill child's trek home. The practice of Walking the Ledge was brought back to mind in the Memories of Jamestown Hill by Martha Barnes Martin, which can be reached by clicking Read More."
Read More... | Comments? | Click here to share, print, or bookmark this photo.


Growing up on Jamestown Hill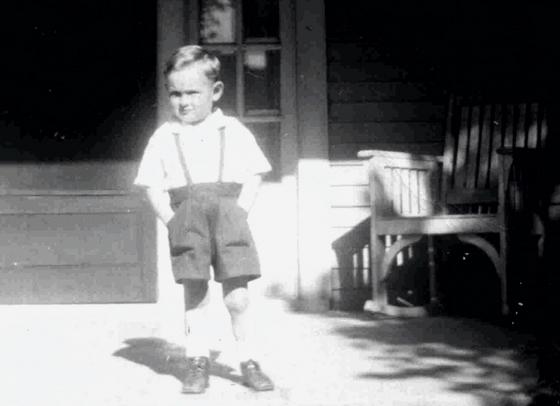 2005-08-29 - Columbia, KY - Photo Fay McKinley collection. Columbia businessman in earlier days. This favorite family picture is from the collection of Fay McKinley. The photo was taken in the last half of the 1940s. The location was the front porch of what was the John Lowe family residence at 701 Jamestown Street, Columbia. It is the residence of the Allen Taylor family today. The little boy is Ralph Roy Waggener, who is now President of South Central Printing in Columbia. Click "Read More" for additional information about Jamestown Hill in Martha Barnes Martin's Memories of Jamestown Hill.
Read More... | Comments? | Click here to share, print, or bookmark this photo.


Happy birthday, Hilda Joyce Willis Jenkins!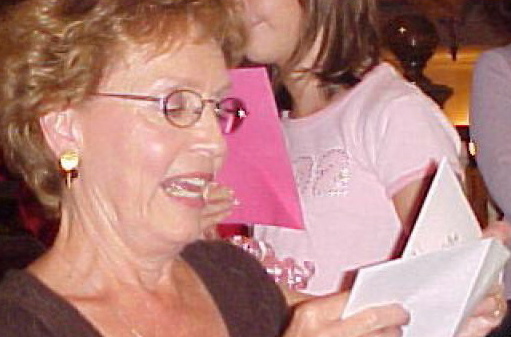 2005-09-18 - Bowling Green, KY - Photo Bob Jenkins. Hilda Jenkins recently celebrated her 70th birthday in Bowling Green, KY. Mrs. Jenkins (nee Hilda Joyce Willis) is the daughter of the late Columbia, KY, Mayor Ralph Willis and Ruth Hill Willis. She grew up in the Jamestown Hill Neighborhood of Columbia. A large group, including several people from Adair County, were on hand for the event. Mrs. Jenkins is retired after a career as a teacher in the Warren County School System. Click Read More for Memories of Jamestown Hill story by Martha Barnes Martin.
Read More... | Comments? | Click here to share, print, or bookmark this photo.


Memories of Jamestown Hill: Ed Reeder family home, 1950s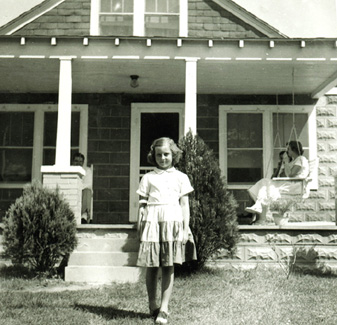 2005-10-03 - Jamestown Hill, Columbia, KY - Photo Brad Roberts collection. BRAD ROBERTS, Louisville, KY, sent this photo of the Ed Reeder house on Jamestown Street with his aunt, Judy Reeder, posing in the the front yard. The time was the early to mid-1950s. The Reeder home was located at about 851-53 Jamestown Street, or, just north of the today's Taco Bell restaurant. Mr. Roberts did not identify the adults on the porch. He is the youngest son of Lorene Reeder Roberts. Another photo from Brad Roberts collection will be posted later. No additional story on Ed Reeder family yet posted. Clicking Read More goes to the Martha Barnes Martin Memories of Jamestown Hill story.
Read More... | Comments? | Click here to share, print, or bookmark this photo.