Earl Maurice Conover: He was living symbol of World War II
His war story told in news clippings
and quotes from some who remember
By Ed Waggener with major contributions from Cyrus; special thanks to Ernestine Bennett and Jewell Kimbler of the Janice Holt Giles Memorial Library and to Dennis Conover and Betty Jasper, children of Earl M. Conover
---
Photos follow this story: Earl Conover before World War II; Farewell Salute
---
He was one of only four Adair County soldiers to be imprisoned by the Japanese and one of only fifteen Adair Countians to have become POWs in World War II.
He was one of only a few Kentuckians to have survived the Bataan Death March.
He was a living symbol of World War II for most Adair Countians.
This quiet, self-effacing man endured as much as could be asked of any human in war time.
But he was reluctant to bring the terrible times up, himself.
Cyrus found this out on a recent visit to Columbia. He wrote, "I had the pleasure of meeting Mr. Earl Conover at the Janice Holt Giles Library during a trip to KY last fall. I happened to have with me copies of the same articles I sent you. Mr. Conover skimmed the articles but when asked if he'd like to have copies, he quietly, simply replied, 'Oh, no, no; that was a long time ago.'
It was, indeed, a long time ago, but Earl Conover's story of bravery and sacrifice just short of supreme must never, ever be forgotten.
The story of Earl Conover is too big not to be told, re-told, and made more accurate with each re-telling. He was a bona fide American hero.
He was quiet, but he loomed large in our lives. "He was our hero," Emily Edwards Sargent remembers. And she remembers his reticence about his time as a POW. "He didn't like to talk about it. He just went on with his life. You know, his hands were scarred, and they said it was from torture with burning cigaretttes, but he would never tell anyone."
The articles Cyrus offered Mr. Conover that day at the library are large part of of this story. They are clippings from old Columbia newspaper accounts, and they tell the story of a volunteer soldier whose fate pre-occupied all of Adair County from the time he was missing in action in 1942 until word of his liberation came in October, 1945, a period of some 44 months.
"We prayed for him every day," Jean Cravens, who lived up Jamestown Street from the Conovers, remembers. "Everyone in the whole town prayed for him."His hero's return to Columbia was one of the biggest events ever in Columbia. Many remember more people on the Square that day than any other in history.
Mrs. Sargent was just a small girl when he came back. She remember there were two convertibles in the parade, provided by Bobby Collins, the homecoming organizer, and that the community welcome began at the intersection of the Hudson Street (the "Cut-off Road" in those days) and Greensburg Street.
She remembers that Earl Conover rode in one of the convertibles into town. "But I don't remember much else about the day," she said.
Of course there was tremendous relief when word came that he had been liberated, as this story and an inset letter transcribed by Cyrus from the October 3, 1945,
Adair County News
illustrates:
Pfc Earl Conover Freed From Japs

War Department Notifies Family
Of Columbia Soldier That
He Will Soon Be In States

The entire City of Columbia rejoiced with the Conover family when Mrs. W.R. Conover received a message from the War Department stating that her son, Pfc. Earl M. Conover, had been released from the Japs. His father, who works in Louisville, was notified of the good news at once.

The message said, "Your son, Pfc. Earl Conover, has been returned to military control and will be in the United States in the near future. He will be given the opportunity to communicate with you upon arrival."

Conover, who operated a jewelry shop entered the service in January, 1941, and was sent to the Pacific area in September of the same year prior to the Japanese attack on Pearl Harbor. He was with the 17th Ordnance. When the war started he was stationed at Fort Stotsenburg, in the Philippine Islands. He was captured when Bataan Peninsula fell on April 9, 1942. He was first at Military Prison Camp No. 1 in the Philippines and later at camp No. 4.

Pfc. Conover's family received very few messages from him during the period he was a captive but enough came through to keep up hope he was alive. The last direct comunication were two cards received in Janaury and one in May from the Philippines. In June a card came notifying them that he had been sent to Tokyo Camp, Japan.

Pfc. Conover was the only Columbia soldier imprisoned by the Japanese and one of four Adair Countians, all of whom have now been released. The others are, Marine Sgt. Richard Cooley, Cpl. James L. Robertson, and Sgt. Nathaniel Simmons.

The following was inset in the above article. -CYRUS

Letter This Morning!

The following letter from Pfc. Conover reached his mother this morning:

Japan, Sept. 14

Dear Folks:

In good health. Waiting at Yokohoma Airport for plane to Manila. Will write from there. Very homesick but will soon be home. Can't tell you in words how I feel but maybe you have same feeling. Love to all.

Earl
His release had come folliowing the fall of Tokyo, Mrs. Nona Jones noted in the Joppa newsletter in the October 24, 1945, Adair County News, Cyrus writes.
The final homecoming, brought closure to the war and time for a huge celebration.
Cyrus quotes the News, of October 31, 1945 about the event.
Crowd Welcomes Sgt. Earl Conover

S/Sgt. Earl M. Conover, accompanied by his parents, Mr. and Mrs. W.R. Conover, and his sister, Mrs. Frances Smith, all of whom met him in Louisville, arrived here Saturday mornng.

A calvacade of more than 50 cars filled with friends, met Sgt. Conover near Columbia and formed an escort into the city. In the group was his grandfather, Mr. B.L. Conover, his two aunts, Miss Lula Epperson and Mrs. R.P. Marshall, and his niece, Rochelle Smith.

Friends of this popular young soldier, who spent more than three years as a captive of the Japanese, will be interested to know that he was promoted to Sergeant before the fall of Bataan, though news of the promotion had never reached his family.

He was elevated to the rank of Staff Sergeant after liberation by the order of General MacArthur. He was awarded the American Defense, Asiatic-Pacific and Philippine Defense Ribbons with four Battle Stars, also the Good Conduct Ribbon and a Presidential Unit Citation with two Oak Leaf Clusters.

Sgt. Conover returned to Nichols General Hospital on Monday morning, but came that afternoon for a 15 day furlough. He expects to be disharged early in January.
He was discharged on January 16, 1946, Cyrus learned from this article in the January 16, 1946 Adair County News:
Given Honorable Discharge

S/Sgt. Earl M. Conover, who returned home in October, after being held a prisoner of the Japanese since the fall of Bataan in the Philippines in April, 1942, was given an honorable discharge at Nichols General Hospital, Louisville, on Saturday.

Conover was one of the first Adair men to enter the Armed Forces and had served for five years lacking one week. he took his basic training at Fort Knox and shortly afterward was sent to the Philippine Islands.

He has been awarded the Distinguished Unit Badge with 2 Oak Leaf Clusters, Asiatic-Pacific Campaign Ribbon with 2 Bronze Service Stars, the Philippine Defense Ribbon with Bronze Star, World War II Victory Ribbon, American Defense Ribbon, and Good Conduct Medal.

Sgt. Conover ran a jewelry store and repair shop here before entering the Army. He has accepted a position with Paul Young, He is a son of Mr. and Mrs. W.R. Conover.
---
---
Mr. Conover's military saga began in 1941
Cyrus quotes the Adair County News, January 29, 1941:
Watchmaker Takes Over
Earl Conover's Business

Mr. M.D. Murphy, watchmaker, of Harrodsburg, has taken over Mr. Earl Conover's business. Mr. Conover volunteered for military service and was called for duty last week.

Mr. Murphy and wife are occupying quarters in the W.R. Conover residence on Jamestown St.
A brief article, in the August 27, 1941 Adair County News told of Private Conover's assignment in the Phillipines:
Goes To Philippine Islands

Private Earl Conover, of Fort Knox, who spent the week-end here with his family, expects to leave today for the Philippine Islands with his company.
Bad news arrives in Columbia, with a Red Cross report cited in this article in the February, 18, 1942, News:
Red Cross Report on Pvt. Earl Conover

A report was received here Thursday, February 12, from the American Red Cross stating that Pvt. Earl Conover had not been reported as wounded, killed or missing in action as of Friday, February 6.

Conover, who is a son of Mr. and Mrs. W.R. Conover, was stationed at Fort Stotsenburg, in the Philippine Islands, when the Japs made their first attack upon the Island possessions of the United States on December 7. No word has been received by his family since before that date. His last letter was written November 20 and was received January 9.
From the April 8, 1942, issue (Ironically, the fall of Bataan occurred one day after this appeared in the News. -CYRUS)
Message Received from Earl Conover

After four long months of anxious waiting the family of Earl Conover, who is with the U.S. Armed Forces in the Philippine Islands when war was declared in early December have at last gotten a message stating that he was all right.

His sister, Mrs. Frances Smith, and aunt, Miss Lula Epperson, received the letter here and relayed the message to his parents, Mr. and Mrs. W.R. Conover, who are living at present in Leeds, Ala.

It was written February 1, bore no postmark or indication of where it was mailed but contained the following information which will be of great interest to Earl's many friends here:

"Dear Folks:

"No chance to write before. Am in the best of health, although losing a little sleep and getting two meals a day. Have been both bombed and strafed but only dirt thrown on me so far.

" Guess you know more about the war than I do. We hear nothing. At present we are in a hot spot. Jap planes bomb across from us almost every day. Have done lots of shooting with .50 cal. machine gun. Know I've hit the planes but haven't brought any down as yet. Will be home when this is over.

Earl."

When hostilities started December 7, 1941, Earl was stationed at Ft. Stotsenburg, P.I., forty miles North of Manila. He joined the U.S. Army January 20, 1941, being one of the first Adair County boys to enter the service.
The community learned that Earl Conover was not listed as a casualty May 6, 1942, edition of the News.
Earl Conover Is Not
Reported As Casualty

Mr. and Mrs. W.R. Conover have received a notice from the War Department, dated April 28, which stated the following:

"Casualty reports received in the War Department to date do not contain the name of the individual about whom you inquire. In every case of casualty the person named as emergency addressee by the soldier is notified immediately upon receipt of such report in the War Department."

When last heard from Earl Conover was in the thick of the fighting on Bataan Peninsula. His friends here will be glad to know that he has not been reported as dead or captured and it may be that he was among those evacuated to the island fortress of Corregidor.
Eight months later, the January 27, 1943, Adair County News reported that Pvt. Earl Conover was a prisoner of war:
Earl Conover Jap Prisoner
Mr. and Mrs. W.R. Conover
Notified By War Department
That Their Son Is Prisoner Of Japs

Last heard from In Feb., 1942

Mr. and Mrs. W.R. Conover received a telegram Tuesday morning from the War Department stating that their son, Pvt. Earl Conover, of the 17th Ordinance Company, who had previously been reported missing in action, was held prisoner of war in the Philippine Islands.

Pvt. Conover volunteered for service in the U.S. Army two years ago and was inducted January 20, 1941, with the first group of men sent from Adair County. He was stationed at Fort Knox for seven months and was sent to Fort Stotsenburg in the August, 1941. He was later transferred to the Bataan Peninsula where he is thought to have been stationed when the Japs took over complete control of the Islands.

No word had been received from Pvt. Conover by his family since February, 1942, other than the announcement by the War Department that he was missing in action, which meant either death or capture. Before entering the service Conover operated a jewelry repair shop in Columbia.
([I found no announcement in the News of his MIA status. -Cyrus]
Word from Pfc. Earl Conover reported in the September 8, 1943, Adair County News:
Second Message Received
From Pfc. Earl Conover

Mrs. W.R. Conover received a card Saturday from her son, Pfc. Earl Conover, who is interned at the Philippine Island Prison Camp No. 1 by the Japanese. It was the second message she had received since he was taken prisoner more than a year ago.

The message was similar to the first one, which she received in August. It was a typewritten post card with only his signature in longhand. It read: "My health is good. I am uninjured. I am well. Love to Rochelle and my best regards to Mr. Flowers and Dorothy Nell."
On December 15, 1943, the News reported:
Earl Conover Writes
From Jap Prison Camp

First Communication of Personal Nature
Assures Family That He
Expects To Return Home

Mr. and Mrs. W.R. Conover and Miss Lula Epperson received three cards last week from their son and nephew, Pvt. Earl M. Conover, who was captured by the Japanese when the Philippine Islands fell almost two years ago.

He had written from Philippine Military Prison No. 1, on two previous occasions, the last card having been received in September.

Two of the cards, which came last week, were the usual form cards saying that he was "well and not under treatment," and asked that he be remembered to Dr. N.A. Mercer, Dorothy Nell, Leighton Nell Smythe, and his aunts. Each had his signature in longhand.

The last card, which was received Saturday, had evidently been typewritten by Pvt. Conover. It was not a form communication and was of a more personal nature. It read:

"Hoping this finds everyone well. Am homesick at times, but time passes fast. I hope Rochelle remembers me. Give my regards to all my friends. Do not get too many gray hairs. I'll be back some day. I have great plans for the future.Earl M. Conover"
In the January 17, 1945, Adair County News, there was this:
Earl M. Conover Writes Parents

Mr. and Mrs. W.R. Conover and Miss Lula Epperson received a form card, written from Philippine Military Prison Camp No. 4. It stated that his health was good.

The message follows: "Hope everyone is well and happy. Give my best regards to Mr. Flowers and the rest of my friends. Alos my girl friends. Rochelle should be a big girl by now. Would like to come back home very much. Earl M. Conover."

This is the first card the family had received from him since December, 1943. Earl has many friends in Columbia who will be glad to know that this card has been received and that he is all right.

On Tuesday morning another card came to the family from Pvt. Earl M. Conover. It contained the following:

"Thanks for package of food. Also letters from yourself, Youngs and Dorothy. Would like to hear from Aunt Lula. Happy birthday to granddad. Best regards to Rook Club. Tell Dad and Sis to write. Glad to know all are well. Expect letter from Rochelle soon. The food package was sent in September, 1943. He said that his health was good."
The July 4, 1945 Adair County News reported that PFC Earl M. Conover had been transferred to a Japanese prison camp in Japan:
Pfc Earl Conover Sent To Japan

Mr. and Mrs. W.R. Conover have been informed by the War Department that their son, Pfc. Earl M. Conover, who was taken prisoner by the Japanese more than three years ago, is now at Tokyo Camp, Japan, having been transferred there from the Philippine Islands.

The letter, dated June 25, was written by the Provost Marshall General and arrived here on Thursday. It also instructed them to address all letters or packages as follows: Pfc. Earl Conover, U.S. Prisoner of War, Tokio Camp, Japan, via New York.
---
---
Please send corrections and additions to the story to:
ed@columbiamagazine.com

Phone 270-384-0612
This story was posted on 2005-06-19 19:28:21
Printable:
this page is now automatically formatted for printing.
Have comments or corrections for this story?
Use our
contact form
and let us know.
To sponsor news and features on ColumbiaMagazine, please use our
contact form
.
Earl Conover before POW days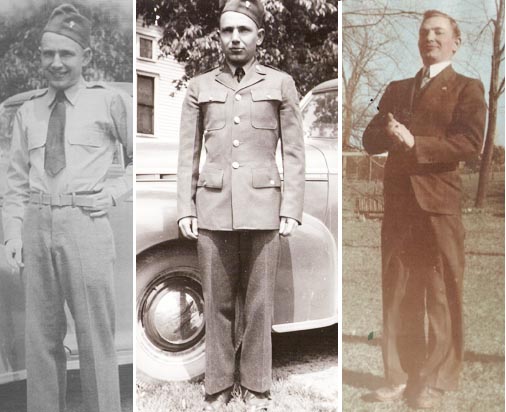 2005-06-19 - Columbia, KY - Photo Conover family photo collection. Dennis and Betty, Earl Conover's children, found these three photos of Earl Conover in earlier days. The two on the left were taken after he completed training at Ft. Knox, KY. The picture on the right is a rare, rather playful memory of their father. All three photos, they believe, were taken at the residence of Dennis' and Betty's grandparents, Wyatt and Ila Conover. The house stood at the northwest corner of Jamestown and Montgomery Streets, before the commercialization of the intersection.
Read More... | Comments? | Click here to share, print, or bookmark this photo.


Farewell salute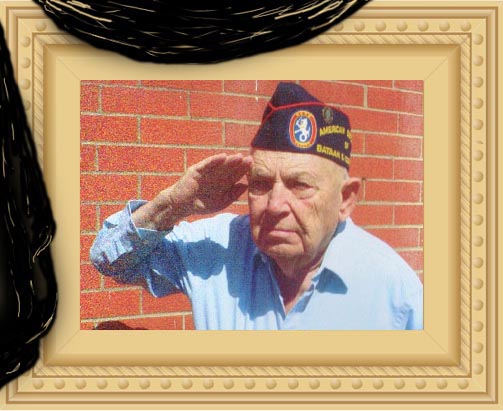 2005-06-19 - Columbia, KY - Photo Conover family photo. World War II hero Earl Conover died June 17, 2005. His funeral service is at 10:00 a.m., Monday, June 20, 2005, at Grissom Funeral Home, 200 Campbellsville Street, Columbia, KY. Burial will follow in Columbia Cemetery with military honors by VFW Post 6097.
Read More... | Comments? | Click here to share, print, or bookmark this photo.