Traveler's Guide to Columbia and Adair County on
ColumbiaMagazine.com

Uncommonly accommodating folk. Costs are low. Quality of life is high. Food is good.
It just doesn't get any better than this. Stop and sit a spell if you'd like to read more about this place called Columbia in south central Kentucky.
Some facts about the area:
Columbia, Kentucky was founded in the year 1802 and is the County Seat of Adair County, which was founded in 1801 as Kentucky's 44th county. Adair County, population 18,000+, has 412 sq. miles and is 32nd in land area among Kentucky's 120 counties.


Adair County, Kentucky is one of only four counties by that name in the entire United States.


Columbia is the only incorporated city in Adair County. It is very close to the geographic center of Kentucky - 100 miles from Louisville; 100 miles from Lexington; 130 miles from Nashville, Tennessee; and 70 miles from Bowling Green on the Louie B. Nunn Cumberland Parkway.


It is a hub city with highways 80, 61 and 55 crossing here. Columbia is in the middle of Kentucky's finest waters (Lake Cumberland, Green River, Barren River, and Dale Hollow Lake).


This is a photographer's paradise. There's beautiful scenery to the West, and memorable old Columbia to the north. Wonderful steeples and towers, beautiful churches, magnificent old homes, and gorgeous countryside draw photographers to the area.


The dairyland and farms are beautiful. Historic sites and unmatched. Streams are everywhere. Farm and forests offer still more picture-taking opportunities.


Over 40% of the land area of Adair County is forested. Most of the rest is devoted to dairy and beef cattle, tobacco, and grassland for hay and pasture.


The terrain of Adair County is varied, ranging from river bottomland to gently rolling hills and steep inclines. It is one of the most heavily forested counties in the state.


Timber here consists mainly of hardwoods such as oak, hickory and ash, and softwoods such as cedar and pine. Industries range from wood products and forestry to milk production, biomed, precision machine manufacturing, and from oil production to printing and publishing.


Special things to note when you pass this way include:
---
Airport
Columbia has a 2,600-foot airport. The nearest scheduled commercial airline service is at Louisville International, 97 miles northwest of Columbia. CSX Transportation provides the nearest rail service at Glasgow, Ky., 37 miles west.
Lakes, Fishing, and Outdoor Recreation
This is your headquarters for the South Central Kentucky Water Wonderland.
In Columbia, you are just
11 miles from Green River Lake
24 miles from Lake Cumberland
50 miles from Barren River Reservoir
42 miles from Dale Hollow Lake
Lake levels, fishing information, marinas and more:
A growing number of water sports enthusiasts are using Columbia as a staging area for outings, enjoying Columbia's range of restaurants and the easy access to roads. The area is also terrific for kayaking, horseback riding, and hiking.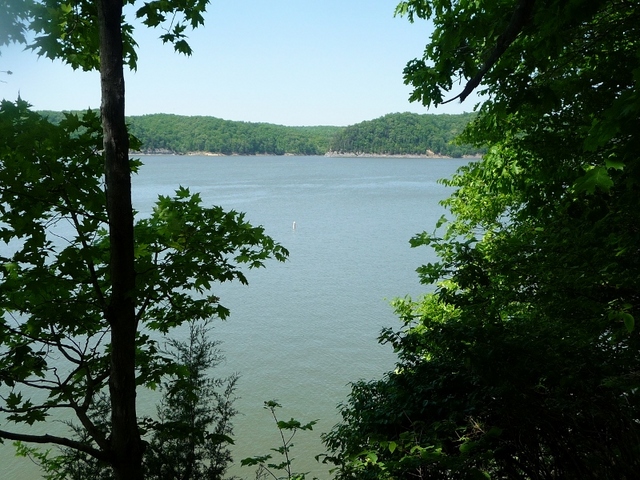 Green River Lake, seen from the Lakeside Trail. Photo by Rich Ollestadt
Lindsey Wilson College
Lindsey Wilson College is a four-year liberal arts institution affiliated with the United Methodist Church.
Travelers are drawn to the unique Begley Chapel which was designed by America's leading chapel architect, E. Fay Jones, a student of the great architect Frank Lloyd Wright. The lighted crown is visible for miles. In winter, it dominates the skyline.
The crown's intricate ironwork offers endless possibilities for photographers in the daytime, as the sun creates an infinite program of patterns. Visitors are welcome.
The college also has a number of paths throughout the campus, leading visitors on a meandering trail across hills and among trees.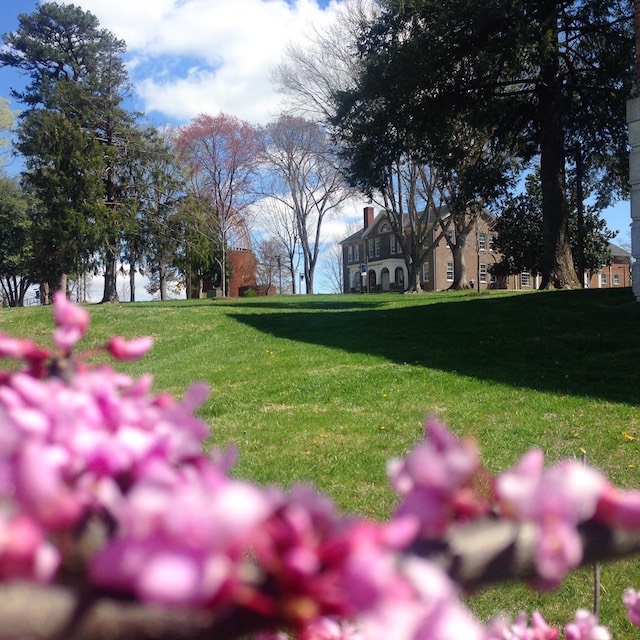 Lindsey Wilson College campus in the spring. Photo courtesy Lindsey Wilson College.
Read more about Lindsey Wilson College at
www.lindsey.edu
.
Local History
The Trabue-Russell House is a restored historical residence open for touring by appointment by calling the Chamber of Commerce at 270-384-6020.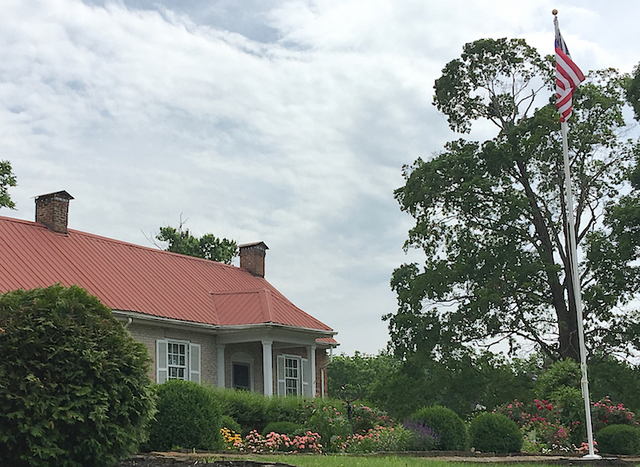 The Trabue Russell House. Photo by Linda Waggener.
Adair County is steeped in literary history. Mark Twain's mother, Jane Lampton, was born in Columbia, and Twain's parents were married in the city.
The Jane Lampton Historical Marker.
Spout Springs
, the home of Kentucky writers Henry and Janice Holt Giles, is restored as a writers' retreat and is open to the public. It's always a beautiful sight, but call ahead if you want to go inside (pictured below).
Between the two, the Gileses wrote 24 books, most of which were written in Adair County and all of which are now highly collectible.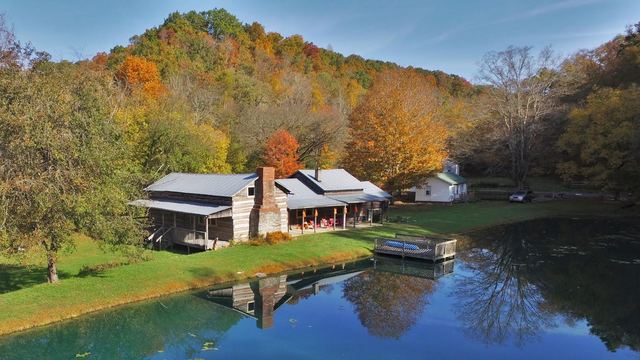 The Giles House at Spout Springs. Photo by by Jason Mardis.
Capwell Wyckoff
, author of the Mercer Boys adventure series, served as a pastor in Columbia.
Famed writer and television star Byron Crawford owns land in Adair County.
Theodore O'Hara wrote one stanza of Bivouac of the Dead in Columbia.
Other noted Adair County authors include Christopher Rowe, Chester Young, Hudson Willis, Minnie Rubarts, Garnett Young, Ruth Burdette and N.B. Montgomery, Dr. Jann Aaron, David Hunter, Michael Watson, Dianne Watkins, Robin Halcomb, Yolanda Oostens, Ernestine Bennett, Mike Watson, Beverly England, Dr. Morris Grubbs, and the many contributors to ColumbiaMagazine.com.
Stage magician Lance Burton was born in Columbia and performed his first tricks here as a child.
Scenic Drives
For just one example of a scenic loop, take Highway 55 to Highway 704, go south on 704 to Highway 61, then right, north on Highway 61 through Breeding, Sparksville and Flatwoods, back to Columbia.
There's gorgeous scenery, beautiful hills and streams, wildflowers galore, and one might encounter wild turkeys and deer, and occasionally see, overhead, hawks, owls, and even eagles.
Amish Country
There are two Amish communities in Adair County. One is located in the north end of the county, largely on KY 206, on the Adair-Casey County line. The other community is located on the west side of the county, around Gradyville on West KY 80.
Travelers should watch for their horse drawn buggies and for the heavy pedestrian traffic in Amish Country.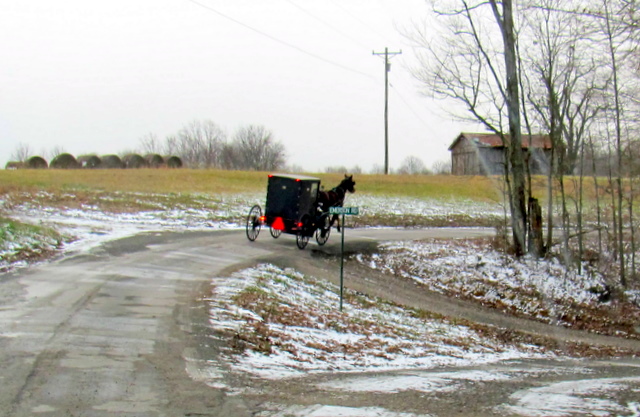 An Amish buggy on South Fork Ridge Road. Photo by Linda Waggener
Homeplace on Green River
Homeplace on Green River (below) is a shared project of Adair, Green and Taylor counties. The official address is 5807 New Columbia Road, Campellsville, KY. The farm is being restored by volunteers and is administered by a Board of Directors representing all three counties. Homeplace is dedicated to the protection and promotion of rural American culture through the sustainability of agriculture and natural resources using education, conservation and the economic opportunities of agri-tourism. Homeplace showcases the local history of Adair, Green and Taylor counties as well as that of all of Kentucky. It is maintained by volunteers.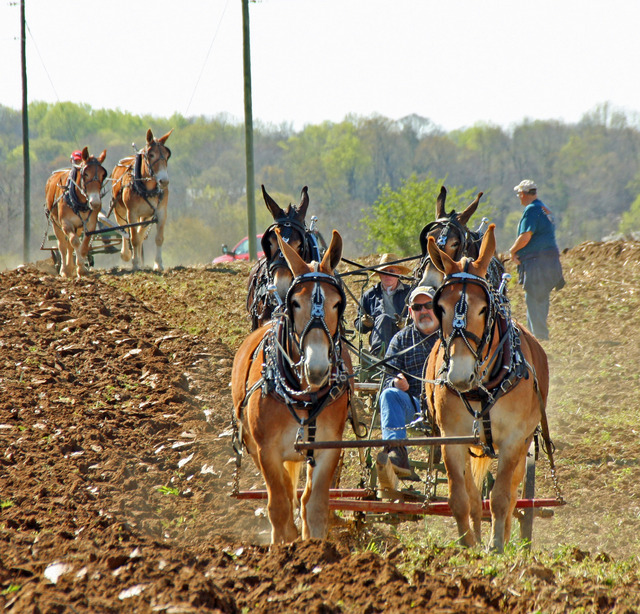 Plow Day scene at Homeplace on Green River. Photo by George Kolbenschlag.
More about Homeplace on Green River:
www.homeplacefarmky.org
Hospitality
Adair Countians take pride in a long tradition of hospitality, so expect uncommonly accommodating folk when you stop here. Costs are low. Quality of life is high. Food is good.
If you're looking for great places to eat, check out the "
What's Cooking
" section of Columbia Magazine, updated daily with specials from local restaurants like Black Stallion Steakhouse and Fiesta Mexico of Columbia.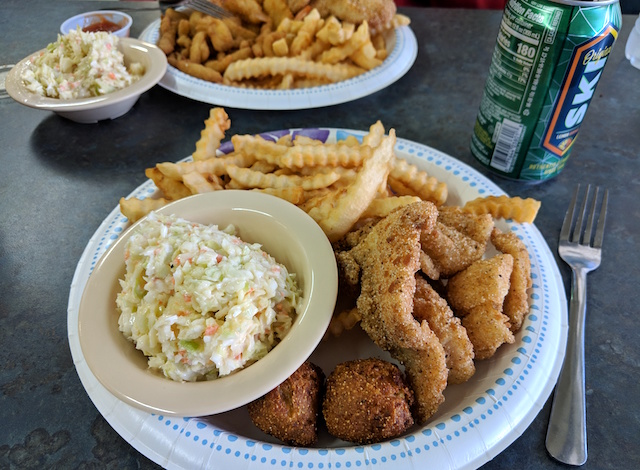 Fried fish plate with a cold can of Ski. Photo by Pen.
Please say "Thanks" to our sponsors:
This travel guide is brought to you by the sponsors listed within this guide and by our underwriters whose side ads appear on the home page of this site. Stop in, or click on the ads to make contact, and thank them for helping showcase the good news of Columbia and Adair County, Kentucky.
Take Columbia with you wherever you go with Adair County's original, extraordinary magazine on the world wide web. Over 20 years of stories and photos in the archives!
www.ColumbiaMagazine.com
To comment, or to get directions, send an e-mail to:
lindawaggener@gmail.com or webmaster@columbiamagazine.com
Be sure to include a comment about your experience here!