Mattie Pearl Richards, 93, Columbia, KY (1928-2021)
Mattie Pearl Pierce Richards of Columbia passed away on Thursday, May 6, 2021 at Summit Manor Nursing Home.
The funeral service will be held at 11amCT on Monday, May 10, 2021, at Grissom-Martin Funeral Home, 200 Campbellsville Street, Columbia, KY, with Bro. Darrell Landis officiating. Burial will follow in Harrods Fork Cemetery.
Visitation is requested after 8amCT on Monday.
She was born February 14, 1928, in Adair County, to the late George Russell and Mary Magdalene Cabbell Pierce. In addition to her parents, she was preceded in death by her husband, Leslie Thomas Richards, her daughter, Mary Linda Darnell and four great-grandchildren. She was a member of Harrods Fork Baptist Church and a homemaker.
Survivors include:
Three sons - Louis Marshall Richards of Marrowbone, Donald Aaron Richards and wife Direnda of Breeding, Randy Thomas Richards and wife Lois Ann of Columbia
One brother - James Russell Pierce of Summer Shade
One sister - Martha Cundiff of Scottsville
12 grandchildren
29 great-grandchildren
21 great-great grandchildren
Casket Bearers: Louie Richards, Les Richards, Tyler Willis, Thomas Richards, Bailey Richards, Dennis Richards
Grissom-Martin Funeral Home in charge of arrangements. Online condolences may be left at
www.grissommartin.com
.
This story was posted on 2021-05-07 13:42:35.
Email
comments or corrections.
Mattie Pearl Richards, 93, Columbia, KY (1928-2021)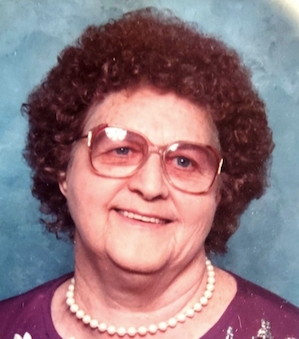 2021-05-07 - Columbia, KY - Photo courtesy Grissom-Martin Funeral Home Comments | Permalink