Mitchell Howard Collings, 63, Greensburg, KY (1958-2021)
Mitchell "Mitch" Howard Collings of Greensburg passed away on Monday, May 3, 2021 at his home. He was 63 years old.
The funeral services for Mitch Collings will be conducted at 1pmCT on Friday, May 7, 2021 at the Cowherd and Parrott Funeral Home, 206 S. Main St., Greensburg, KY, with Dan Hayes officiating. Burial will follow in the Harmony Independent Baptist Church Cemetery.
Visitation is requested after 10amCT on Friday at the Cowherd and Parrott Funeral Home until time of the service.
There will be a motorcycle escort, in his memory, to the cemetery after the service. Any motorcyclist who would like to join in the escort needs to be at the funeral home 30 minutes to an hour before the service begins.
Mitchell "Mitch" Howard Collings, son of the late Gerald Max "Jerry" Collings and Sylvia Judy Hudson Collings, was born on Wednesday, January 1, 1958 in Taylor County, Kentucky.
He had made a profession of faith in Christ and was a member of the Harmony Independent Baptist Church. He was a Pharmacist and worked along side his father at the former Corner Drug Store for many years. Mitch was a member of the Christian Motorcyclist Association, a member of the former Green County Lion's Club for years. Mitch was also known for completing the Iron Butt Challenge traveling on his motorcycle from the coast of Florida to the coast of California under 50 hours.
Survived by his wife of 21 years: Theresa Mae Lobb Collings of Greensburg, having united in marriage on October 23, 1999.
Other survivors include four daughters and three sons-in-law: Trisha Hall, Faun & Brandon Crenshaw, Magel & Damon Creason, and Jackie & Aaron Curtsinger all of Campbellsville; three sons and two daughters-in-law: Michael Collings, Matt & Layla Collings, and Mitchell & Elizabeth Collings all of Campbellsville; father-in-law and mother-in-law: Ralph and Eddie Mae Lobb of Greensburg; two brothers and sisters-in-law: Gregory Alan & Christina Collings of Nicholasville, and Gerald "Jerry" Clayton & Gretchen Collings of Massachusetts; three other sisters-in-law and a brother-in-law: Sabrina Collings of Versailles, Denise & Jeff Gilpin of Campbellsville, and Donna Orrand of Greensburg; 12 grandchildren: Shelby, Hannah, Peydon, Keely, Kaya, Elijah, Maddox, Jocelyn, Finn, Haley, Colton, and Zackary; nieces & nephews: Christopher Collings, Sylvia Collings, Michael & Michae McCaffrey; great-nephews: Isaac and Elias; and a host of other relatives and friends.
Mr. Collings was also preceded in death by a brother: Christopher Adam Collings on September 24, 2011.
The family has asked that expressions of sympathy take the form of donations to the family burial expenses, which can be made at the funeral home.
Pallbearers: Brothers and Children
Cowherd and Parrott Funeral Home is in charge of arrangements. Online condolences at
cowherdandparrott.com
.
This story was posted on 2021-05-05 10:12:05.
Email
comments or corrections.
Mitchell Howard Collings, 63, Greensburg, KY (1958-2021)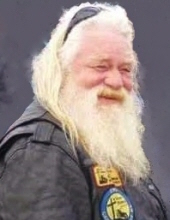 2021-05-05 - Greensburg, KY - Photo courtesy Cowherd and Parrott Funeral Home Comments | Permalink