Nancy Gabehart, 76, Adair Co., KY native (1945-2021)
Nancy Gabehart of Campbellsville passed away on Monday, May 3, 2021. She was 76 years old.
The funeral service will be held at 1pmET on Wednesday, May 5, 2021, at Parrott & Ramsey Funeral Home, 418 Lebanon Ave., Campbellsville, KY, officiated by Bro. John Stilts. Burial will follow in Jones Chapel Cemetery.
Visitation is requested from 10amET until 1pmET on Wednesday, May 5, 2021 at Parrott & Ramsey Funeral Home.
Nancy Gabehart, daughter of the late Stanley Williams and Ora Weatherford Williams, was born March 25, 1945 in Adair County, Kentucky.
She professed faith in Christ and attended God's Grace Church.
Nancy was a retired employee of Fruit of the Loom and Wendy's in Campbellsville.
She united in marriage to Paul Gabehart November 8, 1963.
Besides her husband, Paul Gabehart of Campbellsville, Nancy is survived by two daughters: Missy Gabehart and companion, Jeff Rayburn and Sherry Gabehart of Campbellsville; one granddaughter, Ashley Jane Burton and husband, Craig of Elizabethtown; one great-granddaughter, Evie Jane Burton of Elizabethtown; two sisters: Marjorie Royse of Louisville and Sue Cox of Somerset; one sister-in-law, Mary Williams; several nieces and nephews and many other relatives and friends.
She was preceded in death by one brother and one sister: Jim Williams and Patricia Rigney.
Expressions of sympathy are requested to be donations to Hosparus of Green River and may be made at Parrott & Ramsey Funeral Home.
Parrott & Ramsey Funeral Home is in charge of arrangements. Online condolences at
parrottramsey.com
.
This story was posted on 2021-05-03 17:15:55.
Email
comments or corrections.
Nancy Gabehart, 76, Adair Co., KY native (1945-2021)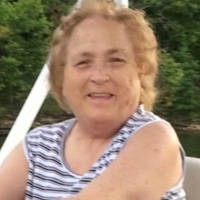 2021-05-03 - Campbellsville, KY - Photo courtesy Parrot & Ramsey Funeral Home Comments | Permalink