Johnny Robert Cox, 51, Burkesville, KY (1970-2021)
Johnny Robert Cox of Burkesville passed away on Saturday, April 24, 2021 at Cumberland County Hospital. He was 51 years old.
The funeral service will be held at 1pmCT on Tuesday, April 27, 2021, at Ballou & Stotts Funeral Home, 304 N. Main Street, Burkesville, KY, with burial to follow in Rose of Sharon Cemetery.
The family requests visitation on Monday, April 26, 2021 from 3pmCT until 9pmCTat Ballou & Stotts Funeral Home.
Johnny was born on March 5, 1970 in Indianapolis, IN, to the late William Cox and Peggy McGregor Cox. Johnny was a former employee of Honest Abe Log Homes.
In addition to his parents he was preceded in death by his mother-in-law and father-in-law, Alvin and Janie Skipworth Hardin, one sister, Dawn Johnson, one nephew, Michael Johnson and one niece Jackie Johnson.
Survivors Include:
His Wife- Anita Hardin Cox of Burkesville, KY
One Son- Stephen Cox of Burkesville, KY
One Brother- William Cox of Georgia
Sister-in-law- Kaye Owens(Mike Wilcoxson) of Burkesville, KY
Nephew- Jonathon Owens
Two Grandchildren- Emma and Jacob
A host of other relatives and friends
Ballou & Stotts Funeral Home is in charge of arrangements. Online condolences may be left at
www.balloustotts.com
.
This story was posted on 2021-04-26 21:35:14.
Email
comments or corrections.
Johnny Robert Cox, 51, Burkesville, KY (1970-2021)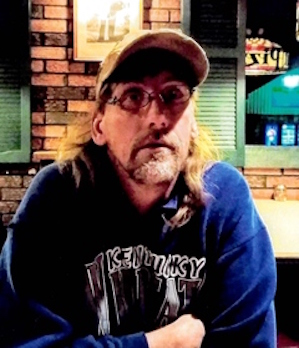 2021-04-26 - Burkesville, KY - Photo courtesy Ballou & Stotts Funeral Home Comments | Permalink