Anna Laura Hereford Rush, Crocus, KY (1929-2018)
A romantic, successful life is completed
(Click on headline for complete story, Celebration of Life details)
---
Anna "Ann" Laura Hereford Rush was born to Charles Hereford and Winnie Miller-Hereford on April 19, 1929. Born in the upstairs bedroom of her grandparents' house, Ann grew up in a bucolic setting on the family farm in Crocus, KY, with her beloved dog Spots
---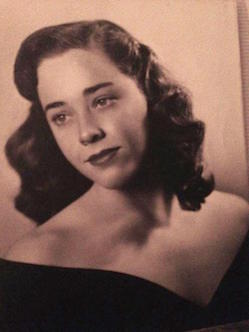 She attended high school in Jamestown, KY, and then later Georgetown Baptist College, where she sought to follow in the footsteps of her father by majoring in physical education. Her life and career path were to change dramatically, however, when she attended a school reunion with her mother.
It was there that a family friend suggested she attend Gallaudet College in Washington, D.C. in order to earn a Master's degree in deaf education, rather than pursue a career as a coach. During her time at Gallaudet, she met Ronald Edward (Ed) Rush, who was also in pursuit of a Master's degree in deaf education.
Ed fell instantly in love with Ann, and even asked for her hand in marriage on their first date while riding a streetcar to the Maryland-Georgetown football game. In Ann's retelling of the story years later, her reply to Ed was, "I'd rather not, but I'll think about it."
In time, Ann did accept Ed's proposal and the two were married at the Miller family home on August 16, 1953. Ann and Ed both started their careers in education at the Florida School for the Deaf in St. Augustine, FL. And, when the summer heat in Florida became too much, the couple moved west, where Ann had accepted a teaching position at the new California School for the Deaf, Riverside.
For the remainder of Ann's 44 years of service in deaf education, she taught in the Riverside Unified School District, many of them at Monroe Elementary, where she made powerful impressions on the lives and careers of thousands of deaf and hard of hearing students and their families.
In Riverside, Ann inspired others to enter the fields of teaching, counseling and interpreting for the deaf. In addition to offering classes in American Sign Language (ASL) at California Baptist College, she also taught ASL, mentored young people, and interpreted services at Magnolia Avenue Baptist Church for many years.
Ann liked dancing the jitterbug with Ed; occasionally, they even entered competitions together. She enjoyed socializing with friends, going to sporting events, particularly those of her children and of Gallaudet students, and attending community theater.
After a lifetime of teaching, raising five children, and nurturing her grandchildren--she often said, "I'm so tired y'all,"- Ann was called home to rest with the Lord at 88 years of age, on Saturday, March 17, 2018.
She was preceded in death by her husband, Ed; her mother Winnie; father Charles; and many other friends and loved ones. Her love and laughter live on in the hearts of her five children (Reggie, Pam, Lauri, Alicia, and Charles), four-in-laws (Kaye, Bruce, Ron, and Denise), and nine grandchildren (Jeffrey, Ryan, Carly, Rachel, Arianna, Davis, Adam, Dalton, and Serena).
A service will be held at 3pmCT on Saturday, April 7, 2018 at the Barn Affair at 1275 Brock Burris Road, Gradyville, KY, followed immediately by a celebration of her life. Interment in Miller Family Cemetery at Crocus, KY. The family asks that in lieu of flowers, donations be made in her memory to Gallaudet University's Youth Program. Gifts are accepted online at giving.gallaudet.edu.
Stotts-Phelps-McQueary Funeral Home
, 210 Greensburg Street, Columbia, KY, is in charge of arrangements.
This story was posted on 2018-04-04 07:19:55
Printable:
this page is now automatically formatted for printing.
Have comments or corrections for this story?
Use our
contact form
and let us know.