Don Bishop, 82, long-time CU Athletics Director, passes away
(March 29, 1935 - December 27, 2017)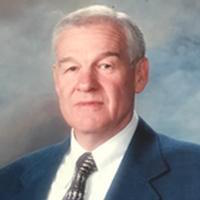 "A teacher and coach, Mr. Bishop left a lasting mark on Campbellsville University with his career as Campbellsville's chief athletic administrator, cheerleader and supporter."
---
Click on headline for complete obituary with photo(s)
From Campbellsville University Athletics
Don Bishop, former Campbellsville University Athletics Director and member of the CU Athletic Hall of Fame, died Wednesday, December 27, 2017 at 2:15amET at Jewish Hospital in Louisville, KY. He was 82.
Funeral services will be held at 11amCT/12pmNoonET on Saturday, December 30, 2017 at Parrott & Ramsey Funeral Home, 418 Lebanon Avenue, Campbellsville, KY, with burial in Campbellsville Memorial Gardens, 700 Old US 68, Campbellsville, KY. Visitation is scheduled on Friday, December 29, 2017, from 5pm-8pmET at Parrott & Ramsey Funeral Home.
"The Campbellsville University family is deeply saddened to learn the passing of Mr. Don Bishop," said CU President Dr. Michael V. Carter. "Mr. Bishop was the epitome of what a true Christian servant leader is. He not only made impacts in our athletics department but in our academic programs and inside the community. The Bishop family has strong ties to Campbellsville College and Campbellsville University and we ask that everyone keep them in your prayers during this difficult time."
Don and his wife, June Holman Bishop, have been active supporters of Campbellsville University for many years. Mr. Bishop, a member of the Campbellsville Junior College class of 1955, served as director of athletics from 1968 until his retirement in 1997. Mrs. Bishop, who graduated from Campbellsville College in 1962, served the Campbellsville community as a public educator for many years. Mr. Bishop was also a professor in the physical education department and was granted faculty emeritus status in 1998.
Both their daughters, Robyn Bishop Lawless and Susan Bishop Pollock, are alumni, as are both their sons-in-law, Randy Lawless and Michael "Sarge" Pollock, who also served as Campbellsville University director of alumni relations.
In 1986, as evidence of their sport of the mission of their alma mater, the Bishop's established an endowed scholarship fund to provide scholarships for "students with strong interest in either the areas of health and physical education or the athletic programs at CU."
The family asked expressions of sympathy be donations to the Don and June Bishop Scholarship Fund at CU or Gideon Bibles may be donated at Parrott & Ramsey.
"Don Bishop was a strong and significant leader for both our athletic and academic program with an emphasis in physical education," said former president of Campbellsville College Dr. W.R. Davenport, who served from 1969 to 1988. "His contributions were outstanding. The present success for our programs were built on the foundation that he laid so many years ago. He will be sorely missed, not only by his loving family, but by all of us who had the privilege of working with him through the years."
"Don Bishop was a gentleman. He was a kind man who loved the students at Campbellsville and who loved the Lord. He was truly a one-of-a-kind man who worked hard to give Campbellsville University a strong athletic base. He will be missed by all of his student-athletes and his dear wife, June, and family," said Dr. Kenneth W. Winters, president of Campbellsville from 1988 until 1999.
In his 29 years of leading the athletics department, he was instrumental in starting and reinstating multiple programs. CU started men's and women's programs for soccer, swimming and diving and oversaw the reinstatement of football following a 50-year absence as well as the reinstatement of cross country.
Mr. Bishop was honored in many ways for his talents including receiving the NAIA District 32 Athletic Administrator of the Year for 1987-88 and 1990-91 and the NAIA Award of Merit for 1990-91.
In addition to his responsibilities of AD and full-time faculty member, Mr. Bishop also coached men's golf, men's and women's tennis, track and field, cross country and was the freshman men's basketball coach.
"Don Bishop not only served as full-time athletic director but full-time faculty and head coach for golf. So he wore many hats," said Dr. Frank Cheatham, senior vice president for academic affairs emeritus. "He was always interested in the success of student-athletes, and he spent many hours working with students to help them succeed. Most importantly, Don always lived his life showing his love for the Lord."
Mr. Bishop started the golf program in 1969 and served as the coach until 1978. The Tigers won the Kentucky Intercollegiate Athletic Conference (KIAC) Championship in 1974 and 1978, while finishing runner-up in 1976. CU also earned its way to NAIA District 24 champions in 1974 and 1975. In 1975, The Tigers finished the season ranked No. 17.
He also led the men's tennis program to a KIAC championship in 1973.
In addition to his coaching duties, Mr. Bishop also was instrumental in starting the Athletics Boosters and Big Maroon Club. He also was a leader in establishing the Mid-South Conference in 1996-97 and led Campbellsville to joining the National Christian College Athletic Association prior to his retirement in 1997.
CU honored Mr. Bishop by naming him the only inductee to the Hall of Fame in 2000.
Mr. Bishop provided private swimming lessons to more than 10,000 children, earning him the reputation "a gentle and effective instructor" from their parents.
"It is extremely hard for me to put into words what Don Bishop has meant to Campbellsville Athletics," said Director of Athletics Jim Hardy. "He really has been the administrative foundation that the current athletics program is built on. More than that is the fact that he has been a close personal friend and mentor for me both as I started as an athletic director at Campbellsville High School, and most recently in my current position.
"Don taught me to always remember to use the platform of sports to show people Jesus. He had a huge impact on many in this community as he taught hundreds, if not thousands, of young people to swim, and also served in many capacities at church. Our prayers will be with June, Robyn and Susie and all the extended family as they work through this loss."
A 1955 graduate of Campbellsville Junior College, Mr. Bishop continued his education at Union University where he graduated in 1957 with a bachelor of science degree. He received his masters of arts degree from Eastern Kentucky University in 1965. He graduated from Elizabethtown High School in 1953.
Mr. and Mrs. Bishop were longtime members of Campbellsville Baptist Church.
A teacher and coach, Mr. Bishop left a lasting mark on Campbellsville University with his career as Campbellsville's chief athletic administrator, cheerleader and supporter.
This story was posted on 2017-12-27 19:56:46
Printable:
this page is now automatically formatted for printing.
Have comments or corrections for this story?
Use our
contact form
and let us know.