Barabara Buchanan Lewis, Taylor County, KY (1938-2017)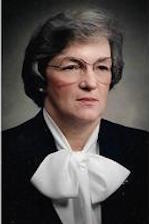 She was an outstanding Kentuckian. Barbara Buchanan Lewis loved the law, and was outstanding in her field. She was one of only a handful of women students in her law school class. At the time she was named dean pf the University of Louisville School of Law, there were only five other women law deans nationwide. She considered her chosen profession a great privilege, a great calling. She embraced the calling, and served the community and profession with distinction and taught her heart out every single day. A life well lived. She will be missed.
---
Click on headline or photo for complete obituary
Barbara Buchanan Lewis of Louisville, KY, formerly of Campbellsville, daughter of the late Frank "Tony" Buchanan & Ailene Jarboe Buchanan, was born May 1, 1938, in Taylor County, KY. She died at 9:49amET, Tuesday, November 7, 2017 in Louisville, KY. Memorial service will be at 12pmNoonCT/1pmET, Tuesday, November 14, 2017 at Parrott & Ramsey Funeral Home, 418 Lebanon Avenue, Campbellsville, KY. Memorial visitation will be 9am-12pmNoonCT/1pmET, Tuesday, at the funeral home.
Barbara united in marriage to Jim Lewis September 26, 1964 and he preceded her in death September 8, 2010.
Barbara earned BA and JD degrees from the University of Louisville, a Master in Education from the Tennessee Technological University and a Master of Law and Taxation for the Marshall Wythe School of Law at William and Mary.
Prior to embarking on a career in legal education, Professor Lewis worked as an attorney for the U.S. Corps of Engineers, as a probation officer for the Jefferson County Juvenile Court and as a teacher in Honduras and Guatemala. Her true passion was the law and education and following her graduation from William and Mary, she taught at Cumberland School of Law and the University Of Oklahoma College Of Law, where she also served as chair of the faculty senate and as interim dean.
She never forgot her Kentucky roots and in 1982, she and her husband Jim returned to Louisville, where she became dean of the Brandeis School of Law at the University of Louisville. Professor Lewis was a trailblazer in legal education. She was one of only a handful of women students in her law school class and at the time she was named dean at UofL there were only five other women law deans nationwide. During her tenure as dean, she built bridges within the community and the profession and served on a number of boards, including the Center for Women and Families, the Department of Public Advocacy, the Louisville and Kentucky Bar Foundations, the League of Women Voters, the ACLU and Citizens for Better Judges. As dean, and later as a professor, she worked tirelessly to promote diversity in the law school and the profession. She served on many national boards, including the Council on Legal Education Opportunity, the American Bar Association's Commission on Women in the Profession, the Law School Admissions Council Task Force on Minority Recruitment, as well as numerous local and state-wide initiatives relating to access and diversity in the legal profession.
While Dean Lewis enjoyed the challenges of the deanship, she missed daily contact with students. In 1990 she returned to pursue her passion, classroom teaching. Mostly, she taught tax. When asked why anyone would teach tax, she would respond with "I just love the Internal Revenue Code." As a professor, she was tough, demanding and had no patience with slackers. She felt strongly about the importance of attendance, preparedness and promptness. She was a stickler for all three. Professor Lewis expected students to be respectful, responsible, collegial and professional. No hats or baseball caps in her class! Students, who complained about the difficulty of the tax code or the length of an assignment, generally got the same response from her. "Life is tough." On occasion, she was known to make the same observation in faculty meetings.
Despite the heavy demands Professor Lewis placed on students, and the fact that some students found her a bit intimidating at times, she cared deeply about them personally and about their professional success. She taught them tax but, more importantly, she taught them about the values of the legal profession and what it means to be a professional. She was a mentor and role model to generations of students. When she announced her retirement in 2006, the Student Bar Association created a special teaching award in her honor and recognized her at graduation. Throughout her career she received many awards for her leadership and community service, but the awards she received from the University of Oklahoma and the University of Louisville for excellence in teaching were the ones she valued most. Although Professor Lewis officially retired in 2006, the pull of the classroom was too great. After only a couple of years she returned as an adjunct professor and taught on a part-time basis until 2014.
Barbara Lewis loved the law and she was devoted to her students. Several years ago, upon receiving a Kentucky Bar Association Award, she said, "I have always thought that to be a lawyer is a great calling. It is a great service, and to teach lawyers is great privilege." She embraced the calling, served the community and profession with distinction and taught her heart out every single day. A life well lived. She will be missed.
She is survived by:
One sister: Ellen (Donald) Goff of Campbellsville, KY


A sister-in-law: Chris Buchanan of Lebanon, TN


One niece: Karen Buchanan Schneider


Two nephews: Kevin (Anna) Buchanan and Joshua (Desiree) Buchanan


And many other relatives and friends
She was also preceded in death by a brother, George Buchanan and her beloved step-mother, Ethel Buchanan.
Send condolences to the family of Barbara Buchanan Lewis
Expressions of sympathy requested to be donations to Campbellsville First United Methodist Church, Ruby Curry English Scholarship at Campbellsville University or the charity of your choice.
The Parrott & Ramsey Funeral Home
, 418 Lebanon Avenue, Campbellsville, KY, is in charge of arrangements.
This story was posted on 2017-11-11 18:43:42
Printable:
this page is now automatically formatted for printing.
Have comments or corrections for this story?
Use our
contact form
and let us know.