Company founded by Adair native is winning
small business awards in Louisville
Written up in Louisville's Business First newspaper as a leading company in line for even more honors, Mister "P" Express is getting attention because it has enjoyed over 30% growth in the last three years while retaining most of its employees.
By Linda Waggener

Come along. It's the nineteen forties down on Meat Skin Road in that southern tip of Adair County Kentucky, where it meets up with blue sky and Cumberland County just above the Tennessee line.
See the little boy scuffing his bare feet in the red clay dirt? He's on his way to Wilson one-room school a couple of miles from home.
Do you think he's dreaming of the successful trucking firm he will start some forty years in the future? Might he have any idea that his firstborn would choose to follow in his footsteps, grow into the presidency and assure the company will span the generations?
Maybe not.
Times were hard and dreams were often put aside in favor of farm work in those days on Meat Skin. After school and when the July through February school term ended, work took priority, shared with his five brothers, Stanley, Jesse, James, Harmon, and Lewis, and a sister, Dell.
Something happened, however, which would turn this young boy's head away from farm work. Allan Mercer Parnell was named for the doctor who delivered him, and that would ultimately allow him his first glimpse of going from what he terms "rags to riches".
It happened when the childless Dr. Mercer took an interest in his little namesake and welcomed young Allan into his city home in Columbia. That experience would distract Allan from farming and open wide for him a window on the world.
President Cindy Collier, at left, with Executive Vice President Hank Mardis center, and C.E.O. Allan Parnell.
From Wilson one-room School to Breeding High School, to Adair County High School's first consolidated class, and living in the home of a doctor, he headed farther and farther away from dirt roads and rugged woodlands -- into the county seat town of Columbia and then, like so many others looking for better income, to the city of Louisville and the powerful General Electric plant.
Career path would lead to trucking industry
His work at General Electric started in the early '50s in assembly, but it didn't take many years before he realized he didn't want to do that all his life. He kept believing for something more while also getting educated in the workings of business. He went to night school at the University of Louisville and graduated from GE's three-year management training program to become manager of shipping and receiving there.
"I was always a hard worker," Allan says, "but hard work alone wasn't enough. When I found myself with four of five children in college at the same time, I was more than motivated to keep my income growing."

A Family Place -- James Parnell, shown here beside President (and cousin) Cindy Collier, is the company's Maintenance Manager.
Exploring different career options took him into sales for a trucking firm in 1983 where, he says, "I was in my element! I knew that was what I wanted to do for the rest of my life." He would work his way up to president of two different trucking firms before deciding in 1988 to start his own company. His history of hard work, and learning the intricate balance between shipper and customer, mixed with management education, had prepared Allan to want his own company in the industry where 85% of all goods moved across America do so in a tractor-trailer rig.
That's when his hardest trials began. "It took God's hand to get this company stabilized after I started it in 1988 and we almost starved to death," Allan says, "I was very naive about cash flow and things got so bad in 1991 that my wife suggested we close. Even in those dire times, though, my belief still flickered, so I chose prayer for guidance before giving up. For two years I attended prayer meetings at six o'clock every morning, asking the Lord to direct me, and promising I'd work as hard for Him as I possibly could. By putting spiritual work first, amazingly, every new day I would find that God had somehow pulled together the ten to fifteen thousand dollars required to run the place for yet one more day. Since I gave the reins to God, growth of Mister "P" Express has gone straight up."
Why an award winning small business?
Today he enjoys owning the award-winning company, with daily operations in the hands of the next generation, which allows Allan time to inspire and serve for the greater good. He is careful never to forget who the real turnaround man was in the early 90s, and who gets the credit for the growing company. "To God be the glory for everything here," Allan says, looking over his fleet of 110 Volvo rigs."Ê
Mister "P" Express, Inc., located in the River Ridge Commerce Center, the former Army Ammunition Plant in Charlestown, Indiana, employs 140 people and treats each one like partners in God's work. The reason for the stability of the company and the fact that most people hired stay with Mister "P", is probably because the company motto is: "Do unto others as you would have them do unto you." (Matthew 7:12).
The secret, Allan says, is simply putting the work into God's hands, then doing exactly what we commit to do, "providing excellent customer service with total dedication and explicit attention to every detail."
The next generation of leadership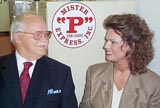 THE C.E.O. and the President are father and daughter. Allan feels blessed to be among the few companies where officers can start each day out with a hug.
The President who handles all daily operations and frees Allan up to plan the company's future is also his lovely daughter Cindy Collier who was born here in Adair County on his nineteenth birthday.
"She was right there in the beginning and through the hard start-up times," Allan says, "and today she runs all daily operations at Mister "P" Express." She was a good fit in the start-up of Mister "P" Trucking with her prior experience in sales, marketing, training and management.
Cindy graduated from Lindsey Wilson College, then Campbellsville University and has since taken graduate courses at Southern Theological Seminary. Her father beams when he says, "we may be the only company in the world where the President and the CEO begin each day with a hug".

Reflections
"When I met my granddaughter Elizabeth I was able to give her the most elaborate of baby gifts and it dawned on me how, not so long ago when her mother was born, I bought her a baby bed for $39.95 and had to finance it and make payments for six months to be able to afford it."
He told his young grandchildren to work hard as he had when he "was third in his class". When their eyes got big and they asked, "Granddad, how many were in your class?" he laughs at himself and tells them, "three!"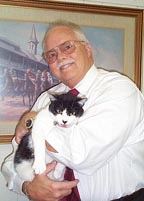 Tommy Cat holds the title of Chairman of the Board at Mister "P" Express.
The future
"You can't plateau, so our goal is to keep growing." The way his company will do that might be found in a few key words from Allan Parnell in a recent employee newsletter:
". . . be persistent, have resolve along with faith in God that He is always watching and willing to give you guidance. You are truly a winner, thanks . . . you're appreciated, God bless."
For more information on Mister "P" Express, visit the company web site at http://www.misterpexpress.com.
Writer Linda Marcum Waggener showcases regional success stories in Columbia! Magazine, and also on the web at columbiamagazine.com. Reach her via e-mail at: linda@columbiamagazine.com
All rights reserved.