LWC Concert Band Winter/Christmas Concert is Fri 1 Dec 2017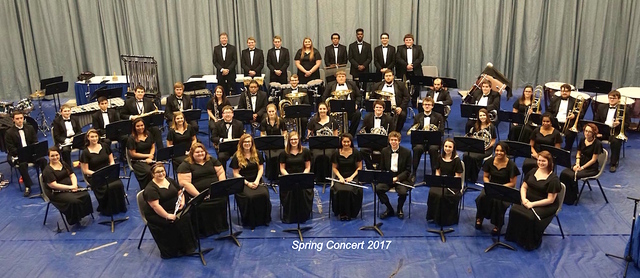 2017-11-29 - V.P. Henry Auditorium, 210 Lindsey Street, Columbia, KY - Photo by Doyle Lloyd.
---
The Lindsey Wilson College Concert Band will present it's annual Winter Concert this Friday, December 1, 2017 at 6:30pmCT, at Biggers Sports Arena, 360 Spickard Drive, Columbia, KY, on the campus of Lindsey Wilson College. Admission is free, and everyone is invited to attend. The photo above is the most recent group photo of the band, taken at it's Spring Concert this year. Front row, from left: Alex Bixenman, Cayci Crabtree, Paige Enlow, Megan Cooksey, Airada Bricker, Connor Howard, Rebecca Barnes, Lyric Walker, and Rebekah Mitchell. Second row: Ashley Ball, Paige Ruddell, Claudia Rogers, Miranda Dishman, Jordan Humphress, Kristen Hoehler, Olivia Garlt, Benjamen Duncan, Chris Nettleton, Bailey Harris, Elizabeth Bunton, and Brittany Pike. Third row: Travis Price, Keaton Prebble, Eliot Beltran, Tim Munrow, Garrett Fausnaugh, Callie Fulkerson, Johnathon Burbridge, Jake Laws, Isacc Antle, Dylan Knifley, Chris Shelton, Ashley Gregory, Heather Cameron, Corey Allen, and Dyllan Abston. Back row: Tim Allen, Tyler Cook, Taylor Cook, Kesha Daniels, Dylan White, AJ Robinson, John Barker, and Noah Antle. - TIM ALLEN, Director
Read More... | Comments? | Click here to share, print, or bookmark this photo.