2008 Adair County High School Girls Golf Schedule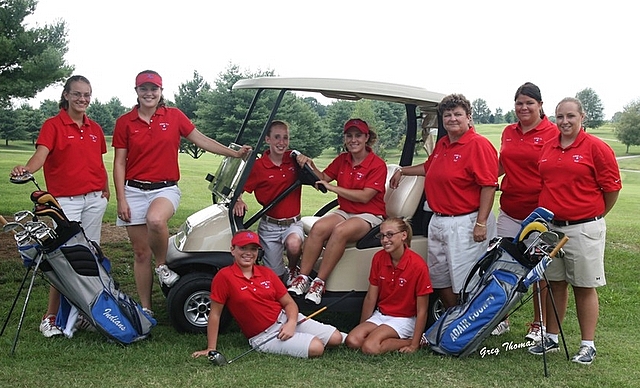 Adair County High School 2008 Girls Golf Team
Ashley Goodin, Dea Brandon, Rachel Phipps, Abby Royse, Lauren Goodin, Emilee Royse, Coach Kimberly Goodin, Natalie Curry, and Natalie Sneed. Photo by Greg Thomas, Thomas Photography, Columbia, KY

ADAIR COUNTY HIGH SCHOOl
2008 Girls Golf Schedule
August 2: Russellville Invitational, Russellville C.C.
August 9: Pulaski Co. Invitational, Eagles Nest
August 12: Taylor Co. / C-ville *, Pinewood C.C
August 14: Green Co., Pinewood. C.C.
August 16: Lady Bruin Invitational, Lindsey G.C.
August 19: Washington Co./ Marion Co.*, Pinewood C.C.
August 21: Cumberland County at Pinewood C.C.
August 23: Ky. Invitational Tourn., Lakewood C.C.
August 25: Taylor Co. / C-ville, Campbellsville C.C. (Rained out; will not be made up)
August 28: Marion Co. at Rosewood (was Barren Co., Pinewood C.C.)
September 2: Green Co., Green Co. C.C.
September 4: Marion Co., Rosewood C.C.
September 8: Heartland Conference *, Campbellsville C.C.
September 13: Lady Raider Invitational, Diamond Caverns
September 15: Pulaski Co., Pinewood C.C. (rescheduled from Sept.11)
September 16: Clinton Co., Pinewood C.C.
September 18: Warren East *, Diamond Caverns
September 22: Barren Co., Barren River State
September 23: Clinton Co., 76 Falls Golf Course rescheduled from August 26 because of rain
September 25: Washington Co., Lincoln Homestead
September 29: Regional Golf Tournament, Russellville C.C.
October 6,7,8: Girls State Tournament, Bowling Green
* Denotes matches with boys' team
Coach Kim GoodinTeam:
Lauren Goodin, Senior; Natalie Curry, Junior; Natalie Sneed, Junior; Emilee Royse, Freshman; Ashley Goodin, 8th grade; Abby Royse, 8th grade) plus we have added two new players, Dea Brandon, Junior; Rachel Phipps, 7th grade.
This story was posted on 2008-07-26 03:51:48
Printable:
this page is now automatically formatted for printing.
Have comments or corrections for this story?
Use our
contact form
and let us know.