Board Room art: Einstein quote illustrated with Shamarie photos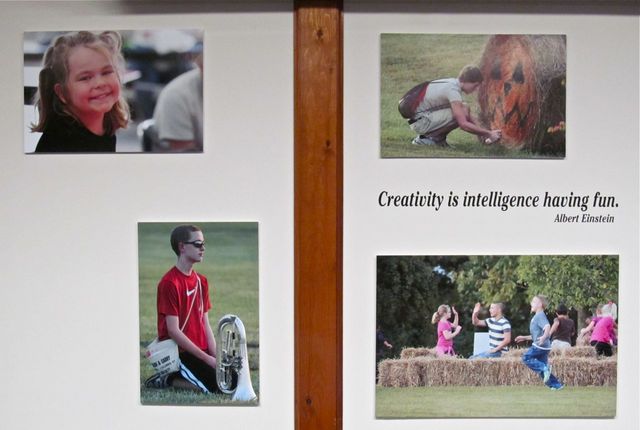 2014-01-24 - 1204 Greensburg Street, Columbia, KY - Photo by Ed Waggener
This wall panel at Adair County High School
with Albert Einstein's quote, "Creativity is intelligence having fun," is illustrated by kids having fun, being creative on the Adair County School, in photos by Shamarie Claiborne. Adair County Primary Center Principal Patty Jones collaborated with Media Publicity Director Claiborne on the design. The Board do-over included replacement of carpeting. The room was first shown to the public at the Thursday, January 23, 2014 school board meeting.
Comments
|
Permalink
After 20 & 8 years, ACHS & ACES construction to be completed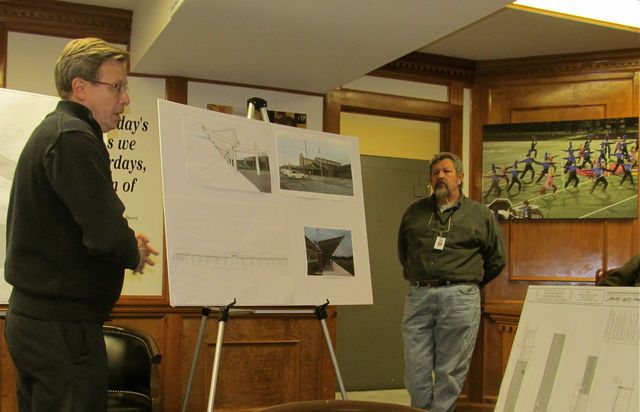 2014-01-24 - 1204 Greensburg Street, Columbia, KY - Photo by Ed Waggener
Gabe Jones, architect with Sherman-Carter-Barnhart architectural firm
, with drawings of proposed canopies for Adair County High School and Adair County Elementary Schools at the Thursday, January 23, 2014 school board meeting. One the easel, the top left and lower right illustrations are of the more dramatic canopy design for the entrance to Adair County High School. the illustrations at bottom left and top right are for the awnings for Adair County Elementary School. The board voted to proceed with the project, along with approval for the design of the new Satellite Campus addition at Adair County High School. The work completes the two school; Adair County High is now 20 years old; ACES, seven. At right is Adair County Maintenance Supervisor Ricky Bault.
Comments
|
Permalink
College and Career Readiness focus of art and action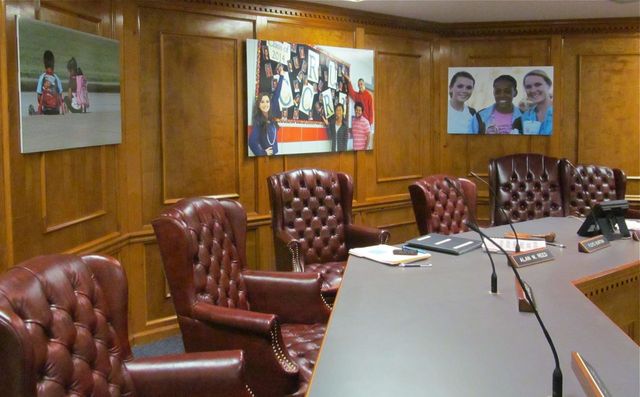 2014-01-24 - 1204 Greensburg Road, Columbia, KY - Photo by Ed Waggener
New and changeable art
, in this case classic photographs from the District's Media Publicity Coordinator, Shamarie Claiborne, serve as a backdrop for Adair County Board of Education. The center photo, one of the personal favorites, of the happiness Adair County students are showing for becoming College and Career Ready a major focus of the system and the community now. In session, the chairs were occupied by, from left, Mike Harris (Div 5), Quin Lasley (Div 2), Superintendent Alan W. Reed, Board Chair Floyd Burton (Div 4), (Absent - Joseph Payne, Div 4), and Vice Chair Greg Willis (Div 1). The center art represents action - goals being achieved. ACHS Principal Troy Young said that in 2013, for the full year, 74 students were College Ready and 14 were Career Ready. Already this year there are 77 students who are College Ready, and an astounding 88 have earned Career Ready Status. - EW
Comments
|
Permalink