Rachel & Craig Denison on DPI with Dr. John Chowning

2015-10-29 - WLCU Broadcast Studios, 203 West Broadway, Campbellsville, KY - Photo by Jordan Antle, CU photo
---
Campbellsville University's Dr. John Chowning, vice president for church and external relations and executive assistant to the president, interviews Rachel and Craig Denison, for his "Dialogue on Public Issues" show. Denison is director of spiritual formation and media, and Mrs. Denison is administrative and marketing coordinator at the Denison Forum on Truth and Culture, and worship pastors at Antioch Community Church in Dallas, Texas. The show will air Sunday, November 1, 2015 at 8amET; Monday, November 2 at 1:30 pmET; Tuesday, November 3 at 7:30pmET; Wednesday, November 4 at 1:30pmET; and Thursday, November 5 and Friday, November 6 at 8pmET on WLCU-TV cable channel 10 and digital channel 23. The show airs at 8amET and 6:30pmET on Sunday, November 1 on 88.7 The Tiger radio.
- Joan C. McKinney, CU
Comments
|
Permalink
Fall 2015: peaceful farm scene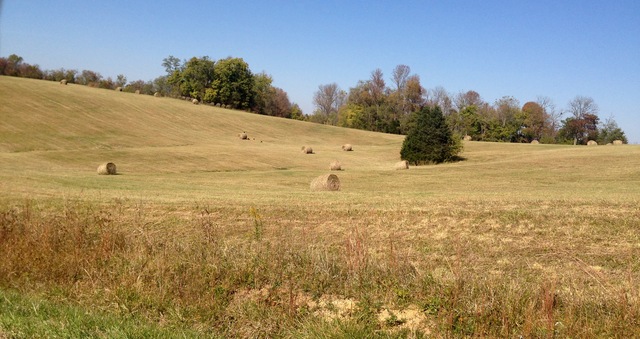 2015-10-29 - a wandering road somewhere north of Columbia, KY - Photo By Linda Waggener
---
Not sure whether this peaceful field of freshly baled hay is in Adair or in Green County. You just find it where the Pelham Branch Road eases into the Caney Fork Road, heading from Adair toward Green County. The county line marker may have wound up at some time in a teenager's room, or this photographer could simply have overlooked it in favor of the scenery. The little black spots on the big bale near the center of the photo are vultures scanning for lunch.
Comments
|
Permalink
Sunrise and Contrails combine for show over Rowe Farms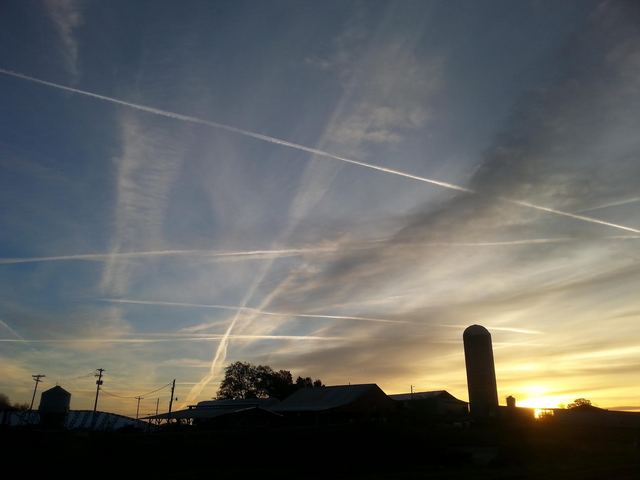 2015-10-29 - Rowe Farms, 909 Keltner Road, Columbia, KY - Photo by Fred Rowe
---
Aircraft provided this spectacular sunrise enhancement just for the enjoyment of Cellphone Farmer/Photographer Fred Rowe, et al, et vaccas, this morning, Thursday, October 29, 2015. Just another promise of a wonderful day, with nary an omen for sailors to take warning.
Comments
|
Permalink