Lindsey Water Tower Project: Bad haircut day?
2016-07-02 - From Adair Farmers Market, 409 Fairground Street, Columbia, KY - Photo by Ed Waggener
---
A gray primer coat covered a lot of the CAUD water tower at Lindsey Wilson College as seen from Fairground Street on Friday, July 1, 2016. For some reason, it was hard not to think of Bart Simpson or Guy Fieri and of the tank in peroxide blonde.
Comments
|
Permalink
Scenic Green County, KY: McKinney Corner, KY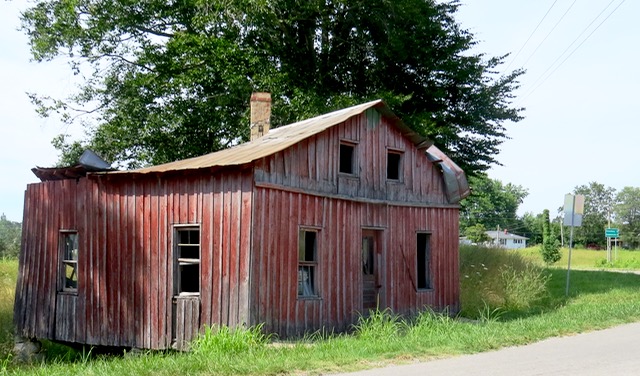 2016-07-02 - KY 88 & Pierce-Donansburg Road, Green County, KY - Photo by Linda Waggener, ColumbiaMagazine.com (c)
---
Wanda Thompson corrected a serious CM geographic or trip log mistake. She writes, "This is an old store at McKinney Corner. This store sits on the corner of Hwy 218 and US 68/70. It is definitely an old landmark for everyone living in the Exie, Liletown, Pierce, Little Barren, Crail Hope and Newt communities of Green County. Rebecca Curry recently did a painting of this store and we have a print of the painting hanging in our kitchen.
- Wanda Thompson
.
Thanks, Wanda Thompson for putting the record straight. So, readers, the little building is in Green County, but at McKinney Corner, not Donansburg. My only excuse is that I had OD'ed on Kenny Scott's Hawg Daddy BBQ. It was worth it, in spite of the ensuing mistake. _ EW
Comments
|
Permalink