Notice to Adair County Taxpayers: Delinquent Taxes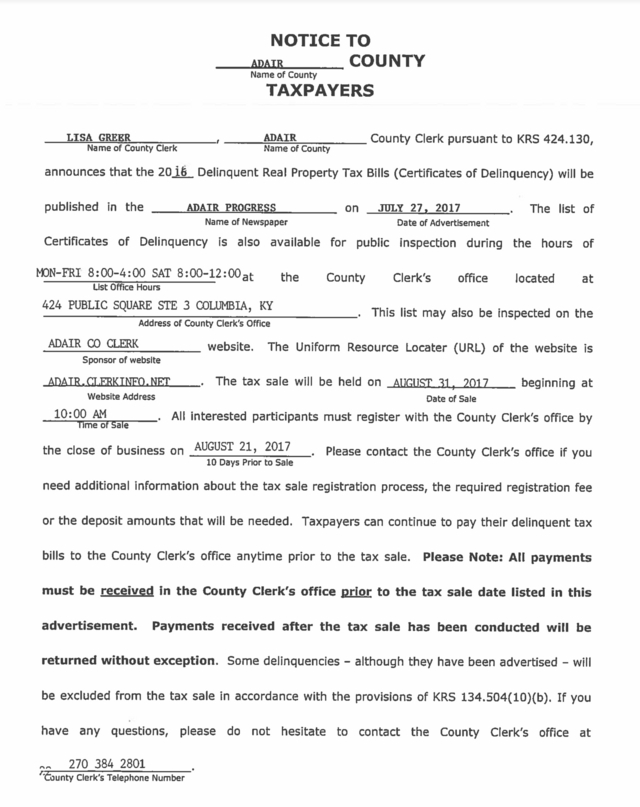 2017-07-20 - Adair County Clerk's Office, Ste 3, Adair Annex, 424 Public Square, Columbia, KY - Photo Submitted by Lisa Greer, Adair County Court Clerk
---
PUBLIC NOTICE/Not post at taxpayer expense
Adair County's 2016 Delinquent Property Tax Sale will be held August 31, 2017 at 10amCT. There will be a 1/2 page ad placed in the local paper on July 20th advertising the sale date and another ad listing all the delinquent taxes available for purchase on July 27, 2017. A list of all 2016 delinquent taxes can be viewed by clicking on the Delinquent Tax Information tab on the right side of this page. (Or,
Adair County 2016 Delinquent Tax List
August 21st will the the deadline for third party purchasers to complete the registration process allowing them to purchase delinquent bills. People interested in purchasing bills should visit the link below to register for the tax sale.
- Lisa Greer, Adair County Clerk.
Comments
|
Permalink
Kathleen Malone Harmon, Warren Co., KY/Taylor Co. native (1924-2017)
2017-07-20 - 503 E Main Street, Campbellsville, KY - Photo from Lyon-DeWitt-Berry Funeral Home
---
Kathleen Malone Harmon, Warren Co., KY/Taylor Co. native (1924-2017)
Comments
|
Permalink
Louise Polley, Campbellsville, KY (1931-2017)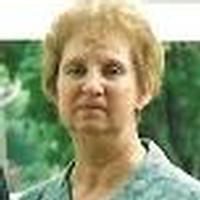 2017-07-20 - 418 Lebanon Avenue, Campbellsville, KY - Photo from Parrott & Ramsey Funeral Home
---
Louise Polley, Campbellsville, KY (1931-2017)
Comments
|
Permalink