Christmas August 14, 2018 - Golden Rule's Bustop Santa?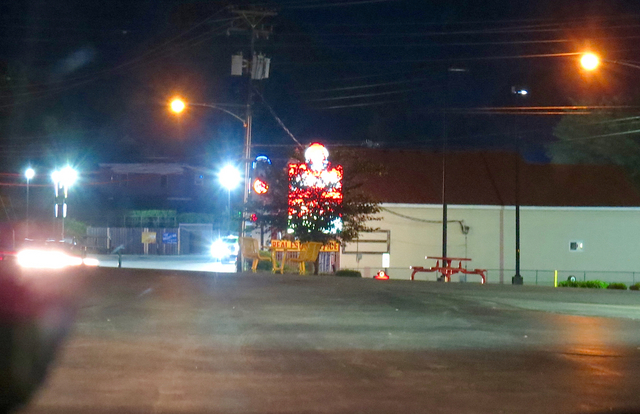 2018-08-19 - Jamestown Street, Columbia, KY from Gaston Avenue - Photo by Linda Waggener, ColumbiaMagazine.com
---
When this scene was spotted on a low visibility, rainy Tuesday, August 14, 2018, the first impression, looking from the roadway by Taco Bell toward Golden Rule Wilson Real Estate was that Chris Wilson's Christmas-in-Columbia Parade entry would be massive this year, bigger than we'd ever seen before. Two people agreed, and both would have had to swear in court that's what they had seen. However, that wasn't it at all. The "Santa" was simply the "Wendy" trademark, the white boots part of the Wendy's sign, and the obscuring tree one in the corner of, it appears, Pizza Hut! We wondered if anyone else might have witnessed the scene, to prove that we were crazy. - EW
Comments
|
Permalink
Horse Cave, KY offers an App-guided walking tour of downtown - HART COUNTY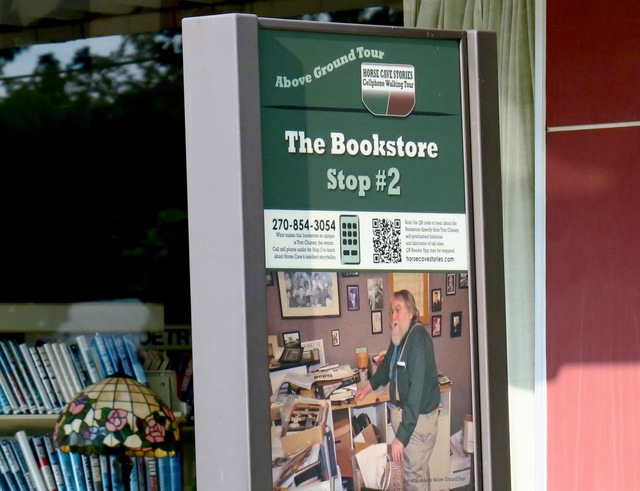 2018-08-18 - Downtown Horse Cave, KY - Photo by Ed Waggener, ColumbiaMagazine.com
---
A discovery in Horse Cave - they've developed cell phone guided walking tours of their town which will definitely require a trip back when there's more time. We paused in front of The Bookstore and found it was closed for the day, but we learned from the sign in front of the store that read: "Horse Cave Stories Cellphone Walking Tour. The Bookstore, Stop #2. What makes this bookstore so unique is Tom Chaney, the owner. Call cell phone audio 270-854-3054 to learn about Horse Cave's resident storyteller." It also gave a QR code option to hear, in his voice, about his being a self-proclaimed historian and fabricator of tall tales. It advised that a QR Reader App may be required and gave the website horsecavestories.com. - LW
Comments
|
Permalink
Kearney, Murrell, Sullivan, Knight & Jackson at GSP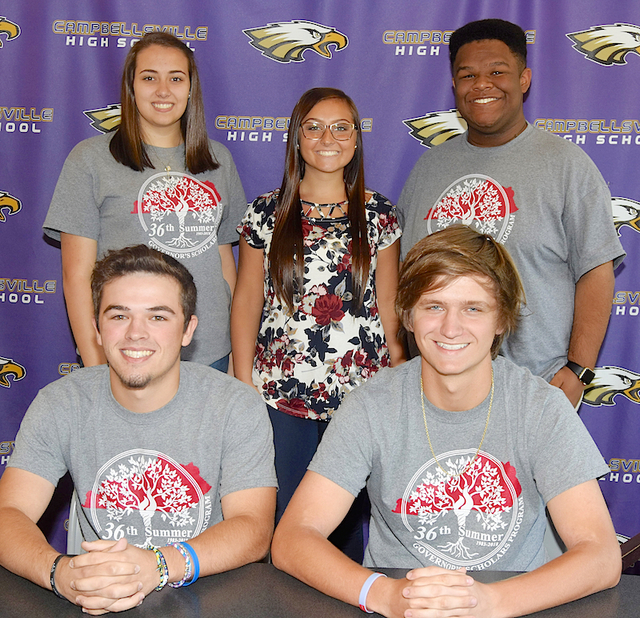 2018-08-18 - Taylor County, KY - Photo by Calen McKinney, public information office, Campbellsville Independent Schools
---
Campbellsville High School seniors, from left, front, Ryan Kearney and Myles Murrell, and, back, Elizabeth Sullivan, Reagan Knight and Jeremiah Jackson, attended the Governor's Scholars Program this summer. They say they learned a lot through the experience, and made lasting friendships and memories.
Comments
|
Permalink